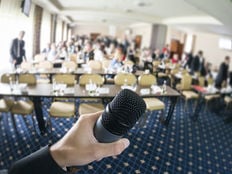 The first 120 seconds of any presentation is critical.
Why? Because typically within the first two minutes of any client presentation you deliver, your audience is assessing whether or not they like you and whether they want to listen to you.
This is why the opening of every client presentation you deliver is the most important.
Your Opening Story
So what's the best way to open your client events and boardroom presentations? If you think rattling off the years you've been in the business and all of your credentials is the best way to begin, you are, with all due respect, mistaken.
Opening with this approach will likely make your audience tune out immediately. Not to dismiss your credentials completely, but these are best delivered by the person who introduces you as the presenter before you begin. Let them handle those details. Your focus should be to maximize your stage time.
Grab your audience's attention right out of the gates with a personal story. The benefits of opening with a story are two-fold. First, telling a story as soon as you hit the stage immediately catches your audience's interest by engaging the right side of their brain. This sets you up for an immediate emotional connection with them.
The second benefit is it relaxes you as a speaker. It's no secret that most people have a fear of public speaking. When you begin your presentation with a personal story, it puts you at ease. After all it's your story to tell before you get into the meat of your actual presentation.
---
Content continues below advertisement
Keep It Tight
While the opening story is essential to your presentation, remember to keep it short and sweet. The story should not drag on and should connect back to the theme of your overall presentation. The story must have a purpose or it defeats the point of telling one in the first place.
The opening story should be told within two to five minutes, depending on how long your entire presentation is.
While practicing any presentation is vital, it is especially crucial to practice your opener. Chances are if you nail your opening story, you'll hook your audience and the rest of your presentation will go smoothly.
Effective opening stories are memorable. Often your clients and prospects may forget the details of your presentation, but they will remember your opening story.
Some presenters also like to find a way to tie the end of their presentation back to their opening story. If done well, this is an excellent way to close your presentation out strong.
The Body of the Presentation
After your opening story, don't lose your momentum. Briefly tell your audience where you will be going during your presentation.
Provide them a short bulleted agenda, ideally with three main points. Psychology tells us that the human brain thinks in threes. The odds of clients and prospects remembering your content are far greater if you use the power of three.
If you are using slides for your presentation, remember that less is more. Keep your slides, bullets and text to a minimum and consider using more imagery and pictures instead to support your talking points.
While you don't want your entire presentation to be stories, consider incorporating a few stories into the body of your presentation as well. This continues to re-engage your audience if you are losing their attention.
To that end, keep your clients and prospects engaged as much as possible during your presentation. Ask questions and seek feedback. Don't be afraid to use humor when appropriate. Getting your audience to laugh makes the presentation enjoyable and continues to relax you as presenter if you still have nervous energy.
If your nerves are still getting the best of you, while you are presenting look around the room for an audience member that is engaged and giving you positive energy through non-verbal affirmation and smiling. Play off of their energy to build your energy back up. There are always audience members who are rooting for you to succeed and these are the ones that will keep your momentum up so you don't become monotone and lose enthusiasm. Your passion is paramount as a speaker.
Your Close
It's a given that you want to close out your presentation strong. Always summarize the three-point agenda that you opened with again at the close to reinforce what you covered. While it may seem redundant, your audience will remember more of what you delivered.
As previously mentioned, if possible try tying your closing story back your opening story. Don't force it if it doesn't work. You can always close with a completely separate story, as long as it serves its purpose. Your closing story should be high-impact and uplifting if possible. You should also incorporate a call to action with what you want your clients and prospects to do when they leave.
Just as with your opener, run through your close as much as possible to finish with your audience wanting more. While you may not think you need to practice, you do. Professional presenters may look like they speak off the cuff, but they don't. They rehearse a lot. Practice makes perfect. More importantly, practice gives you confidence when you are on stage.
Bottom Line
Public speaking doesn't come easy to everyone. Even professional speakers constantly refine their skills and review their content.
The next time you are preparing for a client event or boardroom meeting, remember to practice and develop engaging opening and closing stories. If you continue this habit, you will become not just a good speaker, but a great one.