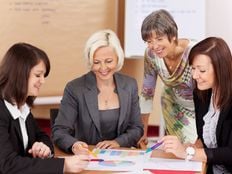 Hosting women's events is an extremely powerful way to connect with female clients and prospects. The key to hosting effective events is to strive to host events that are engaging, educational and empowering.
Be sure to visit our Practice Management center for the most recent updates.
Create Community
Perhaps the most important ingredient to hosting women's events that engage, educate and empower is to aim to create a strong sense of community among your guests.
Most women prefer both a safe and inviting environment. To that end, focus on creating genuine community.
It might sound overly simple, but start by inviting your very best clients and ask them to bring a friend. As the saying goes, birds of a feather flock together. As a bonus, when women attend events together it also creates a safe environment and a built-in sense of community.
By providing an inviting and open environment, it also allows your guests to feel comfortable to ask questions openly and to participate at the event.
For those who might not feel comfortable asking questions within the group environment, invite them to speak to you personally afterward.
You and your team should do everything in your power to make your guests feel relaxed and welcomed. Financial matters can make some women anxious. Even if the topic of the event is not financial in nature, knowing you are a financial advisor hosting the event can make some women feel guarded or skeptical that something will be sold to them.
---
Content continues below advertisement
Get Creative
In regard to topics, get creative with them. Also use your creativity when it comes to themes, venues and refreshments.
There are countless ways to make your topics creative, as well as engaging, empowering and educational. Women love to be inspired and engaged.
Topics about health and wealth, as well as fashion and finance, are always fun and successful themes. Wealth and wisdom with a focus on bringing up financially wise children, as well as leaving a legacy, are educational and empowering.
Keep in mind your events do not have to be large. Intimate events work just as well, if not better, because you can engage and interact much more with your guests. Your guests might also feel less intimidated.
You also don't have to feed your guests a meal. Creative, light refreshments like a hot chocolate bar and holiday cookies, lemonade and fresh fruit, hot tea and pie or coffee and cupcakes provide fun themes and don't break the bank. They also show that you put thought into the refreshments. Women appreciate and notice the small details at events.
Consider tying the event to a charity. Women are passionate about giving back. Ask them to donate money or goods to a local charity as they enter. Whether it is for a local food bank, women's crisis center or animal shelter, your guests will feel good about doing good in conjunction with attending your event.
You may also choose a charity that is near and dear to your heart and share with your guests why you chose it.
Check out this piece on how to connect with your female clients through philanthropy.
The Logistics
When planning the logistics of your event, steer clear from the word 'seminar.' Use the word 'event' when promoting and inviting guests. Using the word 'seminar' might conjure up images of boring presentations and cheesy sales pitches.
Be cognizant of the days and times you offer. Women are busy. Consider providing a few options for dates and times of day. Keep the event time frame tight. Due to their hectic schedules, women don't have time for long events.
Ask for feedback. At the end of every event you host, provide evaluations. Ask them what they liked and didn't like, as well as what they would add or change. Provide them with a voice. An excellent question is to ask them what they would tell a friend about the event.
Also ask them what topics they would like to learn about in the future at other events. Inquire how they heard about the event. This way you will know which marketing tactics worked best.
Create a repeatable process so you can host events frequently. Hosting regular events will not only strengthen your brand, but also your presence in your market.
The Importance of Follow-up
Don't fall short on following up. Many advisors make this critical mistake. In other words, don't spend the time and effort creating a powerful and engaging event only to drop the ball on follow-up and lose the impact.
Within 24 to 48 hours of the event, send an email to each guest thanking them for attending your event. Include photos that were taken at the event for a personal touch.
Within one week of the event, each guest should receive a handwritten note in the mail, thanking them again for attending your event. The note should notify them that you or a member of your team will be personally calling them to answer any questions they have and to hear their feedback.
If this suggested follow-up process doesn't work for your business, create a repeatable process that does work so you can see the results of your efforts. Be sure to track your results so you have a way to quantify your return on investment.
The Bottom Line
Hosting women's events is a tremendous way to deepen relationships with female clients and prospects.
Remember to focus on creating community, as well as positive energy. Make your events fun, so your guests want to attend future events and bring a friend. Hosting frequent women's events will build your brand and set you apart from your competition.
Be sure to check out our News section to keep track of the latest news on ETFs.