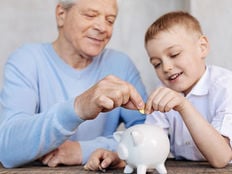 Every parent wants their children to be prepared as much as possible for the future. However, the statistics are grim when it comes to preparation for children's financial future.
Sadly, one in five U.S. teens lack basic financial literacy skills. Less than half of U.S. states require high school students to take an economics class. What's more, only 26 percent of parents feel they are prepared to educate their children on financial literacy skills.
Herein lies a huge opportunity to add tremendous value to your client relationships by helping your clients educate their children (and grandchildren) to become financially savvy. Parents and grandparents alike strongly desire advice from you on how to raise children who are financially responsible and knowledgeable to prepare them for adulthood, but many are apprehensive.
Mum Is the Word
Unfortunately, mum is the word when it comes to many families talking about money at home. Talking about money has been labeled taboo in society. We often view money as our parents did growing up, and so more often than not money isn't discussed. Many of us were raised to believe that talking about money is not "polite," as it can be an emotional topic.
Research shows that 41 percent of parents avoid talking about money with their kids. The more you can help your clients break down these barriers and begin talking about money at home, the better. And the conversations should start early!
---
Content continues below advertisement
Start Young
It's important to start money lessons at a young age whenever possible. Children as young as three years old can begin to understand that objects have different values and that grown-ups have different jobs. By ages four to five, they begin to understand the concept of saving, as well as that coins have different values, money can be exchanged to buy things, and that people work to earn money.
Encourage your clients to introduce age-appropriate activities during these impressionable years. For example, they can trace coins and color them while discussing each coin's name and value or have a loose-change treasure hunt around the house. Once the kids find the coins around the house, they can divide it into piles of pennies, nickels, and so on, and see how many combinations of coins they can make that add up to a dollar.
They can also play store and restaurant to learn the basics of commerce by exchanging money for goods. Clipping coupons, handing the kids a coupon and having them look for the item in the store is also a teachable, fun idea.
Consider creating a company-branded handout with your firm name that includes several money lessons by age group to provide to your clients and prospects.
Money Apps
As children reach elementary school age, they should be able to identify denominations of money, make change and be responsible for money—in other words, understanding that if money is lost, it is gone. They should understand that things cost money and nothing is free. Most kids today are part of the "give me" culture and understanding concepts like financial goals and living within a budget is key to making good decisions in the future.
There are several money apps that can help teach these concepts. Bankaroo, which was created by a child, is a free app that has tools to learn how to budget, save, set goals and understand basic accounting.
Star Banks Adventure is another free app that is like the popular game Candy Crush, but it teaches key financial lessons. Other free apps include iAllowance and Kids Money.
There is even an app called The Game of Life that is based on the old Milton Bradley board game. This app is not free, but certainly is a fun way for kids to learn about money.
Other Money Lessons
Introducing an allowance to kids may be controversial with some parents, but can be an excellent way to teach them the relationship between hard work (doing chores) and earning an income (their allowance). Sixty percent of parents give an allowance with the stipulation that the kids have to earn it.
Along with the introduction of an allowance, encourage your clients to consider including a modest savings plan to pay for the things the kids want. They should learn how to shop wisely when they are on their own, either in a store or online. Also emphasize the importance of making a list before shopping to avoid impulse buying and getting tempted by marketing and high-pressure sales in stores.
Older children can also be put in charge of a garage sale and learn how to set values for the items being sold, as well as bargaining with customers. Coin collecting as a hobby is also another great way to reinforce learning about money and financial concepts.
As children get older, usually the pre-teen years, they should also be introduced to the concept of interest and learning to give to charity.
Teenage Lessons
During the teenage years, kids should begin to understand different types of taxes and, most importantly, debit versus credit. Transacting in plastic is abstract and can be hard to understand. They know the item costs something, but they may not understand what happens after the card is swiped.
Most kids don't understand that when you use a debit card the money is deducted immediately from your account, compared with a credit card, when the bill arrives at the end of the month. It's imperative for teens to understand the potential pitfalls of credit early, as well as what the APR is on a credit card.
In addition, teens should understand that their credit score is a powerful number and it affects whether they get credit or not, as well as how high their interest rate will be. They should understand that no credit can be just as bad as bad credit.
When teenagers go off to college, they will likely be solicited by numerous credit card companies. It can be tempting and they need to be well informed so they don't amass credit card debt at a young age that can be hard to dig themselves out of.
Consider hosting events for your clients' teenage children and grandchildren that teach these important concepts in a fun way. You can also encourage your clients either to pretend or help their teenagers get started in investing in company stocks with a small initial investment. They can also watch or read the financial news together.
The Bottom Line
You have the opportunity to make a significant impact on future generations by helping your clients educate their children and grandchildren to be money wise.
These are also ideal opportunities for you to be introduced to the clients' children and grandchildren at a young age, leading to lifelong multi-generational client relationships.