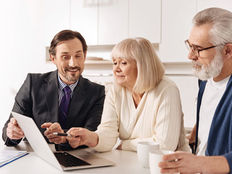 Even though the highly discussed Millennials have officially surpassed the number of Baby Boomers by about four million, chances are high that a large portion of your clients are still members of the former largest generation, the Baby Boomer generation.
Born from 1946 to 1964, an estimated 76 million Baby Boomers were born in the United States.
As the Baby Boomers continue to retire, it is no secret we are in the midst of the greatest wealth transfer. Transferring family wealth is certainly not a new concept, but this transfer is both enormous and unprecedented.
Ask yourself this tough question – Does the magnitude of this wealth transfer pose great opportunity ahead for your business or does it mean a significant loss of assets to your practice?
An estimated $11.6 trillion in assets has already changed hands from the Silent Generation to the Baby Boomers. From 2011 to 2048, it is estimated that the Boomers will transfer another $30 to $41 trillion to Generation X and the Millennials.
The question remains, what are you doing to engage your Baby Boomer clients and deepen your relationships with them?
What Makes Them Tick?
To deepen your relationships, you first need to understand what makes them who they are. Boomers were born post-World War II during the birth boom. Hence, being coined the Baby Boomers.
Significant historical events have influenced their lives including the civil rights movement, women's rights, Watergate, the Cold War and the Vietnam War, to name a few. The Boomers also witnessed televised moon landings.
Their core values are said to center around optimism and personal growth. They have a strong work ethic and are experimental. Relationships and teamwork are very important to them.
In addition, the Baby Boomer generation was better educated than their parents were. Nearly a third of Boomers have a college degree.
---
Content continues below advertisement
How Do They Prefer to Communicate?
It should be no surprise that Baby Boomers are more traditional. They like to communicate and interact face-to-face, especially the older Boomers. Be sure to schedule more formal meetings that take place in your office with them.
Their preferred interaction style is collaborative so remember to include them in the decision-making process. Use a partnering approach with them and emphasize this in your meetings.
Due to their optimistic core values, it is important to communicate both openly and with a positive attitude at the forefront. Refrain from negativity and minimize financial jargon. Instead, use stories and metaphors to explain financial concepts that may be complex or confusing.
Keep in mind that Boomers grew up in a time period where talking on the phone and writing handwritten letters and notes was the norm. While this does not have to be your primary way to communicate, be sure to weave it into your communications with them when possible. They will appreciate it.
Boomers Are Digital
Contrary to what many might think, Baby Boomers have most definitely gone digital – particularly the younger Boomers. They are big users of social media, especially Facebook and Twitter. Matter of fact, according to Fast Company, the fastest growing demographic on Twitter is the 55-64 age bracket.
Baby Boomers are also 19 percent more likely to share content on social media in comparison to any other generation.
Furthermore, Boomers spend an astounding 27 hours per week online. They are smart. They read a lot and do their research.
With their substantial online and social media usage, establishing a social media and online plan to connect with them is paramount.
Since they read and research a lot, content is king when it comes to Boomers. Spend time on the same websites they spend time on and engage in online communities they frequent.
Create blog content they will read and share with their social media connections. Becoming a trustworthy source of financial information will not only establish you as an expert, but provide you with significant visibility and potential highly qualified referrals from their personal network.
Reinforce Values
According to Allianz, nearly eighty-six percent of Boomers believe their legacy and family stories are the most important aspect of their wealth transfer.
Be sure to reinforce transferring values to the next generation in your conversations with them.
Also be sure to request an introduction to their adult children. This is critical to multi-generational relationships. Discuss the importance of family meetings.
The Bottom Line
The wealth transfer we are in the midst of is unprecedented. Does it pose opportunity or significant loss to your business?
Transferring values is of utmost importance to Baby Boomers. Be sure to emphasize this in your approach and build lifelong clients that transcend the generations.