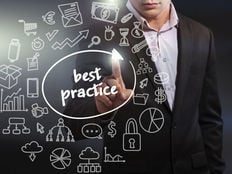 Does Your Current Website Turn Prospects Into Clients?
Consider this. Hundreds – and potentially thousands – of people may visit your website well before they ever make an appointment with you and step into your office.
The reality is that most advisors face the challenge of building trust and establishing credibility on their websites and converting prospects into clients in an extremely crowded and competitive online landscape.
It's imperative to build a site that connects with your ideal prospects in an engaging way. Your prospects are looking for a first impression that stands out in the financial services digital marketplace. Your site should not only engage prospects, but also establish your expertise through thought leadership and compelling content.
Engage Through Video
There are several ways to engage your ideal prospects on your site. The first and probably the best way is to use video on your website. According to Google, more than 50 percent of online searches come from mobile devices. It is much easier to watch video on a mobile device than it is to read a text-heavy site.
Even if your prospects are searching for you on a desktop computer, videos are an excellent way to increase engagement. As a matter of fact, you can use video to build relationships and evoke trust with ideal prospects before they even set foot in your office. Create short videos that describe who you are and explain your services, as well as demonstrate your expertise and credibility. Videos can be as short as 30 seconds, but shouldn't be longer than two minutes to hold your prospects' attention.
---
Content continues below advertisement
Less Text, More Visuals
Going along with video usage, when designing your site, use less text and more visuals to create an overall appealing design that will engage users more. Keep it simple and don't over-clutter your site with text. No one has time to read large chunks of text. A text-heavy site may deter or overwhelm prospects.
Another way to engage prospects on your site is to incorporate a blog. Not only does it keep your site updated with fresh content but it offers another way to demonstrate your thought leadership and experience. To get full exposure for your blog, send blog updates regularly to your email distribution list, and post them to your social media pages.
Key Elements
If you struggle with keeping your site visually appealing, remember that everything doesn't have to be on your homepage. Stay focused. Your homepage should contain a personal message that draws in your ideal client. It should also contain a captivating image or video, as well as a specific call to action and lead magnet.
If you don't have a lead magnet, you need a way to capture leads if your online prospects are not quite ready to work with you. Many advisors have a lead form that is too long. There's no need to capture their phone number and additional information; the more information you ask for, the more it might deter them from filling out the form. Prospects also don't want to be called. All you really need is their email address so that you can communicate with them.
Many advisors ask online leads to subscribe to their newsletter. While there is nothing wrong with this, try giving them something valuable for free. Yes, for free. This is called a "freemium." Do you have an ebook, a compelling white paper or other interesting content to give away? Offering valuable original content will help you immensely in attracting quality ideal prospects.
Additional Site Components
Aside from your homepage, other site components should include a photo and a compelling bio. Keep in mind that a good picture of you and your team goes a long way toward establishing trust. Your poses should be professional, yet also relaxed, and convey a welcoming, approachable and open feeling to prospects.
It is also important to include an overview and details of the services you offer clients. Include a general description of who you work with. In other words, describe your ideal client. You might also want to consider including a demarcation of who you don't work with to generate quality prospects that are well worth your time. In addition, consider incorporating a price range of your services and if you have account minimums.
Is it easy for prospects to contact you? Contact information is often overlooked or misplaced on websites. If it takes a prospect longer than a few seconds to find a way to contact you on your website, chances are they will leave your page. Be sure to put your contact information in the footer or the top right-hand corner on every page of your site. Most people look for contact information in these places.
Other must-do website best practices include ensuring that your site is mobile friendly, using Google Analytics to gain valuable metrics and refreshing your content consistently so that it doesn't become stale.
The Bottom Line
Advisors face a somewhat unique challenge that doesn't necessarily impact professionals working in other industries. Unfortunately, many investors can be skeptical of working with financial advisors and are reluctant to initiate contact with them.
For this reason, your website content must be engaging enough to convince an ideal prospect to initiate contact with you. As the adage goes, you don't get a second chance to make a first impression. Make the first impression count on your website so that you can turn quality prospects visiting your site into loyal clients.