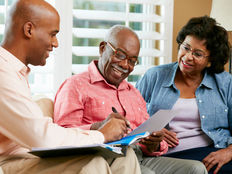 Longevity is a common theme we keep hearing more and more about in the industry as it relates to clients and retirement planning.
Case in point. According to the U.S. Census Bureau, age 63 is the average retirement age in the United States. According to the U.S. Social Security Administration, if a man reaches age 65 today, he can expect to live on average until he is 84.3 years old. If a woman reaches age 65 today, she can expect to live on average until she is 86.6 years old. Furthermore, roughly one-in-four 65-year-olds will live past age 90 and about one in ten will live past age 95!
Are your clients prepared? These mind-blowing statistics have certainly made retirement planning even more important and, in many cases, even more complex.
According to the MIT AgeLab, as people are living longer, the concept of retirement planning is starting to be replaced by the concept of "longevity planning." Considering the aforementioned statistics, it makes complete sense.
What Is Longevity Planning?
So, what exactly is longevity planning? Longevity planning is a concept that the MIT AgeLab says requires more holistic thinking. Retirement used to mean leaving the workforce to pursue hobbies and so-called leisure activities, but today's aging population is beginning to reinvent what life looks like after age 65.
For some clients, their retirement plan may be to keep working. They may have no other choice. The stark truth is that living longer also means retirement dollars need to last a lot longer too.
For other clients, their retirement plan may be to keep working but in a part-time capacity that is more focused on their interests and hobbies. Others may be more focused on volunteering, staying involved in their community and spending time with family.
Regardless, a strong, comprehensive financial plan that accounts for present variables and future income is still critical to address living another 20 years or more beyond the traditional retirement age.
---
Content continues below advertisement
Finding the Right Balance
Helping your clients find the right balance can be difficult, however, with your expertise and guidance it can be done.
As you've likely encountered before, some retirees take far too much money out their first few years of retirement and then set themselves up so that they don't have enough left at the end of their lives. This mistake can be critical given how long of a period of time the retirement money needs to last nowadays.
At the same time, some retirees are too frugal and don't enjoy their retirement years as much as they can and should. Continually reviewing their living expenses and lifestyle is key. Your trusted guidance can help them zero in on finding that right balance.
In addition, counsel them to take out the minimum distributions at age 70½ so they do not pay penalties. Ensure they move their retirement assets to vehicles that provide enough growth and reevaluate their insurance needs.
Consider Downsizing
One of the biggest challenges retirees can face is where to live in their retirement years. The reality is, it is rarely discussed or planned. This is a key area to help guide your retiree and even pre-retiree clients.
While some clients may take the leap and move to warmer climates, many do not ever plan to move or wind up having to move during a time of crisis due to declining health or the death of a spouse. It is best for them to live in a home they can afford and that will meet their changing needs as they age. It is also best to move when they are not in crisis mode.
Advisors who focus more holistically on this idea of longevity planning and not just retirement planning can facilitate these important discussions that focus on their clients' overall well being and not just their finances. This focus also deepens their relationships in a profound way.
How can you connect with your clients on this often-overlooked subject? Foster relationships with companies that specialize in downsizing services for seniors. Caringtransitions.com and National Association of Senior Move Managers (nasmm.org) are both excellent resources to assist you, your clients and their families with this extremely important life event.
Also, consider connecting with managers of senior housing and assisted-living facilities in your market.
For those clients who are insistent on staying put in their own home, consider forging relationships with home contractors who specialize in remodeling and modifying homes safely for seniors. Homeadvisor.com has an entire senior care section on its Resource Center devoted to this. The National Association of Homebuilders (nahb.org) also has a directory of home builders that are Certified Aging In Place Specialists (CAPs). The directory has a state-by-state list you can share with your clients and their families.
The Bottom Line
The retirement years of today are no longer the retirement years of the past that your grandparents may have had. The face of retirement has truly changed.
The financial advisor who truly embraces this notion and understands that retirement planning must also encompass longevity planning will be the advisor that stands out among their competitors.
Your pre-retiree and retiree clients need you now more than ever before. Their retirement horizon has lengthened considerably and their hard-earned money needs to last far longer too.
By guiding your clients through their retirement years and taking a more holistic approach to their overall well-being, you will be setting yourself apart as a longevity planner and not merely a retirement planner.