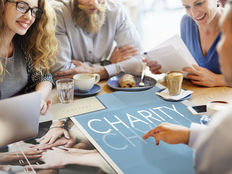 Philanthropy and charitable contributions are an extremely meaningful piece to a client's overall financial plan.
According to U.S. Trust, more than 90% of wealthy households donate to charity and 86% say charitable giving is an important part of their lives.
However, there seems to be a disconnect with who is initiating these important discussions. A Bank of America survey demonstrates that, while 89% of financial advisors say they discuss philanthropy with at least some of their clients, only 55% of clients indicate they actually discuss philanthropy with their advisor.
Strengthen Your Relationships
Whether or not you are currently initiating these meaningful conversations, don't risk overlooking this critical engagement opportunity with your clients and prospects any longer.
This is an ideal connection opportunity, as well as can be one of the most interesting and rewarding parts of your role as a financial advisor. It may lead to deeper relationships with your clients, while also facilitating good work in the process. How's that for finding fulfillment and meaning in your career?
Charitable giving is a profound value-add to offer a client that also might ultimately help you develop greater client retention and loyalty. Furthermore, discussing and planning for philanthropic wishes and dreams can lead to deeper multi-generational connections.
---
Content continues below advertisement
Plan From the Start
Consider addressing the topic of strategic giving and philanthropy early on in your client relationships as part of the ongoing financial planning and estate planning conversations. By doing this, you can develop a strong vision of the client's philanthropic goals, as well as properly incorporate charitable giving as part of the overall financial plan from the onset of the relationship.
Charitable and philanthropic planning should be considered part of your clients' overall planning process. By talking about their charitable goals and aspirations, you may be able to help them with increasing their current income, as well as increasing the inheritance to their loved ones. What's more, you will help them leave an enduring legacy in their community and ultimately help them teach their children and grandchildren about giving back.
Philanthropy is very personal and may also be very intimate to your clients. They likely give to local, national or international charities that align with their core values and ethics. They may also give to their alma mater, their religious community or other charitable associations. They might volunteer their time or well as serve as board members for organizations.
The Charitable Discussion
Some advisors avoid the discussion of strategic charitable planning as they feel uncomfortable or fear they might overstep their advisor-client relationship.
Other advisors make the mistake of talking first about the basics of taxes and other technical issues instead of focusing on the client's philanthropic dreams and wishes. It is the client's charitable passions that motivate them, so it is imperative that you lead the discussion with this in mind.
Start by asking your client some specific open-ended questions about their philanthropic dreams and wishes. This will help you clearly determine their charitable intentions. Consider some of the following questions and add some of your own to the list.
Charitable Conversation Starters
What core values are most important to you to pass onto your loved ones?
What causes and issues are the nearest and dearest to your heart?
What charitable organizations do you belong to?
What legacy do you want to leave?
How do you want to be remembered by your family and friends?
What is the key motivator for your philanthropic giving?
What are your charitable dreams and desires?
Remember, these responses will be very personal. Take the time to genuinely listen as this is the perfect time to build meaningful connections with your clients.
When engaging in these conversations, it is also important to determine your clients' giving styles. Many donors only give monetarily and might not be aware of the full scope of vehicles and various giving strategies that may benefit them, as well as the philanthropies that they support. Charitable planning is not a one-size-fits-all solution. Your clients will all have different objectives and will benefit from a variety of strategies.
Continue to Develop Your Expertise
As you continue building your client relationships and help them with charitable planning, it is also important to continue to develop your expertise on this topic.
Routinely attending charitable planning conferences, webinars and seminars is a great way to do this. There is also a specific designation you can obtain through the American College called the Chartered Advisor in Philanthropy® designation. This is an excellent way to distinguish yourself in the marketplace.
The Philanthropy Institute and Council on Foundations and the American Institute of Philanthropy are also great resources to increase your knowledge level and to stay relevant. Additionally, the International Association of Advisors in Philanthropy is another tremendous source to tap into, as its sole commitment is to advisors who are dedicated to teaching and empowering their clients to effectively use philanthropic resources.
The Bottom Line
With the great wealth transfer upon us, research indicates nearly one-third of the wealth may end up in charitable giving. In other words, the charitable guidance you provide your clients may have a profound impact on the betterment of society.
While there seems to be a disconnect as to who is initiating the charitable planning discussions, this is an important area where you can differentiate yourself from your competitors.
Whichever way you decide to approach the topic, just make sure you are addressing it. By helping your clients with causes and issues that are near and dear to their hearts, you are truly deepening your connection to them and taking on the role of a life planner.