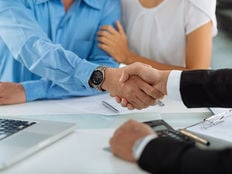 Spend your time focusing on clients and prospects you love by creating an ideal client profile.
No matter where you are in your business, you've probably already had the epiphany that you simply cannot be all things to all people. There are not enough hours in the day nor is it an efficient use of your time to focus on all clients and prospects. You need to have a laser focus on exactly who your ideal client is and prospect only those people who fit your exact ideal client profile.
Chances are you have already spent time creating your ideal client profile. If you have, congratulations! However, keep in mind it is always a good idea to go back to revisit and refine your ideal client profile. If you haven't created your profile yet, take the time to go through the exercise of defining it. It is time well spent.
So, what exactly is an ideal client profile? In marketing speak, it is similar to a target market, ideal client type. The Business Dictionary defines it as "a description of a customer or set of customers that includes demographic, geographic, and psychographic characteristics, as well as buying patterns, creditworthiness, and purchase history."
Simply put, the purpose of an ideal client profile is to ensure you are working with clients who you really love, who you want to work with and those you want to have more of! Don't we all want to replicate our best clients who we love working with?
---
Content continues below advertisement
Getting Started on Writing or Refining Your Ideal Client Profile
First and foremost, when writing your ideal client profile, be as specific as possible. You want to be sure to include both quantitative and qualitative details in your ideal client description.
Quantitative elements you want to consider including are facts like age (or age range), assets under management and minimum account fee.
Other specific demographics and characteristics you should spend time identifying are:
Stage of work life: are they working, have they just started their career or are they well established in their career? Pre-retired? Retired?
If they are working, what is their profession?
What is their education level?
Are they single? Married? Divorced? Widowed?
What geographic area do they live in?
What is their personality type?
What are their hobbies and interests?
What are their values? Religious and political views?
What are their financial challenges, concerns or needs? Are they focused on retirement, saving for college, funding their dreams, caring for elderly parents, etc.?
Qualitative Characteristics to Consider
The following additional qualitative characteristics and questions may also be considered in your ideal client profile description:
Decisive, willing to follow my advice and trusts my expertise
Has expectations that are both realistic and achievable
Will they honestly disclose their assets, their core values, goals and financial concerns?
Do they view me as an investment and not an expense?
Do they value my time?
Are they positive and generally optimistic, as well as social and outgoing?
Will they promote me to others?
Are they respected in the community? Are they charitable and active in organizations?
The lists above are certainly not exhaustive, but they do give you some attributes to consider and choose from. Again, try to be as specific as possible. You do not have to include all of these elements, but you do have to be descriptive.
What it Might Sound Like
To give you a frame of reference, an example of an ideal client profile may sound something like:
"I work with pre-retiree, C-suite executives in the Chicago area who are college-educated, married with children, aged 40-60, who enjoy outdoor activities, have a positive and upbeat personality, share similar religious and political values as I do, respect my time, are honest, truly value my expertise and believe my recommendations are in their best interest, are focused on funding retirement and college education, as well as have at least $1 million in assets under management and a minimum fee of $10,000."
Keep in mind your ideal client profile is typically an internal use statement that you and your team members know.
An Additional Exercise
If you are looking for another way to go through this exercise, you and/or your team members may also want to consider making a list of the top ten to twenty clients you love to work with and are most profitable to your business.
Make a list of all of their quantitative and qualitative attributes individually as clients. Then compare all of the attributes of your top ten to twenty clients collectively. You will very quickly be able to identify which characteristics these clients have in common. These are your ideal client attributes! This is also a great way to cross-check your ideal client profile description.
Being a stickler to adhering to your ideal client profile is crucial for being both effective and efficient in your practice. It will maximize your opportunity to reach your desired production goals. It t will also truly help you optimize your profitability by working with only clients and prospects you love, ultimately ensuring that you enjoy waking up and doing what you do every day!
The beauty of an ideal client profile is that if you remain focused and adhere to those attributes you covet the most, you can be highly selective and only bring in prospects who you know you will love to work with. There is nothing wrong with turning down those prospects who you know you will not love working with. Having a laser focus of who you want to work with also makes it easier to develop client acquisition activities and client marketing events that will attract even more of your ideal clients.
The Bottom Line
Since your clients have very unique characteristics, specific needs, concerns, values and goals, they will respond to specific marketing messages and campaigns, leading to highly qualified prospects.
Advisors who have a well-defined ideal client profile description usually grow their assets under management and the number of affluent clients more quickly than advisors who do not have an ideal client profile. It certainly pays to take the time and effort to specifically define those clients who you love.