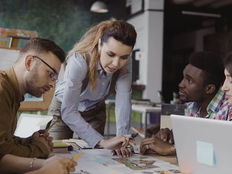 Consider this: Nearly 90 percent of clients believe that their financial advisor should have strong leadership skills.
While it is true we all may have varying ideas of what a great leader is, most would agree that a general definition of a leader is someone who both motivates and inspires people to act toward a common goal.
Therefore, your role as a leader might be to motivate and inspire your clients and prospects to build a solid financial plan in order to leave an enduring and meaningful legacy.
Do you believe you are a great leader? Have you ever asked yourself what it takes to be an excellent leader in your practice, to your clients and prospects, as well as in your community and marketplace?
The research of what attributes make a strong leader are abundant. The following are three key leadership traits that consistently rank highly and are in no particular order. As you read them, ask yourself what leadership attributes you believe you possess and self-assess what areas you can improve upon.
Great Leaders are Great Communicators
To be a great leader to your clients and prospects, as well as to your overall marketplace, you absolutely must be a great communicator. Great communicators are excellent listeners and always know when to hold their tongue.
They are genuine listeners and ask powerful open-ended questions to connect with their clients. When you are a genuine listener, you demonstrate empathy while also diminishing doubt and building trust with clients. A word to the wise, your empathy must be authentic. True leaders demonstrate authenticity. This trait cannot be duped.
Great leaders also have strong interpersonal skills and are articulate with their word choice. They engage with their clients and prospects and aren't afraid to get personal. Emotions and feelings are part of their conversations. Relationships are paramount. Great leaders are transparent and caring. There is zero room for arrogance and ego.
Do you believe you are a great communicator? Which of these traits do you possess already? Which ones can you improve upon?
---
Content continues below advertisement
Great Leaders Take Risks
According to research from the Oechsli Institute, one of the everyday leadership traits of elite financial advisors is risk-taking. And by risk-taking, this doesn't mean making risky investment choices for your clients and prospects. Instead, it means that strong leaders need to be able to take real risks and to experience failure as financial advisors.
They need to accept rejection, make errors and face up to mistakes they make. They need to admit when they are wrong, learn from bad choices and have the ability to move on. They need to be vulnerable yet resilient. This mindset spurs both tremendous personal and leadership growth.
What risks have you taken recently in your practice? What mistakes have you made? What have you learned and, most importantly, where can you improve?
Great Leaders are Experts and Continual Learners
Advisors who are great leaders not only demonstrate expertise to their clients and prospects but they also never stop learning. They continue to be students of the business and stay abreast of industry trends and changes. They are open to new ways of doing things. They don't believe there is only one way to do the job. They are open-minded and willing to implement changes.
It goes without saying, you can't be a financial advisor without the knowledge, technical proficiency and training it takes to become an advisor in the first place. Great leaders, however, seize every opportunity to develop themselves and engage in ongoing training. They embrace being lifelong learners to the fullest.
Are you a true student of this business? What training have you wanted to participate in but have been putting off? How can you become a continual and disciplined learner each and every day?
The Bottom Line
A true leader genuinely wants to grow and inspire everyone around them. It's not just about their own growth. This means you truly have a deep desire for your clients, your prospects and your marketplace to grow because of your leadership as a financial advisor in the community.
Strong leadership skills will truly differentiate you from your competitors as well as impact your footprint in the community.
Carve out the necessary time to do some self-reflection and take a leadership self-assessment. Are you demonstrating strong leadership skills to your clients, your prospects and your community? What additional leadership skills do you believe are important to possess in this business? It's never too late to develop them. Seize the opportunity. The time is now to become a great leader while also becoming an even better advisor to your clients and your community.