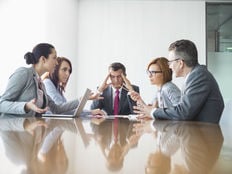 Tips to help resolve struggles when tensions may run high.
It's inevitable. As much as we may try to avoid it, you will encounter conflict with your clients at some point. Regardless of how client-focused your practice may be, the reality is that you may make a few missteps along the way because as the old adage goes, you can't please everyone. And you certainly can't please everyone all of the time.
Conflict generally brings up negative emotions. The key is how to handle these stressful situations when your highly coveted client relationships could be at stake. When you encounter a high-conflict situation, preparation and a refined approach may help you handle any given conflict well.
Often client conflicts can turn negative because we either didn't prepare for handling a conflict situation or we prepared in the wrong way. Proper preparation for a conflict situation can go a long way to turning what could have potentially been a negative conflict experience into a productive conflict experience. And yes, conflict actually can be productive! Think of a conflict situation you have worked through with a client, a friend or a family member. While the actual conflict itself usually isn't a pleasant experience, when you work through that struggle together, you come out stronger. The strength often is in the struggle.
Consider the Following When Preparing to Deal With Conflict
Determine the exact cause of the conflict. This will empower you to approach the conflict more specifically.
Have a mentally positive attitude. As simple as this sounds, by imagining the conflict going well and bringing both positive energy and an optimistic attitude to it, you will likely increase the chance for a positive outcome.
Adapt your style. Based on the client's personality style, adapt your approach to the conflict situation accordingly.
How you address the client conflict will greatly impact the success of your solution. Even a well-thought-out solution to a conflict can be undermined by your delivery.
---
Content continues below advertisement
Common Landmines
There are common landmines that we all stumble upon during conflict situations. Keep in mind these common missteps to avoid when in conflict with your clients:
Don't assume the client's intent.
Don't ever use email to deliver your message.
Don't engage in a control battle or power struggle. As a rule of thumb, you will never win a power struggle with a client! And the consequences are simply not worth it.
As an alternative to engaging in power struggles, try the "yes, and…" technique. Typically when we are disagreeing with a client we start our response with "yes, but…" By using the word "but" we are negating what the client just said. Instead of responding to a client's position with "yes, but…" the "yes, and…" technique allows you to agree with the client while still stating your own position.
For example, a client might say, "The market is scary right now, I am considering pulling my money out." Your response could be, "YES, the market is volatile right now AND as the history of the markets show us, time in the market is better than timing the market." By simply using the word "and" instead of "but," it changes the tone of the conversation. Try out this technique. It really does work.
Five Steps to Manage Client Conflicts
To help you manage future client conflict situations, consider utilizing the following five steps:
Understand- Find out what is bothering the client by gathering as much information as you can. Be sure you are listening to them with the intention to connect with and understand them. Take the proper amount of time to become fully aware of the client's perspectives, feelings and specific requests he or she desires from you.
Summarize- Once you have the full perspective of their feelings and their specific requests, reflect and summarize back to them what you heard them say. Make sure you understand how your action (or perhaps inaction) impacted the actual conflict situation. Keep in mind that this step is critical to maintaining connection with the client. Also remember, this step is only effective if you do not judge the client's feelings!
Strategize- Next, strategize and determine potential ways to turn the conflict situation into a productive outcome. Yes, productive outcomes can arise from client conflict situations! During this step, you can make your own requests to the client as well.
Focus- In this step, co-create a solution together and set times. The goal here is to focus on reaching an agreement with the client on a solution to their concern(s) and establish a specific timeline to get there.
Evaluate- This step is key to be sure the agreed upon solution happens. Be sure to be proactive and follow-up with the client. Remember, you don't build your bridge and then neglect to use it!
Bottom Line
If you hit a snag as you move your way through the five steps above, all you have to do is go back to the prior step and start again from there. Keep in mind you can use these same techniques in any conflict situation, whether it's with team members, family or friends.
You ultimately need to keep your approach nimble and appropriate for each of your clients. And when facing even the most difficult client, keep in mind that it may take two to tango, but it is ultimately up to you to improve your dance!