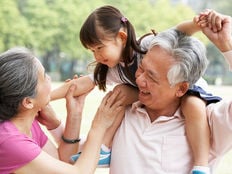 There is truly nothing like the relationship between a grandparent and a grandchild. The role of a grandparent in a grandchild's life is irreplaceable.
Most grandchildren respect and listen to their grandparents in a way that will never compare to their parents. Grandparent/grandchild relationships are truly special.
What many grandparents fail to realize is that they have a huge influence over their grandchildren in more ways than they know.
Research indicates only 30 percent of grandparents believe they can influence their grandchildren's financial decisions; however, 73 percent of young adult grandchildren say their grandparents can influence their money habits.
Herein lies a huge opportunity as their trusted financial advisor. By encouraging your grandparent clients to educate their grandchildren fiscally, you will be strengthening your ties to them in a meaningful way while also financially empowering another generation. Not to mention the significant relationships you may be developing with the grandchildren in the process.
Where to Start
If your grandparent clients do not know where to start with the money conversations, emphasize to them to share the importance about the following three money lessons: not overspending, the basics of how saving works and the significance of giving back.
A word to the wise: It is also a good idea that grandparents have permission from the parents to ensure their money lessons and values line up with those of the parents.
Once the grandparents and parents are on the same page, not spending more money than they have may really be the best advice grandparents can give their grandchildren. Overspending is a serious problem among Americans. Matter of fact, American credit card debt has climbed to a whopping $905 billion.
Instilling frugality at a young age is important and can be the perfect value for grandparents to help reinforce with grandchildren. Impulse buying and succumbing to marketing and advertising pressures can be lessened if children understand the difference between needs and wants. Grandparents can help their grandchildren establish these differences and shop wisely. Even if grandparents have made their own money mistakes including overspending and incurring debt, they can share these life lessons with their grandchildren to learn from.
---
Content continues below advertisement
Instill the Basics of Saving and Investing
Secondly, grandparents can act as great money mentors by instilling the basic concepts of how saving and investing works. An excellent way to do this is to help their grandchildren in opening up a modest savings account or even an investment account with your firm. Learning the concept of interest early is powerful for children. Grandparents can even help grandchildren choose a company stock to invest in (or pretend to invest in), as well as read and watch the financial news together.
Last but, certainly, not least, coach your grandparent clients to teach their grandkids about the importance of giving back. Children need to understand that they are part of a larger community and not everyone lives like they do. Grandparents are perfect role models to teach their grandchildren about compassion and having a charitable heart. Grandparents and their grandchildren can talk about who they want to help and why. Then they can choose a favorite charity to donate to or volunteer at together. Not only will these memories be priceless, this will educate children to grow up to be both empathetic and charitable as adults.
The Three-Envelope Program
An exceptional way to coach your grandparent clients to implement all three of these significant money topics is using the three-envelope program with their grandchildren each time the grandchild receives money.
The envelope program can be used whether it is money the grandkids have earned, such as from an allowance or part-time job or if the grandchild was given money for a birthday, holiday or special occasion.
The concept of the envelope program is that the money the grandchildren receive is always immediately divided into thirds. The three envelopes are labeled Spend, Save and Give Back. Grandparents can teach their grandchildren that they can keep or spend a third of all of the money they receive. Another third goes into some sort of savings or investment account, perhaps the account they set up with your firm. And the final third of the money is donated to a charity, given to church or another philanthropy of their choice.
This idea routinely teaches grandchildren that they shouldn't spend everything that they make at an early age. They can certainly spend some of it on the things they want, but it also reinforces the discipline of saving and investing, as well as about charity and giving back.
Grandparent Client Appreciation Events
Grandparent client appreciation events are another meaningful way to deepen your relationships with grandparent clients. Consider surveying them to learn about their concerns as grandparents, and perhaps host a series of events around popular challenges they may be facing that are both related and unrelated to grandparenting. Ask them to invite friend to attend as well.
Even more impactful may be grandparent events where they can invite their grandchildren to attend with them. For younger grandchildren, the events may be age-appropriate money games and activities. For older grandchildren, the events may be about the basics of investing.
The Bottom Line
Grandparents can be amazing role models for their grandchildren, because they are likely in the phase of their life that they have moved beyond their working years to living on a fixed income. Making their hard-earned money last and spending wisely impacts their daily financial decisions.
Help to teach them to be money mentors to their grandchildren and implement being good stewards of their money early on. It's a gift of fiscal knowledge that will last a lifetime and steer them in the right direction to avoid financial pitfalls as adults.