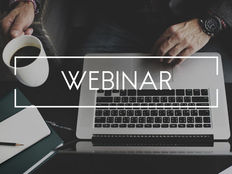 Do you currently use webinar marketing? If not, you may be missing out on an extremely cost-effective and powerful way to market to your current clients and prospects.
Traditional marketing seminars and events may one day be a thing of the past, as they can be expensive to host, time consuming and don't always produce the immediate ROI most advisors want to see.
While webinar marketing shouldn't completely replace traditional marketing events, they may be wise to use more frequently or in conjunction with traditional seminars and events.
The Benefits of Webinar Marketing
While there is still value to hosting traditional marketing events, webinars eliminate the cost of venues, food and parking.
Webinars can also increase your prospect conversion rate in comparison to email marketing.
Webinars are ideal for client education and keeping up with market changes. They provide you with the opportunity to stay in front of your clients without having to meet with them individually.
Webinars can be both manageable and scalable. They cost the same whether you have 15 or 500 attendees. This certainly is not the case for traditional marketing events, as with more attendees you have to pay for a bigger venue and additional food and beverages.
---
Content continues below advertisement
Webinar Marketing Best Practices
As a rule of thumb, webinars should run about 30 to 40 minutes in length. They rarely should run longer than an hour because you may risk losing your attendees' interest.
Remember, you know your clients best. Consider hosting webinars at different dates and times to gain more attendance and to find out what works best with your clients and prospects.
Just as with traditional events, Mondays and Fridays are busy days for most people, so it is best to avoid these days. Research indicates that Tuesdays and Wednesdays typically work best.
Popular times are noon or one o'clock since they are over the lunch hour. You may also want to experiment with doing one in the early evening, after the dinner hour. While most research indicates that Saturdays are not a good day for webinars, Saturday mornings may be a good alternative for families with two working parents. The best days and times really depend on the demographics of your clients, so experimenting with days and times initially is best.
Promoting Webinars
To market and promote your webinars, use social media and blog posts as well as traditional email. Be sure to promote your webinar at least two to three weeks in advance to allow enough lead-time.
Keep in mind, many attendees may not register until the day of the webinar so be sure to send reminder emails as the date gets closer. Remember, just because they register doesn't mean they will attend. In fact, research shows that 40 to 50 percent of those who register actually attend the webinar.
For those who do not register or attend the live webinar, be sure to record your webinar and make the replay available as long as possible. Ideally, you can even upload your webinar recordings to YouTube for anyone to view.
Your Webinar Content
Financial planning topics can be overwhelming and confusing for investors. Select a topic you have expertise in, but be sure you are passionate about it as well. Your presentation needs to be engaging because one drawback of webinars is that you don't have a live audience to interact with.
Offer a question and answer session at the end of your webinar or have a few canned questions ready to go at the end.
Remember, once you have your webinar content approved by your compliance department, you can likely use it over and over again. After you host your first webinar, schedule your second one right away so you make webinar marketing a consistent strategy.
Finally, create a call to action. Whether it's a free second opinion or introductory call for new prospects, be sure to create an appropriate call to action at the end of your webinar. You may also want to offer a limited time incentive for the first few days post webinar such as a free e-book or other valuable content. This will likely lead to higher conversion rates.
Selecting a Webinar Service
Research demonstrates that webinars can cost as little as $100 and run as much as $3,000.
Some of the most popular webinar services are GoToWebinar, WebEx, Adobe Connect Webinar and AnyMeeting. You may also want to research Join.me. It is free for up to 250 attendees and so is Google+ Hangouts, although the functionality may not be as good as the previously mentioned webinar tools for a fee.
The Bottom Line
While webinar marketing has not yet completely replaced traditional marketing events and seminars, financial advisors are increasingly using them as a cost-effective marketing strategy. They are less time consuming and less expensive, yet can be more efficient and yield better results.
If you've been on the fence, now just might be the best time to take action and give webinar marketing a try. You may be only one webinar away from new, qualified ideal prospects and additional business from existing clients.