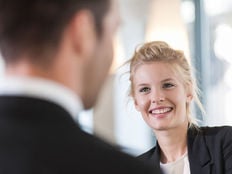 Ever wonder what factors might prompt a female advisor to switch to a new broker-dealer?
If you are a female advisor reading this now, have you ever thought about switching firms? And, if so, what factors would prompt you to make a change? If you are a male advisor and have a female advisor on your team, do you think she has thought about, or is thinking about, switching firms?
While switching to a different broker-dealer is certainly an extremely personal decision (whether you are a male or female advisor), the key factors that prompt women the most to move to a new broker-dealer can be summed up into the following: commitment, authenticity, and shared values. Interestingly enough, I'm sure you'd agree that all of these factors correlate directly with the culture of the firm itself.
Simply put, women advisors want the firm they work for to show commitment to adding new female advisors to the firm. Whether it is sponsoring women's conferences and local or regional events, hosting female networking groups or initiating training and educational programs to help women reach their professional goals and create a sense of belonging and loyalty, they want their firm to create a true culture of authenticity, supportiveness, and inclusiveness.
While the general industry data says the financial services industry is now about 10 to 20% female (and some reports indicate the number is as high as 30%), as much as we may not want to admit it, the feeling of the stereotypical "old boys club" remains, since women are still so underrepresented in the industry as a whole. According to Cerulli Associates, the bank channel firms brag the most female advisors with 33%, followed by 15.6% in the independent channel and 15.4% in the wire house firms.
Overall, women advisors want their firms to believe in their long-term success; they want firms to desire to attract a more diverse client base and support their practices to increase affluent clients and prospect female relationships. They also want a firm to support commitment to client focus and attention. All of these elements help to demonstrate a firm's culture of commitment to women advisors.
Having said that, a firm needs to demonstrate each of these very things authentically! It's not just a matter of hiring women advisors simply to give a more diverse appearance on a firm's website and checking off the box. Women advisors can see if a firm's efforts aren't authentic.
Industry firms need to not only hire new women advisors, they also need to retain those female advisors and make them feel valued. Firms should make women advisors feel welcomed and support them, as though they are part of something bigger than themselves. Broker-dealers also need to demonstrate that they take the industry statistics about the outstanding economic power of the female investor very seriously and be genuine with their efforts.
According to Diamond Consultants (in a report published by Pershing), a New Jersey-based consulting firm that specializes in recruiting financial advisors, "When a woman chooses to make a change, it's typically because of cultural dissonance with her firm. Women want to control the client experience as well as their own professional lives. Most senior women advisors are very well-heeled; they are in the business because they want to work, not because they have to work. They are looking for a place that fosters a quality professional life and lets them serve their clients as they see fit."
Women advisors need to feel their broker-dealer shares their core values. They typically seek coaching and mentoring opportunities that demonstrate opportunities to grow within the company, flexibility and work/life balance when contemplating switching firms. When a woman chooses to enter the financial services field for the first time as an advisor, according to research from the Insured Retirement Institute, she also seeks shared values from the firm, such as work/life balance, relationships, and meaningful work.
JD Powers' research says that firms that desire to attract top women advisors or new women advisors in general, should ensure they are leveraging very successful, highly satisfied women advisors as advocates to help attract more women to the profession, as well as to their firm. JD Powers' research also indicates women advisors overall are more satisfied than men advisors, and they exhibit a higher degree of loyalty to their firm based on such aspects as culture and client focus.
What questions might women advisors consider before switching firms?
The following are a few to think about to help make this very personal decision:
Do you feel women are represented well within your firm? Why or why not?
What plans has your firm made to hire new female advisors to the industry and/or recruit more female advisors from other firms?
What progress has your firm made to achieve these goals?
Do you feel your firm demonstrates commitment, authenticity, and shared values? Why or why not?
What specific factors are personally important to you that might make you decide to switch firms?
Does your firm foster retention of female advisors? How? Are their efforts genuine?
Do you believe you receive the support, coaching, mentoring and training you need from your firm?
Does your firm demonstrate that they understand the economic power of the female investor? What marketing efforts and programs do they have for you to use in your practice?
What do you think? Do any of the responses to the questions above light a fire under you enough to consider a change to a new broker-dealer? The choice is yours, so consider it carefully.
---
Content continues below advertisement
The Bottom Line
The bottom line is that for a firm to stand out and appeal to women advisors it needs to be visible in the marketplace and clearly position what differentiates it from other firms. The firm also needs to commit and do so authentically.