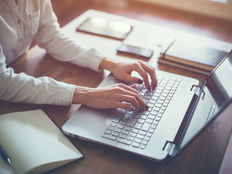 Do you carefully consider the words you use with your clients and prospects? Have you ever thought about the impact that your word choice can make on your highly coveted client relationships?
Well, if you don't, you might want to reconsider.
You have to think about more than what words you use with your clients; you also have to consider what your clients and prospects hear you say.
The Research
The research truly speaks for itself. Invesco Consulting teamed up with political and word specialists, Maslansky + Partners. Together, these two firms conducted one of the largest and most comprehensive studies on the language that the financial services industry uses today. They measured emotional responses to commonly used financial words, and organized a national survey to validate those findings.
The results of the study were fascinating.
---
Content continues below advertisement
Financial Security
Think about this for a moment. What words do you typically use when describing retirement with your clients and prospects? Like many advisors, you probably use words such as 'financial security' or 'financial freedom.'
Invesco's researchers asked investors about what is more important to them today—achieving financial security or financial freedom? An astounding 85 percent of participants indicated that 'financial security' is more important. Only 15 percent said 'financial freedom.'
The takeaway? Perhaps using the words 'financial security' with your clients and prospects will have a greater impact with them.
Fee Conversations
Fee conversations are another area that Invesco and Maslansky + Partners researched. Chances are high that you are having discussions about fees with your clients and prospects on a daily basis.
According to Invesco, a mere six percent of investors were opposed to advisors using the word 'costs.' However, a whopping 53 percent of investors indicated that they were opposed to the word 'fees.'
This might cause you to rethink these discussions. If investors do not like the word 'fees,' then consider using the word 'costs' instead. If changing one word in your client conversations can help you to make a significant difference, wouldn't you try it?
Managing Investments
How about investment conversations? What words are you using in these discussions with your clients and prospects?
Invesco asked investors, "Which of the following do you want to hear most about when managing your investments?" Forty percent said strategies, 22 percent said solutions, 21 percent said advice and 17 percent said opportunities.
Again, the idea is not to completely change your language. But, if using the word 'strategies' can make an impact on your conversations, it is likely worth the effort.
More Research
Just like Invesco, Chubb also partnered with Maslansky + Partners to conduct extensive research on what clients and prospects hear. Chubb's research was geared more toward insurance language; however, its mission was the same.
Chubb's research indicated the importance of avoiding negative language.
For example, instead of saying, "We'll identify your risks and exposures" to clients and prospects, instead say, "We'll identify how to best protect you."
They also found instead of saying, "if a loss occurs," replace those words with, "if something happens."
Again, these word changes are not significant, but could make a significant impact on your client relationships.
Your Writing
While the words you say matter with your clients and prospects, the words you write matter too. The words you use when writing blogs and marketing language for your advisory business also have great impact.
Susan B. Weiner writes the Investment Writing blog. Weiner believes that a financial advisor's writing can make deep connections with clients and prospects. In other words, writing the wrong words can also have a negative impact on your relationships.
Weiner urges advisors to avoid jargon and big words when writing blogs, as well as marketing language.
A few of the words she suggests avoiding are the obvious ones such as 'alpha,' 'efficient frontier' and 'sharpe ratio.' Instead, use shorter words that are less technical. She advises less technical words pack more punch and create less confusion, making it far easier for readers to understand your message.
The Bottom Line
Do you have to walk on eggshells when it comes to your word choice with clients and prospects? Simply put, the answer is a resounding no.
However, being cognizant of how your clients and prospects interpret and hear the language you are using and writing is of great importance.
While you certainly don't have to change the language of every aspect of your business, making small adjustments to your word choice can make a substantial impact. It is definitely worth a shot. Never underestimate the power of words!