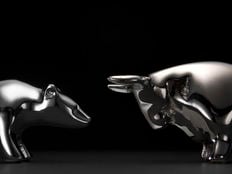 Volatility ETFs allow investors to gain exposure to the VIX index (also known as the fear index), allowing investors to hedge against the broader markets by investing in volatility. Volatility ETFs are a somewhat contentious investment, and investors should do their research before getting involved. Below are our best articles focused on analyzing and highlighting volatility ETFs.
Volatility ETFs
2016-05-26
Market volatility has a profound impact on investor portfolios. In addition to potential losses,...
Volatility ETFs
2015-06-24
The CBOE Volatility Index, known as the VIX, has been among the most popular benchmarks over the...
Volatility ETFs
2015-04-24
As ETFs have become more targeted and specialized, they have allowed all types of investors to...
Volatility ETFs
2015-04-24
As the lineup of ETFs continues to grow, more and more issuers have delivered innovative products...