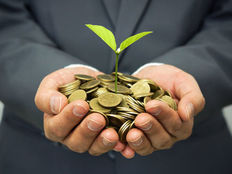 Fads in the investing world tend to come and go. Most of the time, these fads have a few years in the sun before fading into obscurity. However, every once in awhile, an investing trend or style grabs hold and sticks with the mainstream.
A prime example of that is socially responsible or SRI investing.
Socially responsible investing has come a long way since its humble beginnings as an esoteric management style with only a few ardent supporters. Today, it's a multi-trillion dollar behemoth that has finally begun to show its mettle both in portfolio returns and in acting as an agent for positive change. It's something that investors should at least be familiar with as it continues to gain supporters across the age and asset spectrum.
But what exactly is SRI? And should you incorporate some of its main ideals into your portfolio? Luckily, here at ETFdb.com, we have you covered.
More Than Avoiding Tobacco & Buying Alternative Energy Stocks
Lead by women and the Millennial Generation, today more than $7 trillion is invested in various SRI strategies and funds..That's up from $3.7 trillion in 2012 and just $639 billion in 1995. Here at ETFdb.com, we currently track 23 different socially responsible ETFs. However, that huge number – which has grown from just two ETFs in a very short time – doesn't even include numerous sector and thematic funds that could be considered "socially responsible."
---
Content continues below advertisement
The point is that investors are now building portfolios based on their morals and values. And that's the basic gist of SRI investing, using principles to guide portfolio decisions.
The concept gets its beginnings with the Quaker community, and was originally a simple weeding-out of various "sin" stocks from broader portfolios. Removing stocks such as tobacco, firearms makers, alcohol producers and gambling-related firms was as deep as the first SRI portfolios got. However, today SRI and its various "value" screens run very deep indeed.
Building on the "no sin" concept, today's socially responsible investors use various environmental, social and governance (ESG) metrics when evaluating stock or fixed income investments. These can include items such as checking a firm's carbon emissions output or water usage, how it treats its workers, number of human rights violations and other corporate governance actions, such as granting favors to lobbyists or CEO pay.
While many ESG ideals are subjective, many managers have either developed proprietary models to help score various ESG metrics among stocks or have turned towards industry bodies like US SIF (The Forum for Sustainable and Responsible Investment) to help generate ESG scores. For example, Magha CGI 30 Index uses artificial intelligence programs to look at a corporation's giving strategy, as well as other criteria – such as having an LGBT-friendly culture and the number of women in executive management – to find superior ESG stocks.
The idea behind using ESG concepts is to help identify companies with superior business models and forward-thinking attributes that are focused on the long term, mitigate risk and ultimately, produce better returns.
Pushing Management
But today's SRI investor isn't content with just buying "good" stocks and avoiding "bad" ones. Many ESG proponents are leading the charge with pushing management to act in more responsible ways. Using the playbook developed by activist investors such as Carl Icahn, shareholder advocacy is now a major part of SRI/ESG investing.
Lead by mega pension funds like California's CalPERS or Norway's Sovereign Wealth fund, these funds have used their immense size to influence corporate board actions, reduce a firm's pollution/carbon output and even push social/political ideology.
Again, the idea is to create long-term value and financial performance by focusing on positive practices and policies.
Getting Good Returns for Doing "Good"
All of this may finally be working in SRI's favor.
Back when SRI investing was primarily just avoiding sin stocks, performance at many SRI-focused vehicles suffered. That's because sin, particularly in the tobacco industry, has been one of the best performers in the market. However, with more firms now fitting the ESG mold, socially responsible investing is starting to really perform well.
In a recent ETF Database interview, Shaunak Khire, who helped design the previously mentioned Magha CGI 30 index, highlighted that fact. The index has managed to outperform the broader markets and, according to Khire, part of the reason is that SRI now holds both traditional "value" and "growth" stocks. The combination of holding firms like Berkshire Hathaway and faster-moving stocks like Google has allowed SRI funds/indexes to offer the best of both worlds. The stability and growth of today's SRI investments equate to long-term outperformance.
Adding hard return data to it only underscores this fact even further.
According to a research study by insurer/asset manager Allianz, investors could have added an additional 1.6% a year to their investment returns by allocating to portfolios that invest in companies with above-average ESG ratings between 2006 and 2010. That echoes a similar study by Deutsche Bank that showed high-ranking ESG firms outperformed low-ranking ones 89% of the time.
Want even more proof? The MSCI KLD 400 Social Index, which is a measure of large-, mid- and small-cap SRI-focused firms in the U.S., managed to return an average of 10.36% annually over the last 24 years ending in 2015. Its parent index, the MSCI USA, only returned 9.86% in that same time frame.
The Bottom Line
With higher returns and additional metrics to help investors guide their portfolios in-line with their values, SRI investing continues to grow. And, as we've illustrated, there are plenty of reasons why. Socially responsible investing is now producing great returns, in addition to good vibes. There's no longer a trade-off between profits and the planet.
The question now, is how early investors will hop on the ESG train. With more managers adopting some sort of ESG thinking into their portfolio selection, that ride may come sooner than later. In the end, SRI is certainly one fad that has turned into investment fact.