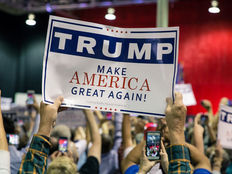 For President Donaly Trump, one hot button issue – especially in the wake of rising terrorism – has been defense spending.
When Trump makes his plans a reality, then the various stocks and exchange-traded funds (ETFs) in the aerospace and defense sector could be looking at abundant profits over the next few years.
America Is Not Prepared
When Trump began his campaign months ago, he was very much in favor of cutting military spending and curbing wasteful spending at the Pentagon. However, his current stance and official policy pledges are more in-line with traditional Republican values of higher rates of military spending. And since this is "The Donald," we're talking about much, much, much higher.
In a speech to the Union League of Philadelphia, Trump pledged to reverse cuts enacted to defense spending during the 2013 budget sequester. Without those caps, Trump would boost defense spending by over $500 billion during the next ten years. America already spends more than $600 billion on defense spending, which is roughly the same amount as the next top nine nations combined. In order to pay for the plan, Trump has pledged to cut the government's workforce, cancel several social programs and hit up tax lawbreakers to pay even more in fines. The presidential candidate has also expressed that he wants nations in which the U.S. has bases to pay up for that protection.
What Trump plans to do with the spending is a huge mechanization program that would include adding 50,000 more troops, building more than 70 new Navy warships, creating 13 new Marine battalions and adding nearly 100 Air Force planes. Trump has also expressed interest in upgrading America's nuclear missile defense systems.
By building out our military, Trump is copying Teddy Roosevelt's idea of "speaking softly and carrying a big stick." In the speech to the Union League, Trump's underlying point was that "we want to deter, avoid and prevent conflict through our unquestioned military strength."
---
Content continues below advertisement
The ETF Winners Under Trump's Plan
Given that Trump is all about boosting military spending to new highs, the firms that provide defense contracting or military hardware should continue to see some big-time profits – if he is elected.
| Ticker | Name | Issuer | ETFdb Category | Expense Ratio |
| --- | --- | --- | --- | --- |
| (ITA ) | iShares U.S. Aerospace & Defense ETF | iShares | Industrial Equities | 0.44% |
| (XAR ) | SPDR S&P Aerospace & Defense ETF | State Street | Industrial Equities | 0.35% |
| (PPA ) | PowerShares Aerospace & Defense Portfolio ETF | PowerShares | Industrial Equities | 0.64% |
| (HACK ) | PureFunds ISE Cyber Security ETF | PureFunds | Technology Equities | 0.75% |
| (IGN ) | iShares North American Tech-Multimedia Networking ETF | iShares | Technology Equities | 0.48% |
With that in mind, the broad $876 million iShares U.S. Aerospace & Defense ETF (ITA B+) could be a big winner. ITA tracks the Dow Jones U.S. Select Aerospace & Defense Index, which is made up of all the largest U.S. firms that build military aircrafts and other defense equipment. All the heavy hitters are here, and ITA would benefit from any increased military spending or removal of sequester caps. Expenses for the ETF run at just 0.44%. Likewise, the PowerShares Aerospace & Defense Portfolio ETF (PPA B+) makes for another interesting choice and features a more concentrated portfolio.
Another area of defense spending that could see a big boost under Trump's plan is cybersecurity. Hacking and other digital attacks continue to expand at a rapid rate. The recent hacking and email scandal encompassing Trump's rival, Hillary Clinton, is just one example. In the end, the sheer rise in cyber threats will translate into big-time spending. The PureFunds ISE Cyber Security ETF (HACK B+) follows a basket of firms dedicated to various cybersecurity efforts – from software to data recovery. So far, the new ETF has garnered plenty of attention from the investing public and will see its profits rise as more spending occurs. Similarly, the iShares North American Tech-Multimedia Networking ETF (IGN A-) tracks a basket of networking software and equipment stocks. Securing networks and providing state-of-the-art equipment is a must, and IGN's underlying firms should also benefit from the spending.
The Bottom Line
President Trump has gone from one extreme to another with regards to military spending. However, his current stance is very bullish for those firms that operate in the sector. Boosting spending and adding a ton of military hardware will only benefit firms in the sector. While there aren't many ETF plays, the few that exist like the SPDR S&P Aerospace & Defense ETF (XAR A-) should rake in the dough.