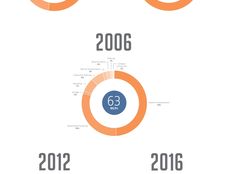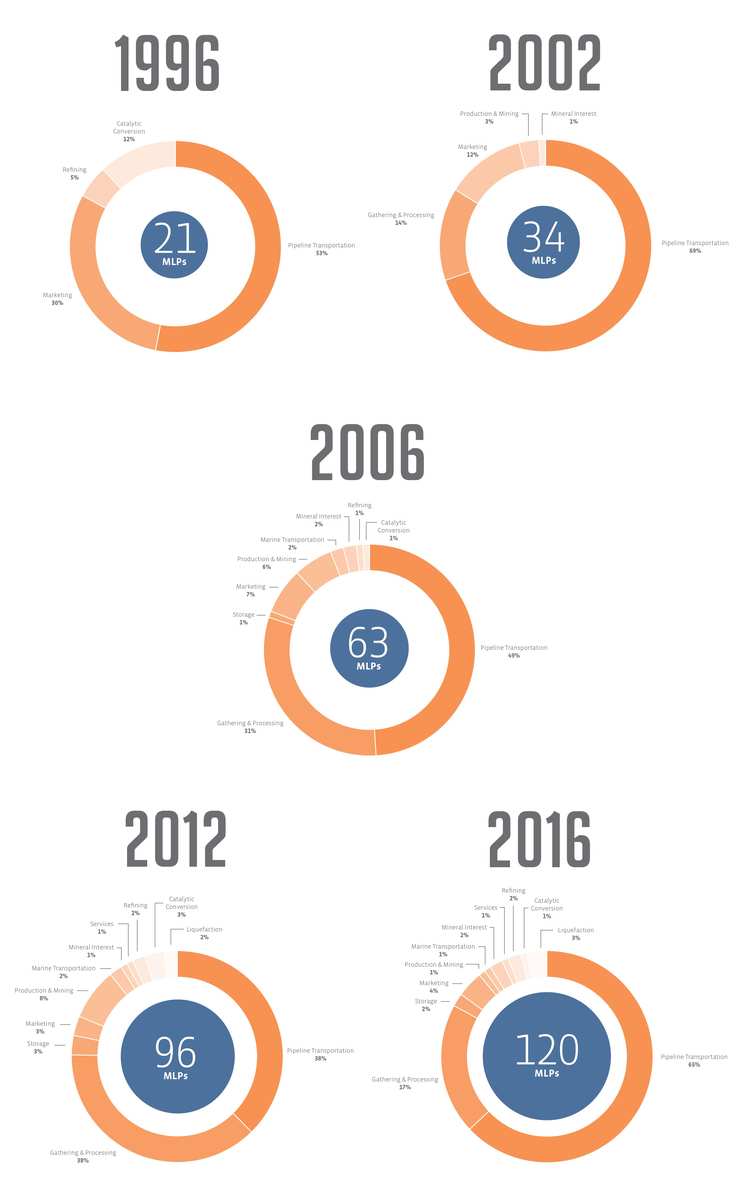 I am a picture person, but for my table people, this may be easier to digest. It also includes the data for all years since 1996!

---
Content continues below advertisement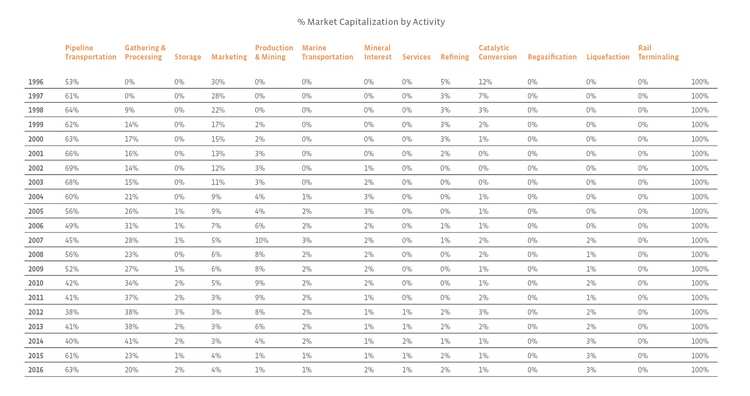 The most obvious takeaway from this data is that the Pipeline Transportation sector has been the primary business in the MLP space for the past 20 years.
However, in the most recent decade, Gathering & Processing MLPs have given Pipeline Transportation MLPs a run for their money. Back in 1998, when there were a whopping 22 MLPs, there was only one G&P company, Enterprise Products Partners (EPD). The company comprised 9% of the total market capitalization. Thanks to the application of horizontal drilling in the Barnett in 2003 and the "shale mania" that followed, the demand for gathering and processing infrastructure (and subsequently, G&P MLPs) began to increase from 2004/2005 and thereafter. By 2006, there were 15 G&P MLPs, and as depicted, 31% of the total market capitalization. In fact, for one year (2014), G&P MLPs (41%) represented a higher percentage versus Pipeline Transportation MLPs (40%) of total energy MLP market capitalization.
On the flip side, the sector that has seen the largest decline in exposure is Marketing. In 1996, six of the 21 MLPs were engaged in propane distribution, representing 30% of total market capitalization. While we've seen "gas station MLPs" enter the MLP structure, declining propane demand and significant consolidation in the propane space has resulted in Marketing MLPs representing 4% of total market cap.
It's important to note that within several of these categories there are also sub categories:
While looking at the pies, it's clear that Production & Mining MLPs currently make up a relatively small percentage of the total market capitalization. However, at the peak of commodity prices (crude, gas, coal, etc.) in 2007, Production & Mining names reached their highest exposure at 10% (7% to Hydrocarbon and 3% to Coal). Upstream names (Alerian classifies upstream as Production & Mining | Hydrocarbon), which previously made up the bulk of the Production & Mining category, currently only make up 0.4% of total MLP market cap, for obv reasons.
Finally, the sheer number of categories has increased over time from 4 in 1996 to 13 today, as a function of tax lawyers trying to put more businesses into the MLP structure. Just kidding, but not really. With more than 100 PLRs issued in the past two decades, qualifying income continues to be interpreted (and expanded).
To learn which MLPs fit into which category, visit our screener here. To understand which business activities are carried out in each of the sectors, click here to download a helpful PDF. If you have further questions about historical classification data, please email me at index@alerian.com.
Edited to reflect EPD's classification change to Pipeline Transportation | Natural Gas by the end of 2015. Charts revised on 03.31.2016.