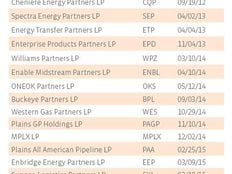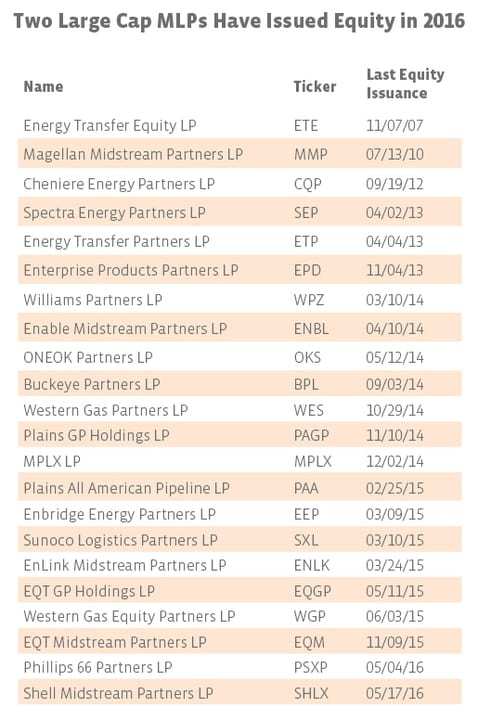 This year, both Phillips 66 Partners (PSXP) and Shell Midstream Partners (SHLX) have issued equity. In fact, as this piece is about to go to press, PSXP has just announced a six million unit offering.
On May 4th, PSXP issued common units to repay a portion of notes payable to Phillips 66 (PSX) in consideration of the acquisition of the Standish Pipeline and the 75% ownership interest in Phillips 66 Sweeny Frac. The units were issued at a 7.2% discount and raised $656 million. Despite the discount, interestingly, the offering was upsized over 46% from 7.5 million to 11 million units and the shoe/overallotment (15%) was exercised. SHLX most recently issued $400 million of equity on May 17th to fund the acquisition of additional interests in three pipelines. Similar to PSXP, despite the 8.5% discount, the offering was also upsized, from 9.5 million to 10.5 million units, and the 15% overallotment was exercised here as well. SHLX also issued equity in March of this year to pay off debt in another upsized offering that similarly raised about $400 million. These units were sold at a 6.7% discount.
It's important to remember that issued equity comes at a cost. (And not just the discounted issuance price.) The MLP will forever have to pay distributions on these units, so MLP management teams must carefully consider all of their options before conducting an equity issuance. Remember, a lack of recent equity issuance does not necessarily indicate a lack of recent growth. MLPs may be funding growth through debt, retained cash flow, DRIP programs, joint ventures, at-the-market (ATM) offerings, or some combination of the above.
For many MLPs, ATM offerings have become an important source of funding. These units are sold in small batches at prevailing market prices and allow MLPs to control the timing and amount of each sale. While less capital can typically be raised in an ATM, the fees are also substantially lower. In an upcoming mailbag, I'll share how the number of MLPs with ATM equity distribution agreements has grown over the years. As always, if you have any further questions about this topic, please email me at index@alerian.com.
2016.08.10 12:00pm CST – Edited footnote concerning typical discount rates and corrected a grammatical error. 
---
Content continues below advertisement