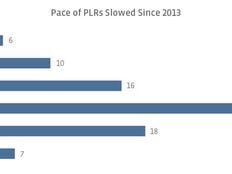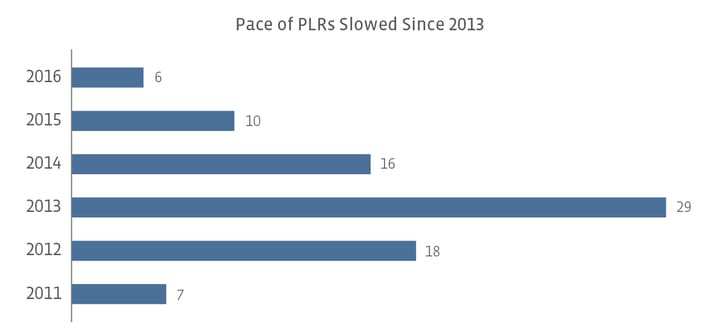 The majority of PLRs issued in 2011 were "straight down the middle of the fairway" with the exception of one letter issued to a hydraulic fracturing fluid transportation and storage company. In 2012 a few more non-traditional activities were discussed in the rulings and in 2013, the flood gates opened. The rulings no longer primarily addressed pipeline and storage activities, but things like the disposal of fracking water and fluids, the mining, marketing, and processing of sand and proppants used in fracking, and even offshore drilling. It's easy to surmise that the large number of rulings issued in 2013 gave the IRS pause to re-evaluate the clarity of regulations.
Now, jumping to 2016, as the chart indicates, there have been six PLRs to date. And while none of the situations are identical, five of the six PLRs deal with some form of fluid handling and disposal services to oil and gas producers. To give you the CliffsNotes, activities such as the following are considered qualifying income by the IRS:


Delivery of fluids


Provision of inter-well water transfer services


Processing, treatment, and disposal of waste solids and waste fluids


Recovery, recycling, and marketing of brine, chemicals, and drilling mud to oil and gas producers


Transportation of produced water from crude oil and natural gas wells


Selling filtered hydrocarbons collected as part of the disposal process
The other PLR issued this year deals with the production, storage, transportation, and marketing of nitrogen-based fertilizers such as ammonia and ammonium nitrate. The company would sell these items in bulk to customers (not direct retail sales to end users). The IRS approved these activities as qualifying.
If you're super interested in this topic and want to learn more, explore the PLR database by clicking here. It is easily searchable by number or subject. Stay tuned for more on the final version of the updated MLP regulations, and, as always, if you have any additional questions about this topic, please email me at index@alerian.com. I promise I won't leave you hanging.
---
Content continues below advertisement