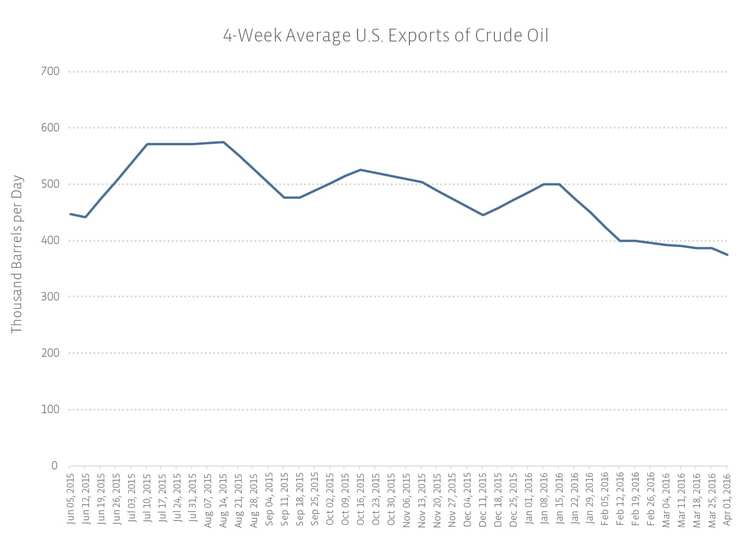 Evidently, crude oil exports have declined since mid-January.
[Why were there even exports before December 2015? For starters, some crude oil was allowed to be exported before the ban was totally lifted. According to the EIA, cases where exporting crude oil was allowed before the ban lift include: 1. When the crude oil was derived from fields under the state waters of Alaska or was Alaskan North Slope crude oil, 2. When the crude oil was being shipped to US territories, 3. When California crude oil was shipped to Pacific Rim countries, and 4. When certain domestically produced crude oil was sent to Canada. Additionally, some pre-ban-lift crude exports involved small amounts of Canadian-produced oil that made a pit stop in the US and were then re-exported to countries like Switzerland, Spain, Italy, and Singapore.] The vast majority of exports before December 2015 were shipped to Canada (exception #4).
While we don't have weekly export data by country, we have monthly export data by country and can see that shipments to Canada dropped by about 28,000 bpd between December and January. The lost exports to Canada are to blame for much of the decline but, on the bright side, there were a few exports that wouldn't have occurred had it not been for the legislation change. These exports have offset some of this drop. For example, NuStar Energy (NS) and ConocoPhillips (COP) shipped light crude from the Eagle Ford to international trading company Vitol at the end of December. There were also about 600,000 barrels of oil shipped from Enterprise Products Partners (EPD) to France in January that wouldn't have otherwise been allowed. Given this, we know the change in law is having a small effect on crude oil leaving the country. However, even though we can export, the demand for light sweet oil is not strong in this environment and exports are still an insignificant piece of the US production pie. For perspective, in 2015 (on average) the US produced 9.4 million bpd of crude oil. Only about 458,000 bpd were exported. That's less than 5%—again, with the bulk of exports to Canada. We've seen production drop a bit in 2016, but as we mentioned, exports have dropped too, so the picture isn't much different.
As noted, the US has begun importing more crude oil than it has in recent years. This surprised me since one of the reasons we wanted to export oil was because we have too much in the US, as a function of the energy renaissance, and need to sell it elsewhere. You would think from December to April that imports would have gone down. However, during the week of March 18, 2016, imports hit their highest level in three years.
---
Content continues below advertisement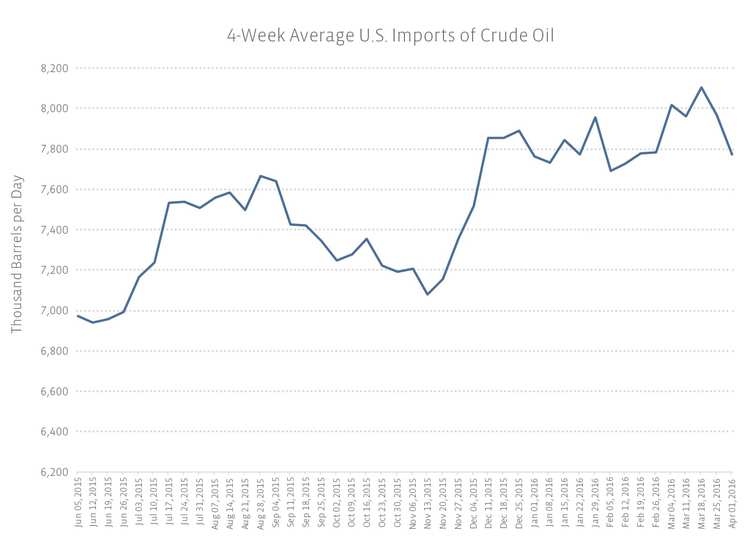 The reason for this is best explained using rhinestones and glitter.
My side hobby is card making (rhinestones and glitter are almost always part of the equation). I've sold my cards at craft fairs and on Etsy. When I'm at a local craft fair and it's nearing the end of the show, I start discounting my cards to about $1 each because I don't want to box them up and take them home. However, on Etsy, I would never do this. I'm not under any kind of pressure, and my online shop is open to buyers all over the world. It only makes sense for me to keep the prices at competitive levels and sell them for what they're worth. This is exactly the same thing going on with crude oil. Before the export ban was lifted, producers of light sweet crude oil were willing to sell their product for a low price because they were under constraints of where the product could be sold. Refiners were into this because, although their refineries were best suited for refining heavier crude, they were getting the light sweet crude from US producers for a great price, and it was worth making modifications to their processes for the discount. Well, now the producers are like my card shop on Etsy. They can sell to anyone, anywhere. They don't have to sell their light sweet crude at a dirt cheap price, because now they're in the global market, and can sell at more competitive prices. On the refiners' side, given that the deep discount is no longer in place, they would rather process the heavy stuff since that's what they're set up for, and this is why we're seeing more imports.
Lifting the export ban has caused the US to be a member of the broader world oil market. Incidentally, we haven't seen a big impact on exports yet, but the picture might be altered if/when circumstances in the energy space are different. Hopefully, I've helped unravel the bulletin board of clutter for you in relation to this topic and you can now fill your thoughts with the things that interest you most, like glitter and rhinestones (if you're me).