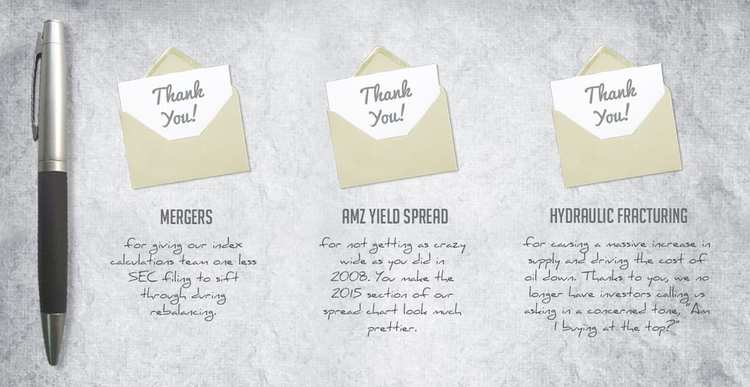 That was my attempt at being cheeky. Imitating Jimmy Fallon worked for one of my favorite authors, but trying to be sarcastic and funny doesn't always work in the middle of a piece about the commodity price environment. But, a girl's gotta try.
And with that, there really are things to be thankful for, even in the current environment.


The tariffs of interstate liquids pipelines increased on July 1st. Thanks to the Federal Energy Regulatory Commission (

FERC

) methodology, companies received a 4.58% bump to their tariffs, composed of a 1.93% value for

PPI

in calendar year 2014, plus 2.65%.


Refined products demand is up. Magellan Midstream Partners (

MMP

), for example, reported that its refined products operating margin for 3Q 2015 was up $41.1 million versus the prior year period. The company notes that this is due to higher tariffs (see #1) and "record refined products shipments."



Projects are still being announced. Earlier this month, TransCanada (

TRP

) publicized that it was chosen by Mexico's state-owned power company to build, own, and operate the Tuxpan-Tula Pipeline.



Drilling efficiencies have improved. As technology advances, producers are able to get more oil out of the ground at a lower cost and with less effort.


Alerian announced the Inaugural Ammy Awards!


The US has become a major player on the world oil stage. While some believe the US deserves the title of swing producer, this label is still up for debate. Most would agree though that the US has "triggered a once-in-a-generation change in the wider operating dynamic of the oil and gas business."


Some MLPs were able to swap their maturing debt for lower interest rate debt this year. For example, in early June, MarkWest Energy Partners (

MWE

) shed its notes with interest rates as high as 6.75% for those carrying a 4.875% interest rate.


Times may be tight for oilfield workers and their families, but as a Facebook friend to countless oilfield wives, having husbands and fathers home for a bit has its advantages. Oilfield workers are sorely missed when they are away.
There we have it folks. Eight things to be thankful for even when the chips are down. What do you have to be thankful for this year? We challenge you to make a list. You might be surprised at just how many things you have to celebrate. Happy Thanksgiving from our families to yours.
---
Content continues below advertisement