---
Content continues below advertisement
April of 2015 may have been the month natural gas finally overtook coal because this was the month the Mercury and Air Toxic Standards (MATS) from the US Environmental Protection Agency (EPA) went into effect. The implementation of MATS was no surprise to the industry, as the standards were first announced in December of 2011. Plant retirements began in the wake of the news, but the final straw was likely the EPA's denial of all requests to reconsider certain aspects of the plan. Evidently, around 18 gigawatts (if you're wondering what the heck a gigawatt is, this fun BuzzFeed article helps you understand what 1.21 gigawatts looks like) of electric generating capacity was retired in 2015 and more than 80% of that belonged to coal. Thirty percent of the coal retirements occurred in conjunction with the imposition of the regulations.
On the flip side, there has been a steady flow of natural gas electricity generation capacity added over the last decade. The additional capacity has primarily come from combined-cycle plants, and just in case you don't know the different generation methods by heart, naturalgas.org does a great job of explaining.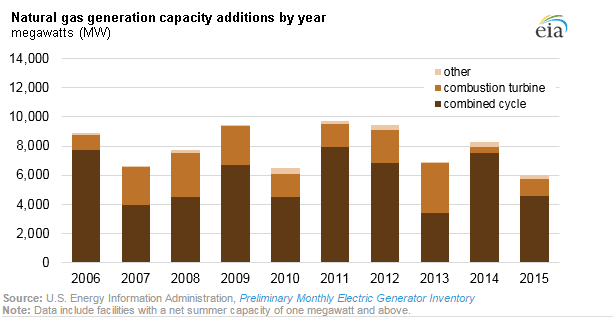 It's worth noting that natural gas isn't the only power generation source that's edging coal out. Wind and solar are also having a significant impact.
With the aforementioned MATS in place and Obama's Clean Power Plan (CPP) on the horizon, these changes are not too surprising. MATS seeks to reduce toxic air pollutants such as mercury, arsenic, and metals. The CPP is poised to reduce carbon dioxide emissions from fossil fuel-fired power plants by about 30% nationwide. The technologies that must be implemented to be in compliance with emission standards is quite costly. Because of this, we will likely see a continuation of coal plant retirements this year.
No matter how you slice it, this is not good news for coal MLPs. But before you click away from this post feeling hopeless, there is a bright side. These happenings are very encouraging for natural gas MLPs, such as Spectra Energy Partners (SEP), whose assets are demand-pull driven versus supply-push. This means pipelines are expanded because a utility company wants it to support power generation/customer demand and not because a producer wants to move its product out of a basin.
As hard as it can be to witness the end of an era, sometimes it's for the best. As much I loved the home phone and hoping desperately that my mom wouldn't pick up on the other receiver to listen in while I was talking to my boyfriend, I'm pretty sure the teens of today are very content with their cell phones.