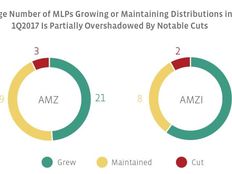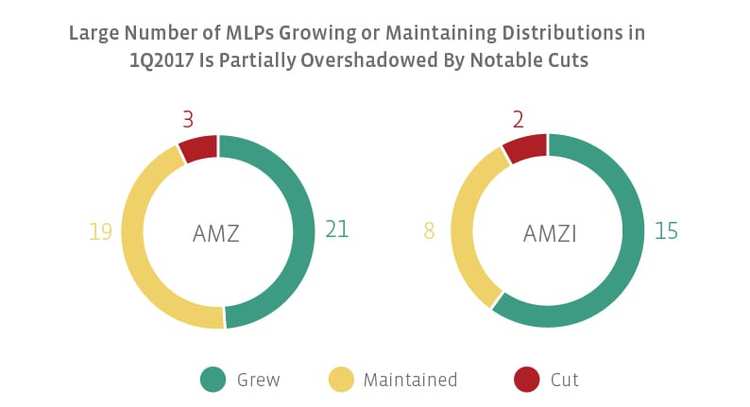 AMZ Q/Q Fun Facts



Antero Midstream (AM) won the percentage increase contest this quarter with a 7.14% bump from $0.28 to $0.30.


Including AM, there were five companies that increased distributions by 5% or more: Dominion Midstream Partners (DM), Valero Energy Partners (

VLP

), Shell Midstream Partners (

SHLX

), and Phillips 66 Partners (

PSXP

).


There were three cuts in the

AMZ

this quarter. Enbridge Energy Partners (

EEP

) cut 40% from $0.583 to $0.35 and the Williams Partners (

WPZ

) cut 29% from $0.85 to $0.60. The third was from Terra Nitrogen Company (

TNH

). Because

TNH

is a variable distributor, a decrease in distributions is not uncommon to investors.
AMZI Q/Q Fun Facts
Of the 15 MLPs that grew distributions in the

AMZI

, five increased payouts by 4% or more: AM,

SHLX

,

PSXP

,

EQT

Midstream Partners (

EQM

), and Rice Midstream Partners (

RMP

).

RMP

entered the

AMZI

in the March 2017 rebalancing. The company increased distributions and caused the list of

AMZI

growers to increase from 14 last quarter to 15 this quarter.
Special note: Energy Transfer Partners (ETP) merged with Sunoco Logistics Partners (formerly SXL). Although SXL was technically the surviving entity, the company took on ETP's name. The original ETP didn't announce a distribution before the merger and it is not reflected in our calculations. SXL (aka new ETP) announced a distribution increase from $0.52 to $0.535. Therefore, we gave them credit for an increase. However, if you were an original ETP unitholder and are now a new ETP unitholder, your distribution post-merger technically decreased. Original ETP unitholders received 1.5 units of new ETP as a result of the merger. Original ETP unitholders were receiving a $1.055 distribution per unit beforehand. New ETP's distribution was $0.535, so even when multiplied by 1.5, we're still looking at only $0.8025/unit.
Next, we have the year over year data which compares 1Q 2016 and 1Q 2017. If the name was in the index in both 1Q 2016 and 1Q 2017, I compared the distributions. Please note there is survivorship bias in this method.
---
Content continues below advertisement