Index Insights
MLPs Are Up 50 Percent Over the Past Four Months. What's Next?
2016-06-05
MLPs are up 50% over the past four months. What's next?
At the beginning of this year, we received lots of mail from concerned investors. Everyone was asking us what would be the next piece of bad news in MLP land. Fears of bankruptcies, consolidations, limited access to capital markets, recontracting, environmental law changes, and decreased demand loomed. It's been like a Nicholas Sparks novel in our office.
And then, like a break in the clouds on a stormy day, we started to see some sky. In May, MLPs were up 2.5% and 51.9% off the bottom established on February 11, 2016, on a total return basis as measured by the Alerian MLP Index (AMZ). Almost overnight, the tone of the questions has changed. Investors are no longer asking which monster is going to crawl out of the sea next, but asking smart questions about risks in the water before diving back in.
As an index provider, we're not going to tell you when to jump. We do, however, believe knowledge is power, and here are some important facts we think you should consider.
First, crude oil prices have slowly climbed since February. At its low point, West Texas Intermediate (WTI) fell to $26.19. Over the past couple of months, WTI has consistently hung around in the high $40s. Natural gas is also seeing a bump in demand thanks to warmer weather. According to the Energy Information Agency (EIA), consumption of natural gas for power generation was at its highest level this year on May 31.
Commodity prices (oil, natural gas, and natural gas liquids) will continue to have the most influence over MLPs in the coming year. More important than the year-end prices will be the swings in those prices. A steady move upward, or even just trading around current prices will calm investor fears, increasing demand for MLP units and increasing valuations.
Second, we've seen a couple of MLPs access the capital markets. As we recently mentioned, Boardwalk Pipeline Partners (BWP) and Tesoro Logistics (TLLP) issued debt in May. As noted above, many investors have voiced concern about MLP access to capital over the last year. While progress in this area is still needed, the fact that TLLP got a reasonable price on $700 million of notes with a Ba2 rating could be a sign that MLPs will have the ability to grow through the recovery.
Given that concern over access to capital was one of the biggest fears/questions at the beginning of the year, continuing evidence that MLPs are accessing the markets may eventually lead to more investor confidence.
Finally, uncertainty is the enemy of premium valuations. While things are looking better, there are certainly some unknowns. Namely, no one knows exactly when the supply/demand equation is going to rebalance. At the Master Limited Partnership Association (MLPA) Conference last week, Plains All American (PAA) said they foresee the global supply equation balancing in +/- 12 months. While many analysts agree with this sentiment, no one can see the future or predict exactly what OPEC is going to do, so uncertainty remains. Macro fundamentals will firm up when people come to a collective agreement around the direction of the space. One thing is for sure, however, and Latham & Watkins said it best with their MLPA Conference giveaway, stakeholders are ready to "Make MLPs Great Again."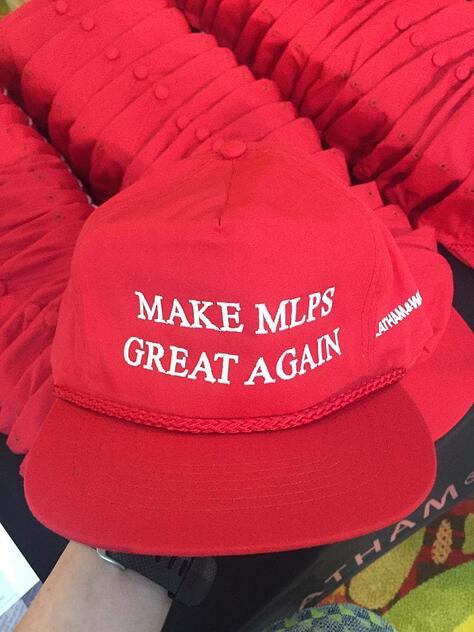 ---
Content continues below advertisement
---