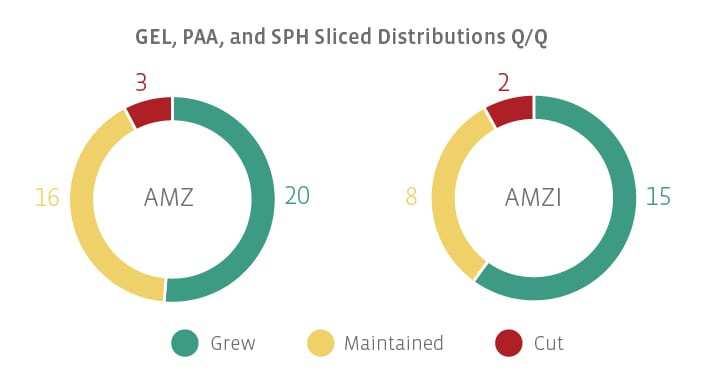 AMZ and AMZI Q/Q Fun Facts



Antero Midstream Partners (AM) won the percentage increase contest this quarter with a 6.25% bump from $0.32 to $0.34.


Including AM, there were four companies that increased distributions by 5% or more: Valero Energy Partners (

VLP

), Phillips 66 Partners (

PSXP

), and Dominion Energy Midstream Partners (DM).


Of the 15 MLPs that grew distributions in the

AMZI

, six increased payouts by 4% or more: AM,

PSXP

, DM,

EQT

Midstream Partners (

EQM

), Shell Midstream Partners (

SHLX

), and

MPLX

(

MPLX

).
Next, we have the year over year data, which compares 3Q 2016 and 3Q 2017. If the name was in the index in both 3Q 2016 and 3Q 2017, I compared the distributions. DM, Holly Energy Partners (HEP), and Rice Midstream Partners (RMP) are excluded from the AMZI pie chart shown below because they were not constituents of the index in 3Q 2016 (although they are current constituents). Please note there is survivorship bias in this method.
---
Content continues below advertisement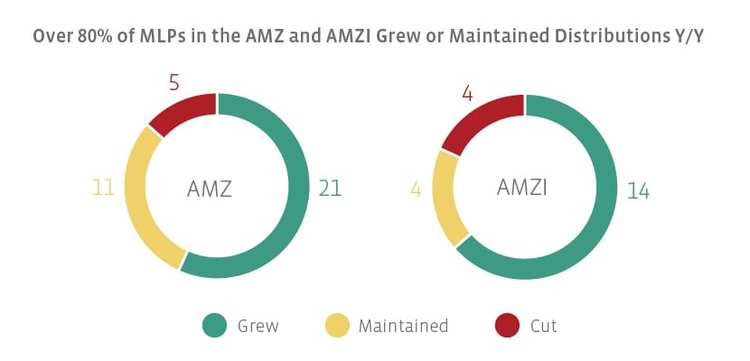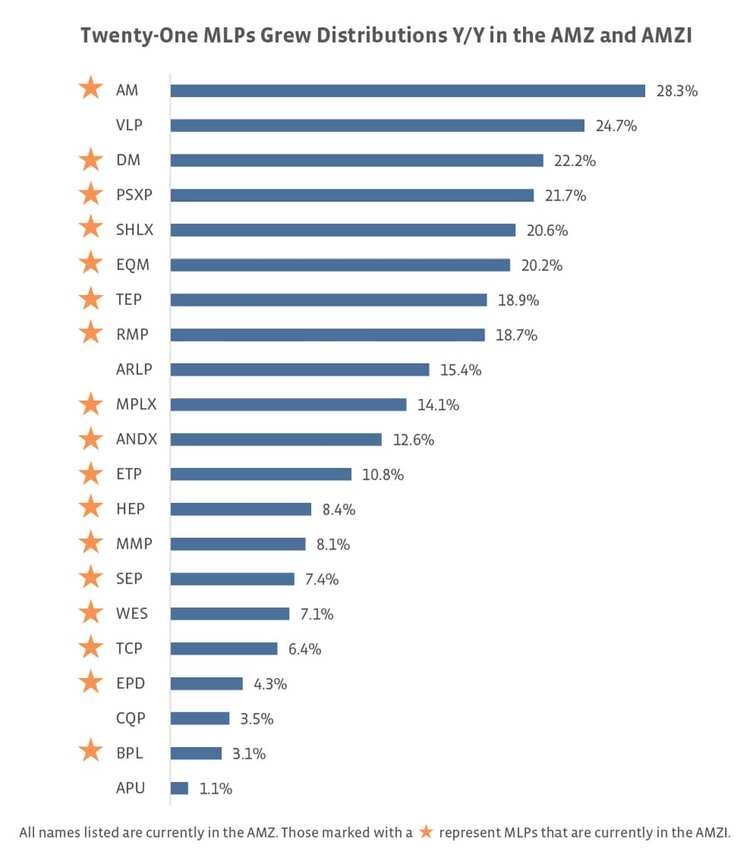 Names that maintained year over year (all names listed are in the

AMZ

, those with a * represent MLPs that are also in the

AMZI

):














Those that cut year over year were Plains All American Pipeline (PAA), Enbridge Energy Partners (EEP), Suburban Propane Partners (SPH), Williams Partners (WPZ), and Genesis Energy (GEL).
As mentioned, GEL, PAA, and SPH each cut their distributions for 3Q 2017. PAA had telegraphed their distribution cut back in August, indicating that the distribution would be reset to align with PAA's fee-based segments, and cash flows from the Supply & Logistics segment would not be included in the calculation. PAA's cut is noteworthy because the distribution had already been cut for the third quarter of 2016. This has reasonably raised eyebrows among stakeholders and caused concern for many investors. SPH and GEL discussed strengthening the balance sheet and enhancing financial flexibility in the context of their cuts. For additional commentary and analysis of GEL and SPH's cuts, check out my colleague's "What Happened in October" post.
While distribution cuts tend to generate more headlines, it's important to keep in mind that many MLPs continue to grow their distributions, including some increasing their distribution by 4+% on a quarter-over-quarter basis. That kind of growth is nothing to sneeze at!