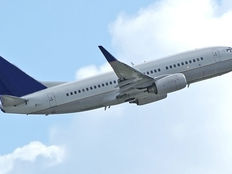 Passenger bookings and commercial airline demand can be considered a leading indicator for the rest of the travel industry. Airline travel, whether for business or leisure, can be associated with an increase in booking and travel agency services, hotel and lodging reservations, rideshare and car rentals, and recreational activities like theme parks and casinos. But short-term trends in airline bookings are not as foretelling as they have been in the past—new variants of COVID-19 have stalled the recovery in the travel industry from what the market thought would be a strong upturn—and many travelers are either delaying travel or booking last minute travel due to uncertainty in travel restrictions and closures. Longer-term industry forecasts, however, point to strong underlying fundamentals and expectations for air travel demand to return to pre-pandemic levels within the next couple of years. With returning strength in airline demand, hotels and the rest of the travel and leisure industry could benefit from the updraft, providing an opportunity for investors with a broad-based position in the travel industry.
Travel taking off later than expected?
During the first half of 2021, a combination of
COVID
-19 vaccinations and stimulus payments brought optimism that the economy would reopen, and consumers who had spent the past year at home ordering goods online would get out of the house and start spending money on services. Many investors expected the travel industry to benefit significantly from the shift from goods to services—including travel. Those optimists were only somewhat correct. From early 2021 to July, global air traffic demand (measured by revenue passenger kilometers or RPKs) and carrying capacity (measured by available seat kilometers or ASKs) have continued to improve but remain far below 2019 levels as shown in the chart below. Domestic passenger bookings had also previously foretold an upward trend throughout 2021.
But by August, bookings stalled again when the Delta variant threw a wrench in many travelers' summer plans.
---
Content continues below advertisement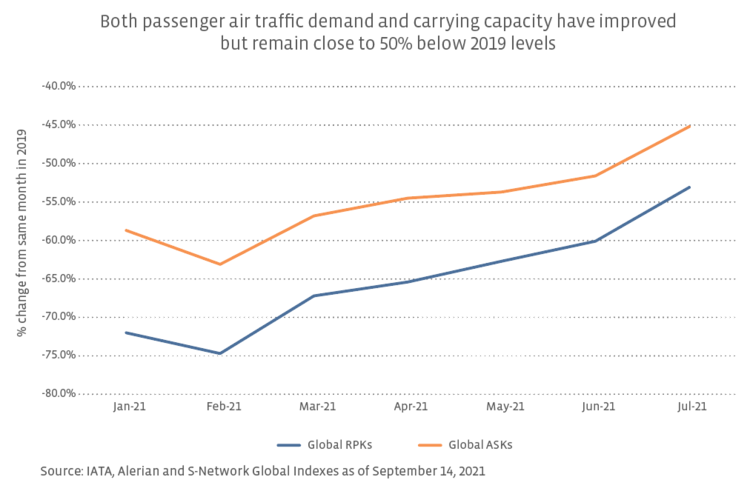 But airline demand fundamentally remain intact and long-term forecasts are optimistic.
Despite short-term uncertainty, longer-term forecasts have strengthened. Fundamentals like global
GDP
growth and a relatively high domestic savings rate are expected to eventually outweigh any short-term disruptions to the airline industry. On September 14, Boeing (BA) released its annual Commercial Market Outlook, which has largely been considered the industry standard for insights into air travel. Boeing's forecast states that domestic air travel has been leading the near-term recovery, with shorter-haul routes expected to follow within the next year. By 2023 to 2024, Boeing expects long-haul global travel to return to pre-pandemic levels. Additionally, the global passenger fleet is expected to grow 36.8% from 2019 to 2030 and then another 39.5% from 2030 to 2040— an approximately 3%
CAGR
.
Boeing's outlook also predicts that global

RPK

growth will average 4% per year from 2019 to 2040.
Investors that wish to capture long-term fundamentals of the travel industry may prefer to use an index-linked product in order to gain a holistic view of the industry. For example, the S-Network Global Travel Index (TRAVEL) is comprised of stocks within airlines and airport services; hotels, casinos, and cruise lines; booking and rental agencies; and other ancillary services. These are further ranked and weighted by both a quality score (based on free-cash-flow-to-revenue) and a growth score (based on estimated short-term earnings growth) to ensure that constituents will have a strong, yet stable growth outlook. Several other peer indexes exist; however, many of these provide exposure limited to the airline and hotel industry, rather than a broad-based look at the entire global travel industry.
Bottom Line: 
While the travel industry has been extremely sensitive to travel restrictions, lockdowns, and health concerns, long-term fundamentals for commercial airline travel remain strong, with both global air traffic and the passenger fleet expected to grow through 2040. Growth in the commercial air industry should coincide with strength in other travel and leisure segments and should bode well for investors with broad-based exposure to the travel industry.
The S-Network Global Travel Index (TRAVEL) is the underlying index for the ALPS Global Travel Beneficiaries ETF (JRNY)