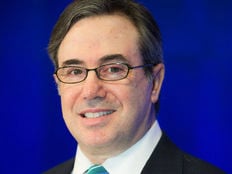 Technology is changing at an accelerating pace, and some of the world's greatest innovations are coming from nations far and wide. In particular, Israel's tech sector is booming and showing no signs of slowing down.
Below, ETF Database takes a deep dive into the cutting edge world of technology and the new ITEQ ETF, which tracks the technology sector in Israel.
We talk to Steven Shoenfeld, the founder of BlueStar Indexes. Before founding BlueStar Indexes, Shoenfeld served in several senior fiduciary positions including managing partner at an index design firm. He was also the CIO for Global Quantitative Management at Northern Trust where he oversaw more than $300 billion in index, active equity and fixed-income portfolios.
ETFdb.com (ETFdb): Steven, you are the founder of BlueStar Indexes, which helped launch the BlueStar TA-BIGITech Israel Technology ETF (ITEQ B+). Could you please tell us about the motivation behind launching this ETF?
Steven Shoenfeld (S.S.): We believe that most investors should have some exposure to the world-class Israeli tech companies that have grown up in "The Start-Up Nation." The TA-BIGITech® Index and the ITEQ ETF were launched to provide investors with exposure to the wide range of technological innovations taking place in Israel and the market opportunity being exploited by Israeli technology companies listed worldwide.
Until the launch of our TA-BIGITech benchmark and the ITEQ ETF that tracks it, investors had no way to measure and efficiently gain all-encompassing exposure to the Israeli tech companies listed on the Tel Aviv, New York, Nasdaq, London and Singapore exchanges.
BlueStar Indexes launched BIGITech® in 2013, with history from December 2003.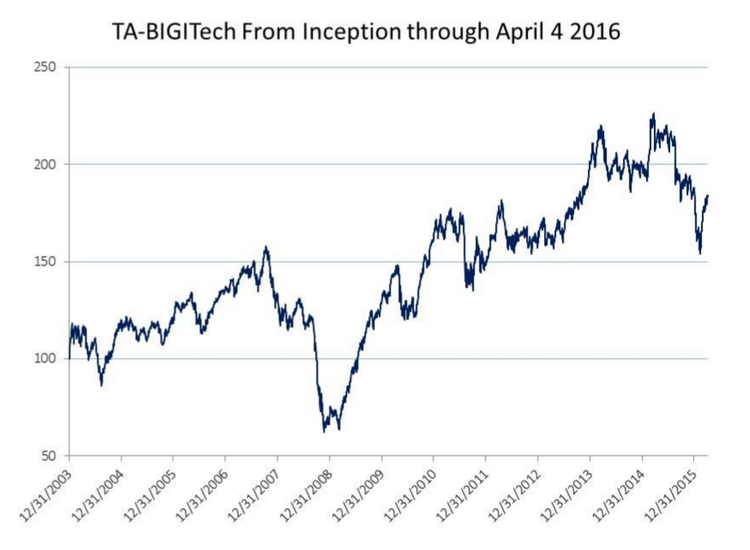 ---
Content continues below advertisement
In 2015, the Tel Aviv Stock Exchange partnered with us for the index, renamed the TASE-BlueStar Israel Global Technology Index™ or TA-BIGITech®. ITEQ, the ETF tracking this index, was launched on November 3, 2015. Even more recently, Israel's largest index fund manager launched a TASE-listed ETN tracking TA-BIGITech® just last month.
ETFdb: What makes the Israeli tech sector unique? In what ways is it on par with Silicon Valley?
S.S.: The Israeli technology sector is unique in several ways. First is the sheer concentration of established and start-up technology companies in such a small geographic area. In this way, it is quite comparable to Silicon Valley's technology environment. Despite its small size, Israel ranks no. 1 globally in terms of civilian R&D as a percent of GDP, no. 2 in spending on scientific research and no. 5 (ahead of the U.S.) on Bloomberg's Global Innovation Index.
Furthermore, more than 250 global technology companies have major R&D centers in Israel; adding to that, the country boasts the highest level of per capita venture capital investment in the world, further contributing to its vibrant, and growing, tech ecosystem.
ETFdb: How will the Israeli technology sector thrive despite a fragile macro environment? How immune are the companies to geopolitical tensions in the Middle East region?
S.S.: Although Israel is located in the turbulent and war-torn Middle East, the country's economy is highly resilient. For starters, thanks to its prudent fiscal and monetary policy and a well-regulated banking system, Israel was one of the only OECD countries that did not experience a recession after the 2008-2009 global financial crisis. Since then, it has posted one of the highest rates of GDP growth among developed and even many emerging-market economies.
Israel is a small domestic market, thus many of its local companies export their goods and services, which provides a certain level of insulation from regional geopolitics. BlueStar research has conclusively proven that the Israeli economy, and its financial markets, are impacted more by global economic trends and events than by regional geopolitics.
ETFdb: How does the underlying BIGITech Index work to provide exposure to companies operating in well-established as well as emerging and disruptive tech industries?
S.S.: BlueStar's proprietary construction methodology ensures that the BIGITech® Index is diversified across all technology subsectors, including both established companies and newer, cutting-edge technologies. These include traditional information technology and first-generation cybersecurity companies, as well as recently listed companies focused on automated driving and safety systems and developers of the latest biotechnology drugs.
ETFdb: What are some of the more cutting-edge holdings in ITEQ?
S.S.: Mobileye (MBLY) develops automated drivers assist systems (ADAS) and automated driving technologies. Mobileye technology is used by auto manufacturers such as Fiat Chrysler, General Motors, Honda, Hyundai, Ford, Mitsubishi, Peugeot and Tata Motors.
Stratasys (SSYS) manufactures 3-D printers, enabling in-office prototyping and the creation of parts used in designing and manufacturing products. Stratasys' largest customers include Boeing, Caterpillar, General Electric, Nestle and Samsung.
Mellanox Technologies (MLNX) is a designer and manufacturer of networking and connectivity solutions based on Infiniband and Ethernet. Their product offering includes integrated circuits, adapters, switches, cables, software and cords used by customers like Cisco, Microsoft, Oracle, Facebook, Samsung, EMC, and Boeing.
Cyberark (CYBR) is a cutting-edge cybersecurity firm which makes products that work by detecting intruders once they have penetrated a company's system.
ETFdb: How can investors utilize ITEQ within an already diversified portfolio? Does it have any overlap with existing tech-centric ETFs?
S.S.: ITEQ provides investors with technology exposure that can't be found anywhere else. There is minimal overlap with existing technology ETFs, period; neither QQQ (QQQ B+), tracking the Nasdaq 100, nor the Global Tech ETF (IXN A+), tracking the S&P Global 1200 Information Technology Index, have any constituents in common with ITEQ.
On the other hand, QQQ and IXN have a great deal of overlap when it comes to their biggest holdings. Consider the following comparison of their top 10 allocations as of April 15, 2016: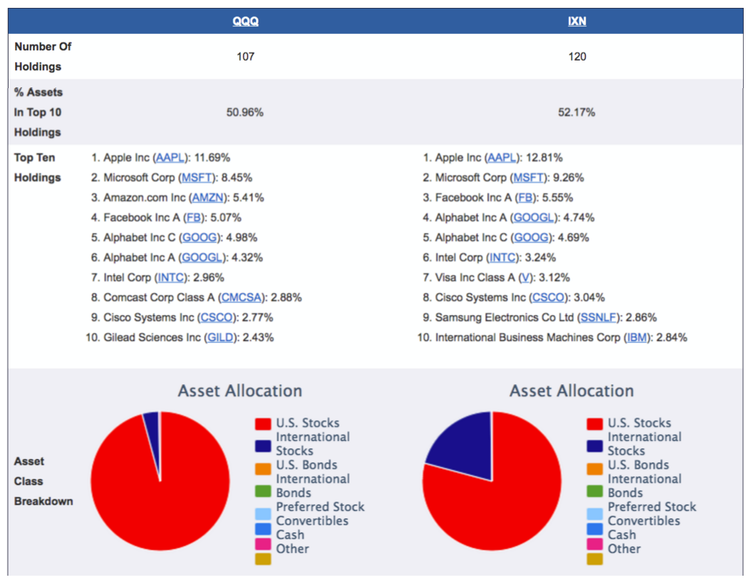 Furthermore, even more specialized and focused technology ETFs such as the ISE Cyber Security ETF (HACK B+) and the ISE Cloud Computing ETF (SKYY B) have only four and one constituents in common with ITEQ, respectively.
ETFdb: Is ITEQ any riskier than a domestic tech ETF, especially in the context of today's environment? Why or why not?
S.S.: The technology industry is truly global in nature, thus in general BlueStar does not believe that ITEQ is otherwise inherently more risky than purely domestic U.S. technology ETFs. While ITEQ has a larger exposure to small-cap stocks (which are typically more volatile than larger-cap stocks) than some of its technology ETF peers, its underlying benchmark, the TA-BIGITech Index, has shown similar historical volatility.
Consider the following comparison: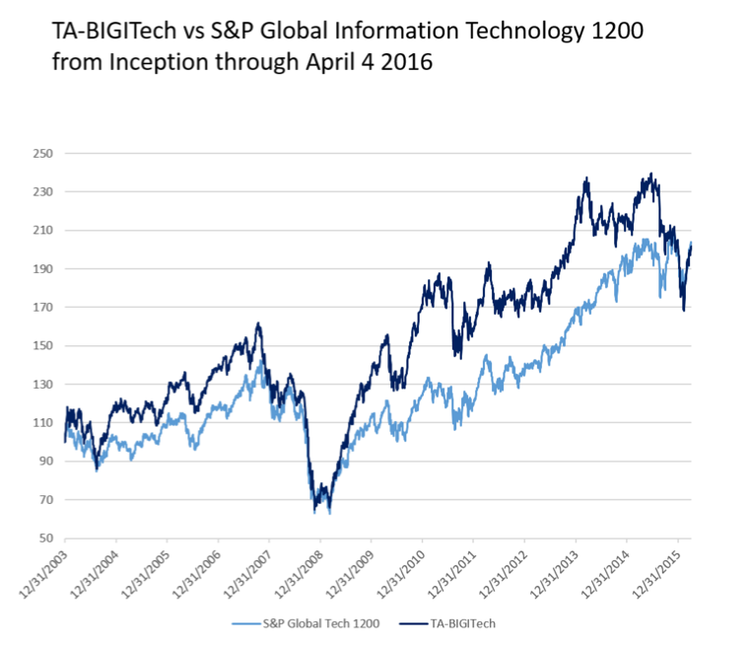 TA-BIGITech has exhibited a risk-return profile comparable to the S&P Global Information Technology benchmark in recent years.
ETFdb: What kind of investor should gain exposure to the ITEQ ETF?
S.S.: ITEQ is suitable for all types of investors seeking complete exposure to the global technology sector, particularly new, innovative and disruptive technologies, and international portfolios that may have a small weighting to Israel in benchmarks like MSCI EAFE.
Israeli companies are world leaders in cutting-edge fields like cybersecurity, autonomous driving, 3-D printing, defense technology and unmanned systems. Since Israeli stocks are generally a very small part of both U.S. and international technology ETFs, ITEQ fills the gap for global technology investors.
The Bottom Line
Investors can now gain exposure directly and conveniently to the tech sector in Israel using the ITEQ ETF, which launched on November 3, 2015. Israel is leading innovation in certain cutting-edge technologies, disrupting industries. Despite Israel's small geographic size, its tech sector, in some ways, is on par with Silicon Valley.
Follow me on Twitter @kirilnikk.