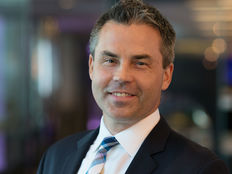 Eric Balchunas is an ETF Analyst at Bloomberg Intelligence. We sat down with him at the Inside ETFs 2017 Conference in Hollywood, Florida. During our conversation, Eric discussed ETF risks and due diligence, the future of smart beta and current ETF trends, including the 'fees war' among issuers. Eric also touches on the subject of investor trust and why investors believe that the expense ratio is the new past performance chart.
ETFdb.com: Tell us about yourself. How did you become an ETF expert?
Eric Balchunas (E.B.): I did a variety of jobs in the financial sector once I was out of school. I ultimately ended up at Bloomberg in public relations. I moved to our Princeton office, where I solely focused on Bloomberg's data. I combined my writing and communication skills on top of my data knowledge and became a self-made analyst at Bloomberg.
The catalyst that was pivotal for me was being assigned ETF data in 2008. I quickly realized that this particular vehicle was going to be a big thing. If you compare an ETF to mutual funds, hedge funds or closed-end funds, you realize that the ETF is three or four evolutionary steps forward at once.
I became an expert fast. I read every book I could get my hands on; I went to the conferences and I started publishing articles about the data on our website for Bloomberg news. I started doing a TV segment for Bloomberg TV and helped our sales teams. So that's how I got to be an expert. In the last six months, I was recruited by Bloomberg Intelligence (BI), which is our research division of Bloomberg, to start up and head up the research on ETFs underneath the BI umbrella.
Understanding ETF Risks
ETFdb.com: Everyone seems to tout the benefits of ETFs: low cost, tax efficiency, transparency, you name it. But nobody seems to talk about ETFs' risks. What would you say are some of the risks associated with ETFs?
E.B.: The first risk is trading too much. With ETFs at your fingertips you have everything under the sun times ten. But you now have stocks wrapped up, you have bonds, you have commodities, futures, options, swap contracts. One of the benefits of ETFs is that they standardized everything, and that is a huge deal, because now everything trades like shares in Microsoft. Because it's so easy to trade equity shares, you know how it's easy to trade everything. I think because ETFs have about $2.5 trillion in assets, but they trade $20 trillion worth of shares a year; that's a turnover of 1,000%.
The second risk is not knowing how to trade. If you come over from the mutual fund world, you're used to buying the fund: you put your order in and you're done. The ETF has a spread and you have to learn how to use a limit order on occasion. You can use a market order if it trades a lot; but that's not known to a lot of people who come over. So the idea of learning how to trade is a big educational hurdle for the retail investor.
The final risk is to get a nasty surprise such as hidden costs, liquidity issues, unforeseen volatility, derivatives and so on.
Being aware of risks and costs is important regardless of your ETF investing strategy. Read The Hidden Risks and Costs of ETFs to find out more.
---
Content continues below advertisement
Debating Active vs. Passive
ETFdb.com: Where do you land on the active vs. passive debate?
E.B.: Vanguard nailed it. I've been saying what they've been saying for a while, which is that active is just shifting. There was a study that came out in the 1980s, which basically says that 89% of your returns are determined by your asset allocation decisions. Only 11% is single security selection. Yet all of the financial media and everything is about what stocks are hot, and this and that. You would think it's the other way around. As that penetrates the mindset of advisors, you're going to find advisors hiring people to make asset allocation bets and ETFs are the perfect tool for that. Not to mention the reports over the last dozen years from S&P that have shown that active managers lag largely because of costs.
You have several things coming into play here that I think make an opening for smart beta. That's the form of active that you can do. The other form, which they were also talking about yesterday [at the conference], is putting active into a rules-based index. Kevin O'Leary from O'shares is the single best salesperson of smart beta. O'Leary positions smart beta against an active manager. He says, "It's like I took the brains out of my best manager, made a rules-based index out of it and then I fired him." He thinks that smart beta allows you to own the companies you want, but without the style drift, without the high fees and without the taxes, the capital gains. You essentially are creating an artificial intelligence version of an active manager. Smart beta is active and that's why, to me, it is a way bigger threat to the active mutual fund asset world than it is to the two or three trillion held in true plain vanilla market cap weighted index funds and ETFs.
There have been significant fund flows from mutual funds into ETFs in recent years. Find ETF alternatives to traditional actively-managed mutual funds using ETFdb.com's Mutual Fund to ETF Converter tool.
Multifactor ETFs: The New Age of Smart Beta
ETFdb.com: Where do you see the future of smart beta over the next five years?
E.B.: Factor investing will continue to grow as investors continue to learn that it is a way to generate alpha. It is cheap, has been holistically studied and is based on behavioral flaws that seem to repeat themselves over and over.
Many companies are creating multifactor ETFs. That is the new age of smart beta. Institutions are probably going to invest on their own too. A multifactor ETF is a great tool for the DIY investor and advisors. In a way, ETF strategists who pick ETFs for an advisor are competing with multifactor ETFs. In other words, they've turned the ETF strategists into an ETF. It's almost like everything is folding in on itself. As soon as something gets going, the ETF eyes it. They're like, "Oh, I see what you're doing. Well, I'll just do that in a rules-based index, slap an ETF on it and charge a third of the cost. Done."
The Expense Ratio is the New Past Performance Chart
ETFdb.com: According to the Investment Company Institute, almost $1 trillion shifted from active investment and management into passive. What reasons have led to this migration of funds?
E.B.: I go with the word 'trust'. I think trust has been broken, and active manager underperformance is part of it. In the 1990s and 2000s, the mutual fund industry was becoming huge and none of the companies lowered their fees in order to pass on the economies of scale.
The only company that did that was Vanguard. You could see their average fees going down. Nobody else gradually did that over the years. Clearly, if you look at the data, most of the migration of funds today is going to the cheaper products.
When you isolate active mutual fund flows, not all of them are seeing outflows. Vanguard and Dimensional Fund Advisors are taking in money and they are all in active mutual funds, which is astonishing because it's active and it's in the mutual fund structure. That should be impossible. But they are because they are both trusted, they are both cheap, and they are both below 40 basis points of a fee.
I can point to a couple of funds where the managers have outperformed the benchmark for three years, are doing their job and are outperforming by a good deal. But these funds are seeing billions of outflows. What I'm seeing is people are now trusting the fee, but they don't trust the performance charts anymore.
In other words, the expense ratio is the new past performance chart. It's not because investors don't want performance, they just don't trust the charts anymore. It's starting to become ingrained in the culture of the retail investor to talk about cost first.
Recently, Vanguard completed the third round of a massive cut to its entire fund lineup of mutual funds and exchange-traded funds (ETFs). Read Vanguard Cuts ETF Expense Ratios in Waves to find out more.
What Makes an ETF Succeed or Fail
ETFdb.com: What makes an ETF succeed or fail in this crowded marketplace?
E.B.: 90% of asset flows go into products with a track record of five years or more. That is how hard it is; it is crowded. If you cover an area that has not been covered well, you may become successful. The other types of product successes are what I call the feel good indie hit of the year. For instance, (HACK ) launched and captured the imagination of many people; the stars aligned, it's outperforming its sector or index. There is a bit of luck to that; it is like winning a lottery. It happens to a few products.
Then there is playing the 'fees war.' Goldman and Fidelity have done pretty well coming in real low. That doesn't make you much money, but it does get you assets. What I find fascinating is if you take the 1,900 ETFs, only 850 of them have more than $100 million in assets under management (AUM). $100 million in AUM is generally where the ETF products become profitable for issuers. There are a ton of ETFs that have $200 – 300 million in AUM; they are earning a living and providing a service to somebody. I think more companies are being encouraged by this, and they will continue to launch new ETFs, and be happy living at the $200 – 300 million AUM mark.
Future of the ETF Industry
ETFdb.com: What are the biggest current trends in the ETF space?
E.B.: I think that the biggest trend that you're going to see is a continued 'fees war' because it works. When Blackrock cut its fees on their core products this year, those products took in 30% of their assets. Even though they only make up 5% of the product account, they overachieved. Investors clearly like the cheap stuff, so I can see the 'fees war' playing out in the near term.
The other trend I would say is huge are active ETFs. What we are going to see this year is Vanguard launching their own suite of active ETFs. That is one area that has not been 'Vanguarded,' and probably needs to be. The average active ETF fee is about 0.80%. That is way higher than the average ETF fee of 0.50% and way higher than the asset-weighted average ETF fee of 0.24%. It's possible that Vanguard entering the active space could be the best thing that has ever happened to that category, which has only 1% of all ETF assets. Vanguard may kick off a renaissance and fee war, and that could help them. Because if their fees get compressed they'll outperform more, and earn more trust with investors. If you're offering products under 0.40%, like it or not, no matter what your chart says, I think investors trust you.
Take a look at all our ETF Issuer pages and stay abreast of all ETF launches via ETFdb.com's ETF Launch Center.
ETF Due Diligence Best Practices
ETFdb.com: What are three best practices related to ETF due diligence that every investor should know about?
E.B.: The first is knowing the tracking difference: how well the ETF tracks its index. Costs are essential but tracking error is important as well. This relates to the exoticness of an ETF strategy. The more exotic the strategy (such as a portfolio of senior loans or high yield debt or Vietnam equities), the more likely you will have to pay up a little – either via a premium, a higher fee or larger tracking errors – to get what you want. The less exotic the strategy, the more you should expect the ETF to have low costs and low tracking error.
Secondly, you have to look at the weighting of the ETF, which can be a huge determinant of fund performance because it determines your exposure.
Finally, you must understand the underlying liquidity of your ETF. You can use common sense to gauge the liquidity of the securities at the portfolio level; for instance, high yield bonds are generally less liquid than treasuries. Learning to use implied liquidity is important because it gives you a key to open up the toolbox and go beyond the most commonly used products.
Sign up for ETFdb Pro and gain access to more than 50 all-ETF model portfolios, each of which is backed by a unique investment thesis.
The Bottom Line
Eric Balchunas believes that the two biggest trends in the ETF space currently are the 'fees war' and the evolution of the actively-managed ETF space. Investor trust has been broken by investment management companies and managers over the last two decades; the expense ratio seems to be the new past performance chart. Investors should continue to be aware of the risks associated with ETFs, conduct thorough ETF due diligence and stick to their long-term investing plan.
For more ETF news and analysis, subscribe to our free newsletter.