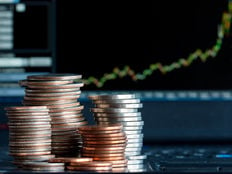 Investor Tools & Resources
As the world of ETFs has expanded from a closet industry to a mainstream investment vehicle, the number of funds has skyrocketed, meaning investors have more ETF options than ever before. Sorting through all of the funds offered today can be a daunting task, particularly with recent innovations in the industry that have introduced increasingly complex and unique ETFs.
Fortunately for ETF investors, there are dozens of useful free web-based resources to help you research potential ETF investments and determine which fund is right for you.
Name

Twitter Followers
Facebook Likes
LinkedIn Followers
AssetCorrelation.com

AssetCorrelation.com

Enables construction of custom correlation tables to show the strength of the relationship between various ETFs and asset classes.

Recent Feed Items:

Bloomberg ETF Screener
393,946
46,031
417,371

Bloomberg ETF Screener

Bloomberg ETF Screener:Allows users to search for ETFs traded in dozens of countries around the globe. This ETF screener also allows users to sort by expense ratio and recent performance.

Recent Feed Items:

Board Central
5,455

Board Central

Brings together financial message boards and stock-related tweets to provide one of the largest online financial communities. Check out their BuZZ pages to see this most-discussed tickers.

Recent Feed Items:

Capital Cube ETF Screener
424

Capital Cube ETF Screener

The Capital Cube ETF screener allows users to search for ETFs by various factors.

Recent Feed Items:

Dividend ETFs
3,386
16,752

Dividend ETFs

Dividend.com offers a list of the most popular dividend ETFs.

Recent Feed Items:

ETF Connect Fund Sorter

ETF Connect Fund Sorter

Allows users to screen both closed-end funds and indexed ETFs by a number of criteria, including premiums to NAV and distribution rate.

Recent Feed Items:

ETF Database

ETF Database

Chart any one of 850 ETFs in a variety styles (including simple lines, candlesticks, and directional bars) over customized time periods.

Recent Feed Items:

ETF Database Expense Ratio Comparisons
9,980
17,657

ETF Database Expense Ratio Comparisons

Displays a list of the 25 ETFs with the highest expense ratio and the 25 funds with the lowest expense ratio.

Recent Feed Items:

ETF Dividend Yield
1,847
1,740
3

ETF Dividend Yield

This tool compares the dividend yield history of two ETFs.

ETF Experts Screener
53

ETF Experts Screener

Has capabilities to search for ETFs by investment philosophy, index composition, asset class, and region.

Recent Feed Items:

ETF Heat Map
205
19

ETF Heat Map

Provides a visual representation of daily ETF price movements and volume.

Recent Feed Items:

ETF Investment Outlook

ETF Investment Outlook

This site features breadth charts and rankings for more than 100 ETFs to help investors find the next up or down movements.

ETF Ratings Screener
158,520
152,995
16,491

ETF Ratings Screener

The Street's Rating screener rates stocks, ETFs and mutual funds. This tool is a great way for investors to compare ETFs.

Recent Feed Items:

ETF Replay ETF Volatility Tool
1,848
3

ETF Replay ETF Volatility Tool

The ETF Volatility tool on ETFreplay.com allow investors to compare the volatility of several different ETFs.

Recent Feed Items:

ETF Replay Highs and Lows
1,847
3

ETF Replay Highs and Lows

The ETF Replays ETF New Highs / Lows tool allows investors to see the best and worst performing ETFs.

Recent Feed Items:

ETF Research Center
646

ETF Research Center

Offers a variety of screening fields, including fundamental criteria such as sales and earnings growth and valuation criteria such as price-to-sales and price-to-earnings ratios.

Recent Feed Items:

ETF Table

ETF Table

Allows users to rank ETFs by various criteria, including historical returns and moving average crossovers.

Recent Feed Items:

ETF Tips

ETF Tips

Provides a number of ways to sort available ETFs, including by industry, investment style, and region. ETF Tips includes information on ETFs traded on global stock exchanges.

Recent Feed Items:

ETF Trends
17,919
1,237

ETF Trends

The ETF Analyzer at ETF Trends allows users to sort funds by ticker symbol by clicking on a letter. ETFs can also be sorted by a variety of different criteria.

Recent Feed Items:

ETF.com Screener
7,448
323
1,197

ETF.com Screener

This newsletter allows users to sort primarily by performance metrics, including one month, three month, year-to-date, and ten-year returns.

Recent Feed Items:

ETFdb Category Pages
9,980
17,657

ETFdb Category Pages

Offers a list of approximately 65 "best fit" categories that contain the universe of all available U.S.-listed ETFs. ETF Database Categories stretch across all asset classes, and even include leveraged, inverse, and multi-asset funds.

Recent Feed Items:

ETFdb Screener
9,980
17,657

ETFdb Screener

This free ETF screener allows users to filter the universe of ETFs by a variety of criteria, including asset class, industry, region, issuer, and expense ratio. Unlike many screeners, the ETF Database screener uses proprietary technology to prevent users from selecting options that will not return any results.

Recent Feed Items:

ETFScreen.com

ETFScreen.com

This resource provides a comprehensive list of performance measures and technical analysis indicators.

Recent Feed Items:

Fidelity ETF Evaluator
140,844
159,247
201,195

Fidelity ETF Evaluator

This user-friendly screening resource features a style/capitalization box and a region selection map for choosing international ETFs.

Recent Feed Items:

Fidelity ETF Tool
140,844
159,247
201,195

Fidelity ETF Tool

Allows users to customize, analyze, and trade an ETF portfolio. This resource also includes "market lenses," broad market indexes that can be broken down into mutually exclusive components.

Recent Feed Items:

iShares Historical Returns
179,524
4,668

iShares Historical Returns

The iShares Historical Returns tool allows investors to compare to iShares ETFs.

Recent Feed Items:

iShares Portfolio Builder
179,520
4,668

iShares Portfolio Builder

The iShares portfolio builder allows iShares investors to find the most fitting ETFs for their investing style.

Recent Feed Items:

Macro Axis
25,000
7,754
52

Macro Axis

Allows investors to construct 30-day moving average correlation tables and clouds with up to 15 ticker symbols.

Recent Feed Items:

MarketWatch ETF Screener
1,265,077
600,072
11,730

MarketWatch ETF Screener

The MarketWatch ETF Screener provides a number of screening criteria, including beta, average daily volume, and fund price.

Recent Feed Items:

MarketWatch Virtual Stock Exchange
1,265,077
600,072
11,730

MarketWatch Virtual Stock Exchange

Test your ETF investment strategy with this virtual portfolio center that allows you to track returns, access news and research reports from various sources, and utilize other free research and analytical tools.

Recent Feed Items:

Master Data

Master Data

Ranks ETFs and indexes by specific key statistics such as price change and volume, as well as breadth statistics such as number of constituents above moving averages and constituent uptrends.

Recent Feed Items:

Morningstar ETF Newsletter
50,652
1,741
35,201

Morningstar ETF Newsletter

The Morningstar ETF newsletter provides ETF investors with valuable information.

Morningstar ETF Screener
50,446
1,740
35,128

Morningstar ETF Screener

Allows users to graphically apply screening criteria to narrow the ETF universe by expense ratio, return metrics, index correlations, and exposure to particular stocks.

Motley Fool Ticker Pages
546,057
186,871
38,802

Motley Fool Ticker Pages

Compiles the latest news on ETF tickers, as well as user-generated performance polls and bull and bear cases for each ETF.

Mutual Fund to ETF Converter
10,053
16,856

Mutual Fund to ETF Converter

ETFdb's Mutual Fund to ETF Converter allows investors to find of ETF equivalent to mutual funds.

Recent Feed Items:

NASDAQ ETF Comparison Tool
392,571
510,767
20,621

NASDAQ ETF Comparison Tool

Allows investors to see the best and worst performing ETFs over a number of time periods, from one day to five years.

Recent Feed Items:

NASDAQ ETF Screener
392,571
510,767
20,621

NASDAQ ETF Screener

Provides users with five categories for screening exchange-traded funds to find the one that is right for you. Options include size, style, returns, and share price.

Recent Feed Items:

Schaeffer's Investment Research ETF Center
4,574
1,500
471

Schaeffer's Investment Research ETF Center

This handy tool allows investors to find ETFs that are trading above or below their moving day average for a variety of different time periods, from 10 to 200 days.

StockTwits
414,154
11,045
888

StockTwits

Self-described as "Bloomberg for the little guy and gal," StockTwits is an open, community-powered investment idea that allows traders and investors to swap tips and ideas.

Recent Feed Items:

TD Ameritrade Instant X-Ray
62,914
178,581
27,699

TD Ameritrade Instant X-Ray

Users enter ETF tickers and holding values and this tool reports the asset allocation, sector breakdown, style box diversification, expense summary, and regional allocations.

Recent Feed Items:

TheStreet.com ETF Screener
157,474
157,980
16,425

TheStreet.com ETF Screener

This screener includes a field that allows users to filter funds by recommendation and risk ratings.

Recent Feed Items:

Trading Expense Calculator - Guggenheim
8,540
13,313

Trading Expense Calculator - Guggenheim

Helps investors compare the costs of investing in ETFs versus no-load mutual funds. Investors enter a few inputs and this resource computes which trading route will be the cheapest.

Recent Feed Items:

U.S. News ETF Ranking
5,651
61,687

U.S. News ETF Ranking

U.S News Money lists the best ETFs by category.

Recent Feed Items:

Vanguard ETF Comparison Tool
180,673
145,823
48,901

Vanguard ETF Comparison Tool

This resource from Vanguard allows potential investors to compare ETFs offered by different sponsors on a number of different points, such as expenses, total assets, and historical returns.

XTF.com ETF Ratings
53

XTF.com ETF Ratings

Provides ratings, on a scale of 1 to 10, for ETFs based on several criteria, including structural integrity, risk-adjusted performance, and yield.

Recent Feed Items:

Yahoo! Finance ETF Center
448,604
682,754

Yahoo! Finance ETF Center

Filters all ETFs into a "best fit" category, such as Large Cap Blend, Emerging Markets, and Long-Term Government Bonds.

Recent Feed Items:

YTD ETF Performers
9,980
17,657

YTD ETF Performers

This ETF Database tool allows investors to view the best and worst performing ETFs year-to-date.

Recent Feed Items:
---
Content continues below advertisement