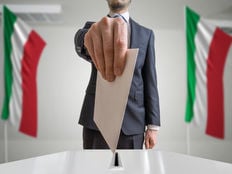 How to Play the Italy E.U. Exit
Europe's populist revolt came full circle earlier this month after two anti-establishment parties rose up in the Italian election. Although no party secured a majority, Italy's centrist political establishment was ousted after the right-wing League and Five Star Movement became the country's new political force. Suddenly, Europe's political future hangs in the balance.
2017 was a year of political turmoil for proponents of pan-European integration, as populist movements in France, Holland and Germany made huge inroads in national elections. Although these parties ultimately failed to secure power, their campaigns shook the very foundation of the European Union. Now, Italy has gone a step further by voting for two anti-establishment parties that seek to limit Brussels' influence on domestic affairs.
Italian Election Result
On March 4, Italians voted overwhelmingly for two parties: the anti-immigration League and the anti-establishment Five Star Movement. The League, which represents a center-right coalition, secured 265 seats in the Chamber of Deputies and 137 in the Senate. Five Star secured 227 Chamber seats and 112 in the Senate. Meanwhile, the centre-left coalition of former President Matteo Renzi earned 122 Chamber seats and 60 Senate seats.
Both houses are considered equally powerful because the next government will need to be approved by both. Matteo Renzi's attempt to reform Italy's governance structure failed in 2016 after Italians voted overwhelmingly against changing the constitution.
Formal talks on a new coalition government are set to begin sometime after March 23.
Populism spread throughout Europe in 2017. For a case study, you can explore the impact of France's election on the financial markets here.
---
Content continues below advertisement
Impact of the Italian Elections on Europe
Italy's election result could have major implications on the European Union. For starters, it reignites the long-running debate over pan-European integration, especially over matters concerning immigration, nationalism and economic policy.
Within the context of Italy, both League and Five Star have spoken out against closer European integration and have criticized the single-currency project. Five Star specifically has called for a possible referendum on the euro. Although the party has flip-flopped on this issue, there's clearly an appetite for fighting the hegemony of Brussels.
The leaders of both parties have already vowed to implement tax cuts, with the League even calling for economic policies that are "the opposite" of what the EU would demand.
With Italy going the way of populism, Europe is on high alert for another wave of anti-establishment politics. Although major elections aren't for another few years, League and Five Star have sown the seeds of discord for the Europhiles. This is unlikely to go away anytime soon.
An Italian exit from the EU would have severe consequences on European integration. At the very least, it would empower ultra-nationalist movements throughout the region to pursue a similar end goal, only now they will have two examples to follow instead of one (i.e. Brexit). The loss of Italy would also create political chaos on a range of matters such as freedom of mobility, financial regulation and economic policies. It would be 'Brexit 2.0' for the Union, only this time there might not be enough political will to support the continuation of the pan-European project.
At present, however, the chances of an EU exit appear slim. Not only has Five Star ditched plans for a referendum on the euro, severing ties with the EU would be a huge undertaking for one of the region's most convoluted political systems. Italy's political structure was designed specifically to avoid the advent of another Benito Mussolini, but the downside of this design is it has made the country very hard to govern.
That being said, appetite for secession could grow if the forthcoming coalition government can demonstrate to voters they do not need the common currency or Brussels as a decision-maker. The election result clearly indicates that the appetite is there, but political will for an Italian Brexit still needs a lot of convincing.
Five ETFs to Play Italy's Future
Italy's political future may be uncertain, but its economy is in the midst of a long and sustained recovery. Therefore, investors have a lot to gain by choosing exchange-traded funds (ETFs) that leverage both domestic and regional growth patterns. Here are five ETFs to consider.
1. iShares MSCI Italy ETF (EWI B+)
EWI provides direct exposure to a broad range of Italian companies. The asset pays quarterly distributions and has generated positive returns in the last five years. Its performance has improved significantly over the past year as more capital flowed into the Eurozone to play the regional recovery. So long as Italy's economy is recovering, EWI is a potentially solid bet.
2. iShares Currency Hedged MSCI Italy ETF (HEWI B)
HEWI provides direct exposure to large- and mid-cap Italian companies while managing fluctuations in the euro-dollar exchange rate. Although the common currency has put up huge gains as of late, it remains highly vulnerable to political and economic instability.
ETFdb.com has a full list of leading Italian ETFs. For a full list of German ETFs, click here.
3. SPDR Euro Stoxx 50 ETF (FEZ B+)
As we mentioned earlier, Italy is one of several Eurozone economies experiencing a revival. The FEZ ETF provides access to blue-chip companies throughout the 19-member euro area. The index tracks roughly 60% of the Euro Stoxx capitalization, giving investors direct exposure to Italy, France and Germany.
4. iShares Currency Hedged MSCI Eurozone ETF (HEZU B)
Just as HEWI safeguards your Italian investments from currency fluctuations, HEWG offers the same hedge for broader Eurozone stocks. The ETF has a solid track record going back three years, which means it can perform well in both up and down currency markets. With nearly 68 million shares outstanding and an average 20-day trading volume of nearly 1 million shares (as of March 9, 2018), HEZU is a highly liquid ETF.
5. Franklin FTSE Italy ETF (FLIY B)
FLIY provides direct access to the Italian stock market, focusing on the FTSE Italy Capped Index of large- and mid-cap stocks. The ETF excludes small-cap stocks, as well as large companies not governed by RIC standards. For a single-country fund, FLIY is considered very affordable.
| Ticker | Name | Asset Class | Expense Ratio | Rationale |
| --- | --- | --- | --- | --- |
| (EWI ) | iShares MSCI Italy ETF | Equity | 0.49% | Direct exposure to a broad range of Italian companies. |
| (HEWI ) | iShares Currency Hedged MSCI Italy ETF | Equity | 0.49% | Direct exposure to a broad range of large- and mid-cap Italian companies with a hedge on currency risk. |
| (FEZ ) | SPDR Euro Stoxx 50 ETF | Equity | 0.29% | Direct exposure to the top plays in the fast-growing Eurozone. |
| (HEZU ) | iShares Currency Hedged MSCI Eurozone ETF | Equity | 0.52% | Direct exposure to a broad range of large- and mid-cap Eurozone companies with a hedge on currency risk. |
| (FLIY ) | Franklin FTSE Italy ETF | Equity | 0.09% | Direct exposure to a broad range of large- and mid-cap Italian companies at an affordable cost. |
Our ETF Screener allows investors to explore national, regional and global ETFs along several criteria, including fund flows, risk, taxes and real-time rating.
The Final Word
Italy is Europe's first major economy to go the route of populism. The formulation of a coalition government in the coming weeks could dictate the country's future in the currency bloc and broader EU. The ETFs listed above are designed to outperform regardless of the political dynamic facing Italy.
For more ETF news and analysis, subscribe to our free newsletter.