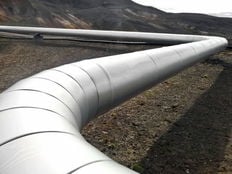 As an investment category, master limited partnerships (MLPs) have long been popular with investors who want to generate tax-advantaged income from their investments. These entities are generally built around natural resources (especially the transport of oil and/or gas), and in exchange for passing along a very high percentage of earnings to shareholders, they are given preferential tax treatment. Below are our best articles analyzing specific MLP ETFs and ETNs, and giving a general overview of this type of investment vehicle.
MLP ETFs
2015-06-24
Master Limited Partnerships (MLPs) are entities that own infrastructure, such as pipelines that...
MLP ETFs
2015-06-24
Interest in Master Limited Partnerships (MLPs) has climbed significantly over the past few years...
MLP ETFs
2015-05-27
As we've said time and time again, one of the best things about exchange traded funds is their...