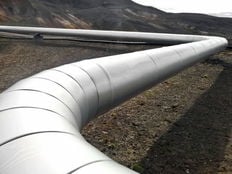 As an investment category, Master Limited Partnerships (MLPs) have long been popular with investors who want to generate tax-advantaged income from their investments. MLPs are typically involved in the transportation, processing, and storage of energy commodities and earn fees for providing these services. As partnerships, MLPs do not pay federal taxes at the entity level, which has allowed them to distribute more of their cash flows to investors. MLPs tend to provide generous distributions (dividends), which are largely tax-deferred. Below are additional resources for learning about MLP investing.
MLP ETFs
2023-02-13
MLPs are well-known for offering generous yields to investors, but the tax implications of MLPs...
MLP ETFs
2021-12-19
Summary
For investors wanting diversified MLP exposure in a passive product, it is important to...
MLP ETFs
2015-06-24
Master Limited Partnerships (MLPs) are entities that own infrastructure, such as pipelines that...
MLP ETFs
2015-06-24
Interest in Master Limited Partnerships (MLPs) has climbed significantly over the past few years...
MLP ETFs
2015-05-27
As we've said time and time again, one of the best things about exchange traded funds is their...