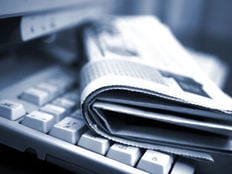 2014 saw its fair share of volatility and uncertainty, but it will ultimately go down as another year of the bull run that began in 2009. The SPDR S&P 500 ETF (SPY A) jumped approximately 13% on the year, giving it five double-digit annual returns over the last six years. However, despite a number of funds charging higher, a fair amount of ETFs did not enjoy positive returns on the year. Below, we take a look at three ETFs that struggled in 2014, but have a chance to turn things around with the new year [for more ETF news and analysis subscribe to our free ETF Daily Roundup].
United States Oil Fund (USO )
USO started off the year with stable gains, as it inched higher for the first half of the year. But as H2 rolled around, oil got routed as a number of factors (like hefty supply with anemic demand) combined to sink crude. As a result, USO lost approximately 40% for the year and was among the worst performing ETFs for 2014.
---
Content continues below advertisement
Many believe that oil's sell-off was overdone and that the commodity is undervalued at its current level. After being battered, USO certainly has a chance to regain some lost ground in 2015, landing it on this list. But proceed with caution; oil has been extremely volatile over the last few months and a position in USO figures to be no different.
Physical Precious Metal Basket Shares (GLTR )
It was another tough year for precious metals, as only palladium managed to turn out a positive return in 2014. Gold and silver made the going tough for GLTR, as the commodities took a back seat to surging equities for yet another year.
GLTR, which holds a basket of all four precious metals, will be a fund to watch in 2015. If markets continue to charge higher, this fund will likely struggle. But any sign of a market correction or worry over the future, and precious metals will take over. This fund has a safe haven appeal with a chance to bounce back in 2015, but its fate lies mainly in the performance (or lack thereof) of equities.
FTSE Europe ETF (VGK )
Europe's economy as a whole had a tough 2014, as the euro struggled along with a number of individual nations. While the U.S. has been able to move past pre-2008 recession levels, it seems that Europe has been unable to shake off the struggles that began seven years ago.
The good news for Europe is that the central bank has taken a page out of the Fed's book and is continuing to actively purchase assets in an effort to revive the broad economy. There may still be some nations that struggle, but the EU as a whole has a better chance to move forward with the central bank firmly behind it. Note that this fund only invests in developed European nations, meaning it avoids trouble areas like Russia.
Investors interested in VGK or other Europe plays will want to keep a keen eye on central bank meetings and announcements as they will be big movers for 2015.
The Bottom Line
As we move into 2015, investors will be keeping a close eye on markets and the outlook for the global economy. Despite having struggled in 2014, there area few funds that present unique opportunities in the coming year.
Follow me on Twitter @JaredCummans.
[For more ETF analysis, make sure to sign up for our free ETF newsletter]