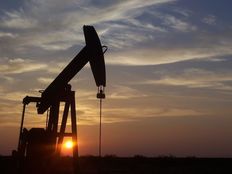 For the better part of the trailing year, crude oil epic collapse has captured headlines across Wall Street, as the commodity went from above $100/barrel in 2014 to below $50/barrel in 2015. Though many called for a bottom along the way, the fossil fuel has yet to let up its drop. Early this year, Saudi billionaire Prince Alwaleed bin Talal remarked that the world would never see $100 oil again, as production and supply around the world continue to roar. While crude's drop has hurt a number of companies and funds dependent on its price, it has also had a marked impact on the other side of the energy coin: alternatives [for more ETF news and analysis subscribe to our free ETFdb Daily Roundup].
Alternative Energy ETFs Take a Hit
It may seem counter-intuitive at first, but the price of crude oil is highly correlated to the performance of alternative energy ETFs. The reason is this: when crude oil's price dips, it is easier to afford and more cost-effective than many alternative energy sources. On the flip side, when its price jumps, it becomes more expensive and alternative energy becomes more attractive for both its consumers and investors alike. The following chart shows the returns of crude oil versus some of the most popular energy alternatives over the trailing year (Crude (USO B), Natural Gas (UNG B-), Coal (KOL B+), Solar (TAN C+), Wind (FAN A), Nuclear (NLR C+):
---
Content continues below advertisement
Natural gas and coal are not technically considered alternative energy, but the chart helps to illustrate the point that crude's performance dominates the energy industry as a whole. Nuclear's presence and positive return also shows that while crude has a big impact, it does not always have the final say. Each form of alternative energy has its own movers and trends apart from each other and separate from crude. Though crude will arguably have the biggest impact on these alternative sources, there are other factors that investors must consider as well [see also The Best Performing ETFs of 2014].
The Bottom Line: The Future of Alternative Energy
Alternative energy as a whole has always faced the headwind of cost; in many cases option like wind and solar energy were too expensive in comparison to crude oil and its by-products. Though some companies have made it a point to focus on the environmentally-friendly factors that alternative energy brings, many simply cannot afford to use these methods and still remain profitable.
As the production and supply of crude oil continues to grow, many predict crude prices to remain low for the foreseeable future, painting a foggy outlook for alternative energy ETFs and securities alike. As noted above, a number of factors play into each alternative energy and its performance, but look for crude to be the driving force in 2015 as all eyes remain fixated on the flailing fossil fuel.
Follow me on Twitter @JaredCummans.
[For more ETF analysis, make sure to sign up for our free ETF newsletter]
Disclosure: No positions at time of writing.