Gold miners have been struggling over the last few years, as the bull market in equities contributed to cratering gold prices and ultimately lower profits for the companies that mine the commodity. But as we get further into 2015, miners appear to be gaining back some of the ground they have lost over the better part of the last three years, as a number of things have fallen into place for these companies.
Tough Times for Gold Miners
The Market Vectors TR Gold Miners (GDX B+) is one of the most popular vehicles for gauging the health of the gold mining world, as it invests in the largest mining companies from around the world. The chart below displays GDX's performance over the trailing three years:
---
Content continues below advertisement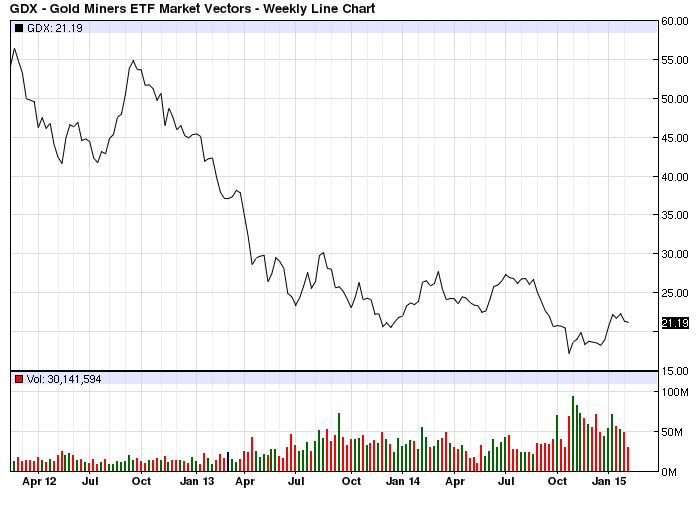 Since late 2012, GDX has had little upward momentum, as it has been making lower highs and lower lows for nearly three years. A massive exodus from gold funds into equities helped gold prices tumble, which, in turn, hurt miners and mining funds like GDX.
But since the end of last year, GDX has been working its way higher. The upward momentum is nothing that it has not seen before as far as the chart is concerned, but there are external factors at play that may help this asset class finally regain some lost ground.
Tailwinds Forming for Gold Miners
For starters, the U.S. dollar has been on a tear over the last year. While this has not been helpful for gold itself, most gold miners have operations based outside of the U.S. where the local currencies are not seeing a similar movement. On top of this, gold has started to see a renewed interest from investors, despite a strong dollar. Most of this is the result of those looking for a safe haven asset in case markets were to endure a correction. Gold jumped approximately 8% in January, though it has cooled off a bit as of late [see also 50 Ways To Invest In Gold].
On top of all of this, the mining sector has been hot with asset purchases and big time deals for those with stable cash pools. 2015 has already seen $2.7 billion in deals in the gold mining industry, according to Bloomberg Business. This a bullish sign for the industry, as the companies are clearly optimistic about the future, otherwise they would not be spending their cash on gold assets.
The Bottom Line
While it appears things are lining up for GDX and gold miners to stage a comeback, similar patterns have developed before. Granted, this time has a number of positive external factors, and it is still entirely plausible that the fallout for these companies is not over. Investors with a position or those wishing to get into the gold miner sector will want to pay special attention in 2015 as this battered segment tries to climb its way out of a very deep hole.
Follow me on Twitter @JaredCummans.
[For more ETF analysis, make sure to sign up for our free ETF newsletter]
Disclosure: No positions at time of writing.