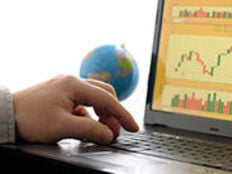 The BRIC nations (consisting of Brazil, Russia, India, and China) are investor favorites in the emerging market world. Often considered the most vital developing economies, these countries are typically under a microscope, especially when it comes to their performances.
Over the last year, these four economies have had very different returns, putting BRIC ETFs in a bind.
Performances Vary Across the BRIC
The chart below displays the performance for Brazil (EWZ A-), Russia (RSX B), India (EPI C+), and China (FXI A) over the trailing year:
---
Content continues below advertisement
A clear trend emerges, as Russia and Brazil are down more than 25%, while China and India are up more than 25% respectively.
BRIC Nations Divided
Brazil's economy has been stuck in a rut for the better part of five years, as a number of factors have combined to create economic pressure. Some of those factors include low oil prices, dropping exports, and the costs and ramifications of hosting the 2014 FIFA World Cup.
Russia's struggles have been relatively well publicized, as sanctions against the nation as well as cratering oil prices have created steady headwinds for the economy. Though it seems to have stabilized early in 2015, Russia still has a long ways to go if it wants to regain 2014 levels.
China's economy has been accused of losing steam and its investing luster in recent years, but 2014 and 2015 have proven otherwise. Once heralded as the most attractive emerging market investment, China is making gains and drawing investor attention yet again.
India's economy is another that saw its fair share of struggle over the last few years, with notable losses in 2011 and 2013. But 2014 and 2015 have, in a similar fashion to China, shown a resilience in the economy and a boost for investments tracking it.
As a result of this mixed bag, BRIC ETFs like the MSCI BRIC Index Fund (BKF B) have struggled to develop any kind of meaningful trend. Since the beginning of 2011, BRIC nations have jostled back and forth and funds like BKF have done the very same.
The Bottom Line: BRIC's Allure Dying?
Many analysts and investors have been speculating for some time that the BRIC nations are simply not as attractive as they once were. Strategies that involve a wider spread exposure to emerging market nations seem to be more favored for long-term portfolios. That is not to say that the BRIC nations are not strong investment candidates, but more that exposure to only four countries (or less depending on the investment) can create a headache from a diversity standpoint.
A great example comes from the Emerging Markets ETF (VWO A+). That ETF is down just over 3% over the last 5 years, while BKF has lost approximately 24% in that same span. When it comes to country exposure, picking winners is about as difficult as finding a singular winning stock. Your best bet as a long term investor is to cast a wide net on the emerging market world and maintain a healthy diversity for your portfolio.
Follow me on Twitter @JaredCummans.
[For more ETF analysis, make sure to sign up for our free ETF newsletter]