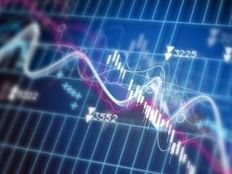 The one question I couldn't believe analysts didn't ask Jonathan "Jono" Steinberg, WisdomTree's CEO on the morning after his company's 1Q analyst call?
"Who do you like in the Mayweather/Pacquiao fight?" I asked deadpanned, "I like Mayweather," the passionate CEO quipped back, and while I couldn't see it, the response surely came equipped with a wry smile.
Jono was well aware of the sure-to-be-record-breaking fight tomorrow night and he had reason to be smiling after a great quarter as the momentum of his 10-year old brainchild, WisdomTree, continued.
We were able to chat with Jono and discuss not only WisdomTree's results and boxing, but also robo-advisors, Motif Investing and his longer-term vision for both the industry and where WisdomTree is set to reside within it.
He also gave us his take on where traditional media had a blind spot to the ETF business.
Let's dive in.
WisdomTree's Strong Quarter
I'd be remise if I didn't recognize the key points from the company's Q, before digging into some other, longer term thematics:
WisdomTree posted record AUM, net inflows, revenue and pre-tax earnings.
Moreover, the firm posted the third largest inflows across the entire universe of both ETF issuers and mutual funds with $13.5B in new AUM this quarter, outpacing stalwarts on the mutual fund side including Fidelity Investment, Dodge & Cox and Dimensional, not to mention ETF issuers including Schwab, First Trust and Guggenheim.
On the strength of their hedged currency products, notably HEDJ and DXJ, WisdomTree racked up more than $60B in total AUM.
The momentum seems to have carried on through April, where the company reported an additional $3.8B and the currency-hedged products continue to work.
It was particularly helpful to see WisdomTree blow out their inflows by channel, including breaking down HEDJ and DXJ, respectively, to better get a sense of how the previously guided $12m – $16m in growth capital will be invested through different channels.
For the full presentation of quarterly earnings, click here.
---
Content continues below advertisement
The 'Robo-Advisor' Thematic is "Very, Very Positive" for the ETF Business
I took the opportunity to chat with Jono and address trends not only in the ETF business, but the broader wealth management industry. One buzz word that can't be escaped in today's world of wealth management is 'robo-advisor', which is a moniker for software driven wealth management, that attempts to dis-intermediate traditional, human, wealth managers.
Given its platform or service and not a product, per se, Jono views this largely as a positive for the ETF business and WisdomTree, specifically. He noted, "The robo advisor is targeting the younger investor who is ETF-centric, it's very, very positive for our industry."
While he's interested in the possibilities of the robo-platforms, he openly questioned if they'll be as big as some might have you believe, alluding to what others see as a difficult hurdle, "some people like their hand held."
Motif Investing
Building on the evolution of the wealth management business, I asked Jono about his take on Motif Investing. He noted it wasn't a product that competes with ETFs as much as it does with discount brokers. Ultimately arguing that it is a layer of simplicity that sits on top of easily executed trades.
While the marketers at Motif are benefiting from the ETF "halo" as Jono put it, it is likely not really a competitive product. He also highlighted this point by noting Motif's "commissions based" business model (as opposed to the ETF issuers' advisory fees).
Growth of the Industry
I asked Jono to dust off his crystal ball about where aggregate AUM in the ETP market might be headed in the next 5 years. Sticking close to a recently published PWC report on growth of the industry by 2020, he noted he sees it growing to "$5-6 T".
It's the People, Stupid
Like James Carville canvassed in the '92 Clinton campaign, "It's about the economy, stupid", Jono banged the drum of every successful business leader, espousing the importance of all the people on the bus pulling in the same direction. He noted he likens his job to that of a hit music producer, where his goal is to get the band to play music that produces "hit records" consistently.
(as my mind briefly wonders, I can't help but imagine Jono playing Christopher Walken in SNL's infamous More Cowbell skit.)
Given the momentum of the firm and its 10-year track record, it's hard to argue against Jono's ability to get the most from his people.
The Media's Blind Spot: "It IS a Better Mouse Trap"
As the call wound down and our pre-allocated time to chat was sun-setting, I asked a final question, "where do you see holes in the media's coverage of the ETF business?"_—_"great question," Jono quickly replied, and I'll paraphrase, but that "old-line brands aren't comfortable with admitting that an ETF is a better mousetrap," following with, "ETFs are to mutual funds what the internet is to newspapers."
While it's not a particularly surprising answer from the CEO of a publicly traded ETF pure-play, it's an interesting and convicted response and given fund flows, has empirical evidence.
Bottom Line
WisdomTree continues to excel in an industry with a strong tail wind on the backs of innovative and timely products and effective sales efforts.
We look forward to analyzing the company's 2Q results and hope to catch-up with Jono following them.
Be sure to follow us on Twitter @ETFdb.com