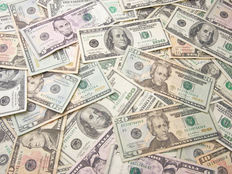 Earlier this week, Wall Street welcomed Shark Tank host Kevin O'Leary's debut in the ETF industry. Alongside the new O'Shares FTSE US Quality Dividend ETF (OUSA B+), Global X, Van Eck, UBS, and PureFunds also launched new funds this week.
Global X Expands SuperDividend Lineup
On July 13, Global X launched its SuperDividend Alternatives ETF (ALTY A-), the sixth addition to its "super dividend" lineup. The fund tracks the Indxx SuperDividend Alternatives Index, designed to measure the performance of among the highest dividend-yielding securities in each category of alternative investments:
MLPs
Infrastructure companies
REITs
Mortgage REITs
Emerging-market debt and currency trading
Business development companies ("BDCs")
Private equity
Asset- and mortgage-backed securities
Option-writing strategies
In addition to these securities, ALTY will also invest in other ETFs and closed-end funds; currently, the Global X SuperDividend REIT ETF (SRET B+) accounts for more than 26% of total assets. For this diversified alternative yield exposure, ALTY will cost investors a total annual fund operating expense of 3.03%.
---
Content continues below advertisement
Van Eck Launches International Moat ETF
Van Eck introduced the international version of its popular Wide Moat ETF (MOAT B+) earlier this week. The Morningstar International Moat ETF (MOTI B) tracks a rules-based, equal-weighted index intended to offer exposure to 50 attractively priced companies outside the U.S. with sustainable competitive advantages.
Currently, MOTI's portfolio features heavy allocations to equities from Australia, Canada, and India, though the U.K., China, and Singapore also receive meaningful exposure. In terms of sector diversification, roughly 50% of total assets are allocated to financials; materials, consumer discretionary and consumer staples receive the next biggest weightings.
MOTI charges an expense ratio of 0.56%.
UBS Debuts 2x Leveraged MLP ETN
UBS' ETRACS 2x Monthly Leveraged S&P MLP Index ETN (MLPV ) began trading on July 14, offering 2x leveraged exposure to the S&P MLP Index. As the name suggests, investors should note that leverage is reset monthly on the ETN. Furthermore the fund will distribute quarterly coupon payments linked to 2x the cash distribution on the index's underlying holdings. MLPV charges 0.95%.
PureFunds Adds 2 Specialty Tech ETFs
On the heels of PureFunds' successful debut of the ISE Cyber Security ETF (HACK B+), the issuer launched this morning two new specialty tech ETFs. Each fund charges 0.75%.
The ISE Big Data ETF (BDAT ) is the first fund on the market to target companies specializing in big data creation, management and analysis. BDAT's underlying index is a pure play on the industry, comprised of roughly 30 individual holdings. Some of the biggest names include Google, Facebook, Yahoo! and Nielsen.
The ISE Mobile Payments ETF (IPAY C+) is also an ETF first, offering a pure play on companies specializing in mobile, electronic and digital payments. IPAY's constituents fall into at least one of the following four categories: card brands/consumer banks, non-bank payment platforms, hardware and software providers, merchant sponsor banks/acquirers. Considering roughly 70% of consumer spending in the U.S. alone is electronic, IPAY looks to capitalize on the growing industry.
Commenting on the launch, CEO Andrew Chanin noted: "These new ETFs will offer investors an opportunity for exposure to two industries shaping the future of technology. These two technology sectors are transforming traditional commerce and data management, and their solutions are bringing exciting changes to everything from how we pay for a cup of coffee to how we access and interpret vital information."
Follow me on Twitter @DPylypczak.
Disclosure: No positions at time of writing.