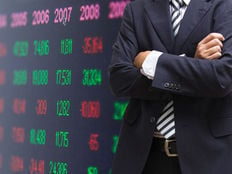 To help investors keep up with the markets, we present our ETF Scorecard. The Scorecard takes a step back and looks at how various asset classes across the globe are performing.
U.S. equities ended the month of August in the red. Continuing the trend, stocks got off to a sour note on the first trading day of September on weak Chinese data. Towards the end of the week, however, U.S. markets managed to regain their footing. Meanwhile, investors continue to digest the latest headlines from China as well as speculate on whether or not the Fed will raise rates in its September 17 meeting.
For more ETF news and analysis subscribe to our free newsletter.
Risk Appetite Review
U.S. equity markets fell once again this week, though stocks managed to pare some losses towards the end of the week. Surprisingly, the Low-Volatility ETF was one of the worst performers again this week, while the High-Beta was the "best" performer.
---
Content continues below advertisement
Major Index Review
Across the board, major global indexes were down for the week, with emerging markets logging in the worst decline at -3.19%. On the month, every major index is in the red.
Foreign Equity Review
Single-country ETFs did not fare much better this week, with all of the funds ending in negative territory. The worst performers were Brazil and China. Over the trailing one-month period, however, Brazil continues to be the worst performer, shedding 13.59%.
Commodities Review
This week's best performer was the Oil ETF (USO B), which logged in an impressive 9.96%. The only commodity in the red was the agriculture ETF. On the month, the agriculture ETF is the worst performer.
Currency Review
The U.S. dollar turned positive this week, gaining 0.56%. The yen was this week's top performer, gaining 0.76%. Over the trailing one-month period, emerging-market currencies continue to decline.
For more ETF analysis, make sure to sign up for our free ETF newsletter.
Disclosure: No positions at time of writing.