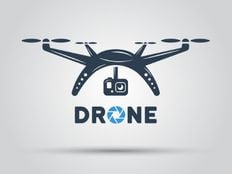 One of the cool things about ETFs is that they allow both institutional and retail investors to express a sector view. And while broad tech, materials and consumer ETFs have been a part of the fund-type lexicon for years, today, the sector-specific choices are getting very, very specific. Investors are now able to hone in on very distinct subsectors of a broader industry.
Last week's launches from PureFunds do just that, taking on two of the hottest trends in technology: drones and video games.
Also, Invesco's (IVZ) PowerShares launched another income solution. Here again, the search for income is expressed through a very unique sector approach.
---
Content continues below advertisement
PureFunds Tackles Tech
PureFunds already made a name for itself in the world of sector-specific ETFs. Its PureFunds ISE Cyber Security ETF (HACK B+) quickly amassed assets and has become a popular choice for investors looking to play cybersecurity. PureFunds hopes to strike gold again with its two new sliced-n-diced sector ETFs that launched on March 9: the PureFunds Drone Economy Strategy ETF (IFLY B-) and the PureFunds Video Game Tech ETF (GAMR C).
IFLY allows investors to tap into the growing demand and adoption of drones and other unmanned aircraft for military and personal use. The fund will track the Reality Shares Drone Index, which follows a basket of global stocks that either do or expect to receive a large portion of their revenue from the sale and research of drones. Top holdings include pure-players such as AeroVironment (AVAV) and diversified industrials such as Boeing (BA) and Honeywell (HON). All in all, the index holds a total of 44 different drone-focused stocks.
Costs for the hypertargeted ETF are rather on the expensive side. IFLY has an expenses ratio of 0.75%, meaning it'll cost investors $75 per year for every $10,000 they have invested in the ETF.
Perhaps a less targeted sector play is GAMR. The new fund provides investors with exposure to the digital entertainment industry. Video game demand and adoption continues to rise around the world and the new ETF will track the EEFund Video Game Tech Index. The global index includes all the video game software developers, distributors, gaming platform manufacturers, gaming accessories and large tech and media conglomerates in the industry. It is roughly split between the U.S. and international holdings. Top stocks in the fund include Activision Blizzard (ATVI) and Japan's Konami Holdings.
Like IFLY, GAMR will charge 0.75% in expenses.
PowerShares Invests in Income
PowerShares' latest launch expands on the company's relationship with Dorsey Wright. Dorsey Wright are pioneers in technical, relative strength, and momentum investing. It is already the name behind several huge products for PowerShares as well as the uberpopular $4.2 billion First Trust Dorsey Wright Focus 5 ETF (FV B).
The PowerShares DWA Tactical Multi-Asset Income Portfolio (DWIN B+) follows a similar technical/momentum investing strategy as all DWA products, but tweaks the concept towards income sources. The fund will track the Dorsey Wright Multi-Asset Income Index, which seeks to capitalize on seven different income-producing market segments. These include corporate bonds, emerging-market debt, dividend stocks, MLPs, REITs, and preferred shares. DWIN's index will rotate through these asset classes as its model seeks to find those with high momentum, high yield and a chance for growth. To accomplish this goal, DWIN will use other PowerShares ETFs as its holdings. The index and model will rebalance monthly.
The fund launched on March 10 and currently charges 0.69% in expenses. The bulk of that comes from trading and acquired fund fees. As the fund gains in assets, those fees should fall.
Disclosure: Author is long FV.