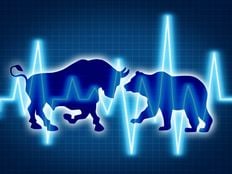 To help investors keep up with the markets, we present our ETF Scorecard. The Scorecard takes a step back and looks at how various asset classes across the globe are performing. The weekly performance is from last Friday's open to this week's Thursday close.
Markets have continued their upward trajectory this week.
Japan's

GDP

stumbled in the second quarter, rising just 0.2% on an annualized basis compared to 1.9% in the previous quarter, raising concerns about the effectiveness of the government's stimulus measures. More stimulus could follow.
In the U.K., inflation is continuing to rise on the back of a weaker pound following the Brexit vote: the

CPI

rose to 0.6% in July from 0.5% in June and 0.4% in May.
U.K.'s employment data showed positive signs, despite expectations of a deterioration of the jobs market. In July, the number of people claiming unemployment benefits fell by 8,600, against forecasts of a 5,200 rise.
German

ZEW

economic sentiment climbed back from negative territory in July, to 0.5, indicating slight optimism in the market, while overall EU sentiment stood at 4.6, up from -14.7 previously.
In the U.S., consumer inflation remained unchanged in July at 1.6%, despite signs of accelerating economic activity.
The Federal Reserve's minutes showed policymakers were divided on when to increase interest rates again, with some favoring an imminent hike, while others suggested more data was needed before making a decision. For now, doves are winning.
Unemployment claims in the U.S. stood at 262,000 versus expectations of 265,000, further confirming a bright labor market picture.
Philly Fed manufacturing index was in expansion mode in July, with a reading of 2.0, in line with analysts' expectations.
For more ETF news and analysis, subscribe to our free newsletter.
Risk Appetite Review
The broad market (

SPY

) has risen 0.26% this week, as market optimism seems unwavering.
Low Volatility

ETF

(

SPLV

) is down 0.28% since last Thursday.
The high beta

ETF

(

SPHB

) has jumped 2.46% in the past week, confirming a risk-on environment, despite weak fundamental data.
---
Content continues below advertisement
Major Index Review
All major indexes are up this week.
This week, iShares Russell 2000 Index (

IWM

) has posted the best performance, rising 0.91%.
Emerging markets (

EEM

) have fared best for the rolling month, advancing 5.94% on the back of recovering oil prices and expectations the Federal Reserve will not raise interest rates anytime soon.
Dow Jones (

DIA

) is the worst performer for the week and the rolling month, up 0.11% and 0.72%, respectively, as other riskier asset classes were favored by investors. Dow Jones reached new all-time highs this week.
Foreign Equity Review
Foreign ETFs were mixed for the week.
The Chinese equities (

FXI

) have bested every other asset this week, with a 2.09% rise on market optimism about the approval of a trading connect between mainland China's Shenzen bourse and Hong Kong's stock exchange.
Brazil (

EWZ

) is the worst performer this week, with a fall of 0.69%, after weeks of outperformance. This week, the market was in correction mode.
Germany (

EWG

) is the best performer for the rolling month, with a 9.37% gain.
For the rolling month, Russia's stock markets (

RSX

) have fared worse, rising just 2.67%, as the renewal of tensions in Eastern Ukraine prompted fears the country could face a new round of sanctions from its Western allies.
Commodities Review
Commodities were all up, with two exceptions.
Oil (

USO

) has had a stellar performance this week, soaring as much as 9.71%, which makes it the best performer for the week and the rolling month. U.S. stockpiles unexpectedly dropped by 2.5 million barrels this week, while optimism about a possible deal between Russia and Saudi Arabia on freezing oil output further boosted crude. For the rolling month, oil is up 4.73%.
Silver (

SLV

) has been the worst performer this week, dropping 1.98%, after weeks of recording exceptional gains. The metal started to suffer on the back of a risk-on approach in the market.
Copper (

JJC

) has fallen 4.14% for the rolling month, representing the worst performance of the bunch, as a supply glut is unlikely to abate anytime soon.
Currency Review
Currencies were mixed for the week.
The Euro (

FXE

) has risen the most this week, by 1.48%.
The U.S. dollar (

UUP

) has posted the worst performance for the week and the rolling month, dropping 1.38% and 2.99%, respectively.
The Japanese yen (

FXY

) is the best performer for the rolling month, up 6.48%, as the latest disappointing

GDP

data prompted bets authorities will take further steps to stimulate a stagnating economy.
For more ETF analysis, make sure to sign up for our free ETF newsletter.
Disclosure: No positions at time of writing.