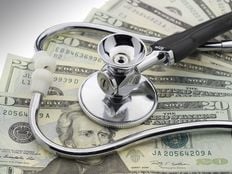 Upstart exchange-traded fund (ETF) sponsor/manager PureFunds has made a name for itself by embracing subsector and various thematic products. Its PureFunds ISE Cyber Security ETF (HACK B+) became a runaway hit and, at one time – before the recent market swoon – amassed more than $1 billion in assets. Since then, PureFunds has continued to roll out more tech subsector products and, today, features one of the most diverse line ups of specialized technology ETFs.
And it continued on that path this week, with the launch of the PureFunds Solactive FinTech ETF (FINQ ) and PureFunds ETFx HealthTech ETF (IMED ).
| Ticker | Name | Issuer | ETFdb Category | Expense Ratio |
| --- | --- | --- | --- | --- |
| (FINQ ) | PureFunds Solactive FinTech ETF | PureFunds | Technology Equities | 0.68% |
| (IMED ) | PureFunds ETFx HealthTech ETF | PureFunds | Health & Biotech | 0.75% |
---
Content continues below advertisement
Technology Continues to Be a Game Changer
We all know the technology sector has influenced our lives across many facets. Two sectors that are just realizing the potential of tech are finance and healthcare. Dubbed 'FinTech' and 'HealthTech,' the application of new technology and data-driven solution towards these old-school sectors has the potential to disrupt how they do business and how they make money. With the two industries still very much in their infancy, PureFunds has allowed investors to get in on the ground floor with its most recent launches on August 31.
FINQ will track the Solactive FinTech Index. The index is made up of various global firms that make their money from using technology to comb through financial data, sell financial-related information or software, and provide web-based financial services. This includes various online banks and lenders, companies like Fair Isaac (FICO) that provide data analytic services or those that help facilitate banking transactions in a new way. A firm like Square's (SQ) mobile payment solutions is a prime example.
Currently, FINQ holds 30 different stocks, with about one-third of holdings being international firms. The bulk of the ETF's assets are in smaller-capitalization stocks. That should provide a bumpier ride than even a regular tech-focused ETF.
The idea is that the growth in these sorts of financial firms will continue to see high growth rates and potentially overcome more traditional banking firms.
IMED follows a similar path, but applies the theme towards healthcare. The fund's index – the ETFx HealthTech Index – searches the world for those firms that use technology to design and deliver new healthcare solutions. However, the firm does not include biotech or other pharmaceutical drug developers. Instead, IMED will focus its portfolio on three areas of medicine: Informatics, Medical Instruments and Medical Devices.
Informatics, in a nutshell, is the use of data in order to derive customized healthcare solutions or diagnoses for patients. The medical instruments portion of the fund's portfolio looks at new gadgets that help to collect data for doctors; while medical devices includes machines that are used to treat or prevent illness. Like FINQ, the overall theme of IMED is that this is where the future growth of healthcare is going to come from.
IMED currently holds 60 different HealthTech firms. Again, about one-third of them are international stocks. However, given the slightly more mature market of HealthTech, the ETF is better balanced between larger and smaller stocks.
The only real downside to the two ETFs is their expenses. FINQ will charge 0.68% or $68 per every $10,000 invested, while IMED will charge 0.75%. That puts them near the top in terms of costs when looking at ETFs, even sector specific ones.
The Bottom Line
PureFunds continues to dive deeper into the world of specialized tech and thematic ETFs. Its two latest launches are a prime example of that. Both FINQ and IMED allow investors to tap into two of the fastest-growing markets for new tech solutions. And given that they are the only two ETFs to target these areas, I suspect that PureFunds will have another pair of hits on their hands.