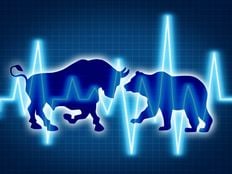 To help investors keep up with the markets, we present our ETF Scorecard. The Scorecard takes a step back and looks at how various asset classes across the globe are performing. The weekly performance is from last Friday's open to this week's Thursday close.
Markets were all down this week, retracing after last week's rally.
Germany's business climate improved in August, with an indicator by Ifo Institute for Economic Research rising to a two-year high of 109.5 from 106.3 the previous month.
Mario Draghi, President of the European Central Bank, raised concerns about the Eurozone's banks' profitability in a speech on September 26, shortly after the Bank of Japan tweaked monetary policy to provide some breathing room for its flailing financial institutions.
In the U.S., consumer confidence rose to a nine-year high of 104.1, beating expectations of just 98.8.
Durable goods orders were flat for the month of August, but were higher than consensus of a 1.9% drop.
Crude oil stockpiles fell for a fourth straight week; this time by 1.9 million barrels. Expectations were for a rise of 2.4 million barrels.
Inflation in Germany edged slightly up in August, to 0.1% – a far cry from the European central bank's target of below but close to 2%. For September, inflation is expected to rise to 0.7%.
U.S.

GDP

for the second quarter was revised up to 1.4% from 1.3% previously, confirming an improving economic outlook.
U.S. jobless claims came in at 254,000, below estimates of 260,000.
Risk Appetite Review
The broad market (

SPY

) fell 0.94%.
The Low Volatility

ETF

(

SPLV

) posted the worst performance, tumbling 1.66%.
The High Beta

ETF

(

SPHB

) is down the least from the bunch, about 0.08%, in a sign investors preferred risk over safety.
---
Content continues below advertisement
Major Index Review
All major indexes dropped this week, despite a batch of uplifting economic data.
iShares Russell 2000 Index (

IWM

) has tumbled 2.15% since last Thursday, signaling waning appetite for small-cap equities.
Over the rolling month, the Dow Jones (

DIA

) has dropped 2.01%, but it is still hovering near all-time highs.
The technology index (

QQQ

) has dropped the least since last Thursday, by 0.91%, representing the best performance of the pack. For the rolling month, the tech index has risen 0.95%, beating all other ETFs tracked, as the sector is among the few that continues to grow steadily.
Foreign Equity Review
Foreign ETFs were all down for the week.
India (

EPI

) has tumbled 4.17% this week, by far posting the worst performance, on news the country had conducted military strikes in Pakistan. This week's drop made the Indian stock market the worst performer for the rolling month too, with a 2.67% fall.
Perhaps unsurprisingly, Russia (

RSX

) has fallen the least since last Thursday, as news of an

OPEC

deal delighted investors.
Japan (

EWJ

) has been the best performer for the rolling month, with a 2.45% advance.
Commodities Review
Commodities were all down this week, except for oil.
Oil (

USO

) has lodged a 3.62% gain, making it the single riser from all commodities tracked. Crude was boosted by news of a deal to reduce supply by

OPEC

members.
Silver (

SLV

) has had the worst performance this week, falling 3.72%, as good incoming economic data increased bets the Federal Reserve will raise interest rates this year.
Copper (

JJC

), meanwhile, has posted the best performance for the rolling month, advancing 5.91%.
For the rolling month, agricultural commodities performed the worst (

DBA

), falling 0.98%.
Currency Review
Currencies were relatively stable this week.
The Australian dollar (

FXA

) has again performed the best, rising 0.24% this week.
Emerging currencies (

CEW

) lodged the worst performance, falling 0.32%.
For the rolling month, the Japanese yen (

FXY

) has jumped 1.55%, beating all other tracked currencies, as the Bank of Japan recently disappointed bears by not decreasing interest rates.
The British pound (

FXB

) has fallen 1.12%, representing the worst performance for the rolling month.
For more ETF analysis, make sure to sign up for our free ETF newsletter.
Disclosure: No positions at time of writing.