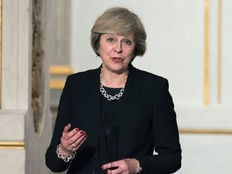 ETFdb.com analyzes the search patterns of our visitors each week. By sharing these trends with our readers, we hope to provide insights into what the financial world is concerned about and how to position your portfolio.
This week, international political and business elites met in Davos to discuss the latest events in the markets, with the wave of populism flooding the developed world being a hot topic of debate at the World Economic Forum. Our trends show that ETF investors have been concerned by the same theme, with Brexit and Donald Trump's victory present on the list. The U.S. dollar, the pharmaceutical industry and Mexico have all been influenced by the Trump rhetoric, while the British pound received a boost following Prime Minister Theresa May's speech on Brexit. Uranium, a rare presence on our list, is there due to a specific company event.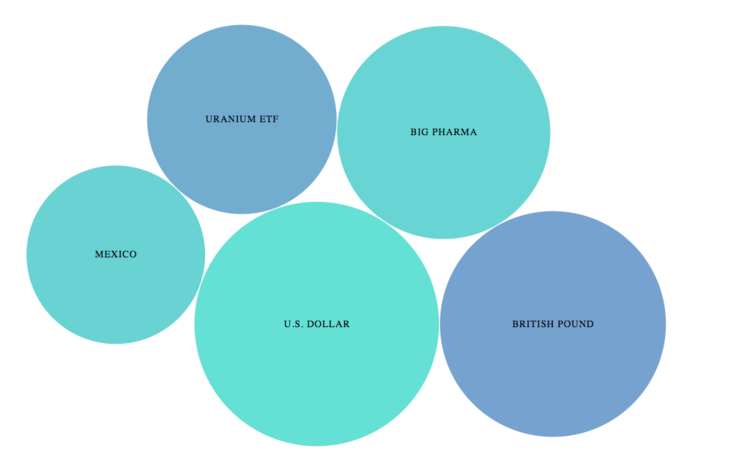 ---
Content continues below advertisement
Dollar Falls on Trump Remarks
The U.S. dollar and the British pound have been among the most interesting currencies lately for opposing reasons. While the dollar has been rising following the election of Trump, the pound has fallen abruptly in the aftermath of the Brexit vote, in a sign populism may cost the U.K. dearly. Currencies have seen their traffic rise 85% over the past week, mostly because of the attention garnered by the two countries. PowerShares DB U.S. Dollar Index Bullish Fund (UUP B) has retraced some of the gains this week, falling as much as 1.6%.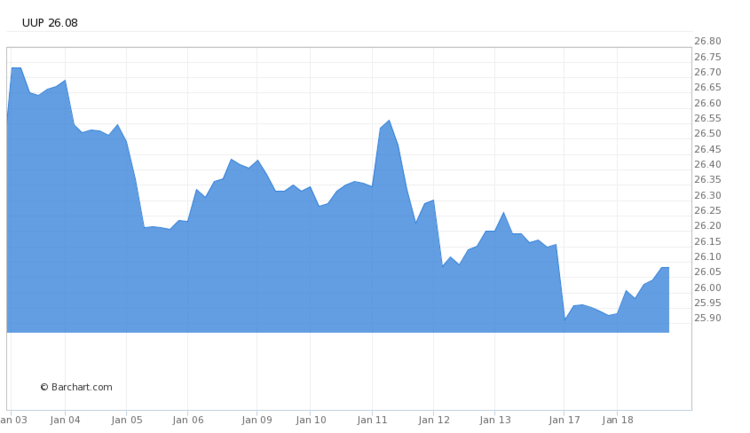 The dollar fell abruptly a few days ago after Trump said in an interview with the Wall Street Journal that the greenback was too strong. He emphasized in particular that the Chinese yuan was undervalued with respect to the dollar. The President-elect's mixed signals have befuddled investors, prompting them to unwind some bullish dollar bets. Trump evidently can't have it both ways – a full-fledged fiscal expansion leading to economic growth and a weak dollar. So this could be a temporary dollar weakness, unless Trump fails to deliver on his fiscal stimulus promises.
Sign up for ETFdb Pro and get access to real-time ratings on over 1,900 U.S. listed ETFs.
British Pound Rallies After Prime Minister May outlines Brexit Strategy
Prime Minister May has set out her vision for leading the U.K. out of the European Union. As a result, Britain ETFs have been popular with our readers, with the viewership increasing 68% over the past week. The British pound (FXB B) has recouped some of the losses, rising 1.3% over the past week, despite May's hardline position on upcoming Brexit negotiations with the EU. Investors cheered, however, that there was at least some degree of certainty and that any final deal will be put to a vote in Parliament.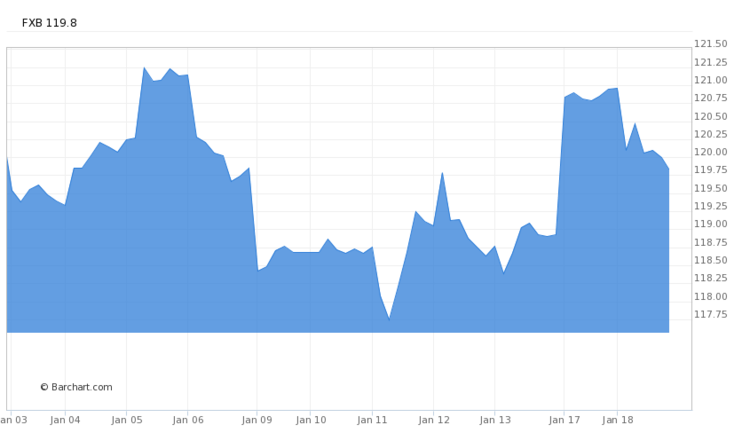 May declined to take as a template for negotiations an already existing arrangement between the EU and other non-EU countries such as Switzerland and Norway, and insisted on a tailored deal favoring the U.K. The Prime Minister was adamant that any agreement should give Britain full control over immigration, without "huge" sums paid to the EU budget. She also wants the ability to negotiate trade agreements with other non-EU members while being part of the single market. Finally, May will push for transitional arrangements for financial services and other companies so that new rules are implemented gradually.
To easily find ETFs exposed to a particular country, use our ETF Country Exposure Tool. Select a specific country and get a list with all the ETFs with exposure to your pick.
Many EU policymakers have signaled the single bloc will not close a deal that will let the U.K. be better off outside the Union, with a German official saying the country's flexibility in negotiations was a "dream." Germany's Chancellor Angela Merkel said European values would be given priority before the car industry, which relies on the U.K. as an important market.
Big Pharma Rattled by Trump's Comments
A short statement on the pharmaceutical industry delivered by President-Elect Trump has erased roughly $25 billion from the market capitalization of big pharmaceutical giants.
Pharmaceutical ETFs have seen their viewership soar 136% over the past week, largely because of Trump's comments. PowerShares Dynamic Pharmaceuticals Portfolio (PJP B) have dropped more than 3% over the past five days, extending 12-month losses to as much as 11%.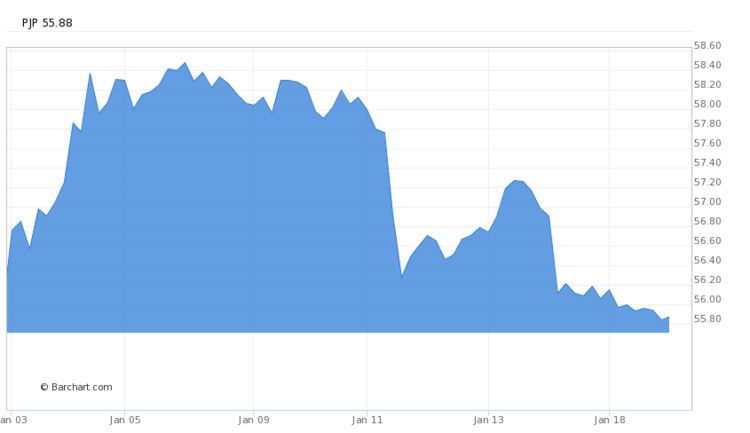 Trump suggested that the pharmaceutical industry has been charging excessive prices for drugs and complained the vast majority weren't even produced in the U.S. He said drugmakers are "getting away with murder." Trump stopped short of providing a clear path on how to decrease prices but suggested he may implement a bidding procedure, arguing the government will save billions this way.
Uranium ETF Hit by Heavyweight's Troubles
Uranium has seen its viewership surge 110% over the past week, as the only ETF tracking the metal took a dive last week. Uranium (URA B-) fell as much as 7.6% on Wednesday alone, trimming monthly gains to less than 11%.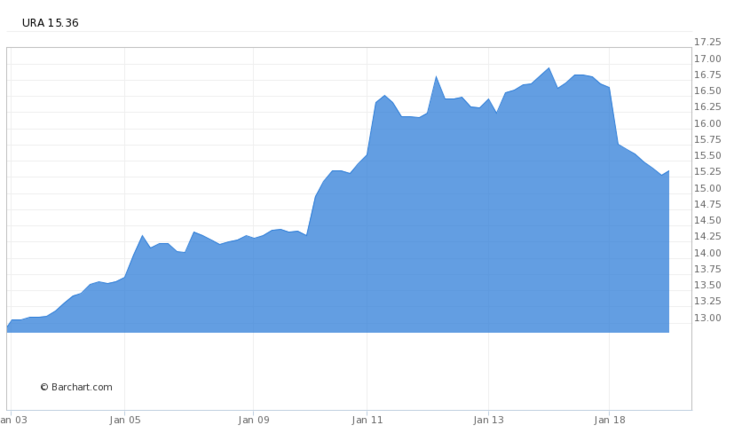 The reason for the drop is Cameco (CCJ), the Canadian company that saw its stock shed 18% on Wednesday after a warning that analyst estimates were too high. Cameco is the largest holding in the (URA B-) ETF with a share of 23%. Cameco did not specifically reveal the amount of the loss but said the fair value of its assets would be reduced because of a weak uranium market. It also unveiled plans to reduce the workforce in an attempt to further shrink costs.
For a deeper analysis on individual ETF investments such as (URA B-) or (PJP B), use our ETF Analyzer tool. You can select ETFs by Category or Type as well as add individual ticker symbols to compare performance, expenses and dividend yield among other metrics.
Mexico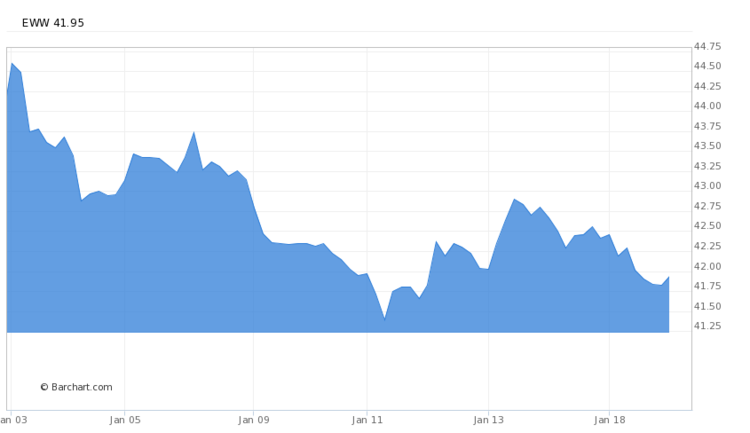 iShares MSCI Mexico Capped (EWW A) had started to recover at the beginning of this week but ended it slightly down, as the incoming Trump administration signaled it was serious about reopening talks on negotiating the trade agreement with NAFTA. Wilbur Ross, Trump's Secretary of Commerce, said he'd send a letter to both Canada and Mexico seeking to start talks over a new deal. Ross also said he is in favor of trade but only on fair terms.
ETFdb.com has ETF investing guides and other ebooks to help you navigate the investing landscape using ETFs. Sign up to ETF Database Pro to get access to all the PDFs located on our ETF Guides page.
The Bottom Line
This week was all about Trump and Brexit. Trump's comments at various press conferences sent shivers through the pharmaceutical industry, the Mexican peso, and the U.S. dollar. All three assets are present in the list. Across the Atlantic, U.K. Prime Minister May laid out her vision on Brexit, lending support to the pound. Finally, an ETF covering uranium tumbled after an extensive holding said losses might be higher than expected.
By analyzing how you, our valued readers, search our property each week, we hope to uncover important trends that will help you understand how the market is behaving so you can fine-tune your investment strategy. At the end of the week, we'll share these trends, giving you better insight into the relevant market events that will allow you to make more valuable decisions for your portfolio.