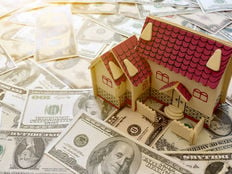 ETFdb.com analyzes the search patterns of our visitors each week. By sharing these trends with our readers, we hope to provide insights into what the financial world is concerned about and how to position your portfolio.
This week's trends have again been shaped by U.S. President Donald Trump. Besides the Mexican peso, which is becoming a constant presence in the weekly trends, three topics could be linked to the recently leaked Trump infrastructure plans – steel, infrastructure, and building and construction ETFs. Aside from these four categories, German bonds made it to the list as the Eurozone's inflation spiked more than expected. To review last week's trends, read Trending: Major Currencies See Higher Volatility as Investors Brace for Trade War.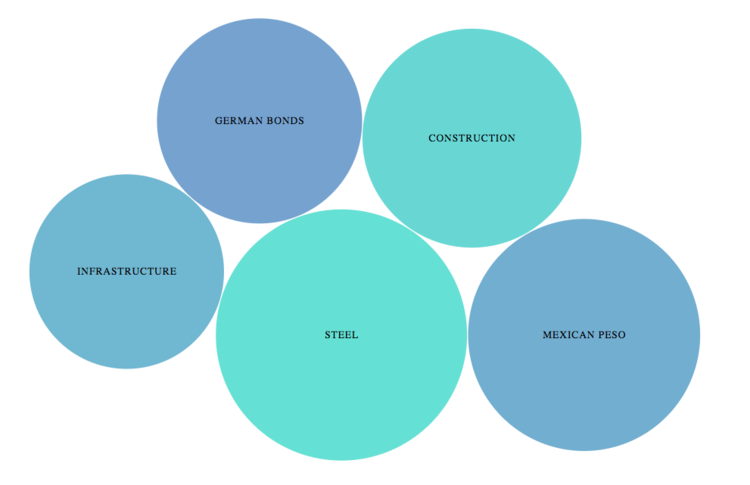 ---
Content continues below advertisement
Steel Falls on Trump Infrastructure Plans
China is the largest consumer of steel and has a big influence on the metal's price. However, since the election of Donald Trump as president, steel has held up on an infrastructure spending promise. Recently, a draft of Trump's plans leaked to the press, prompting steel ETFs to generate 340% traffic despite a negative reaction from the markets. VanEck Vectors Steel ETF (SLX B+) has fallen nearly 3% over the past days, trimming year-to-date gains to 9%.
Steel prices have been recovering lately, as demand from China continues to be strong. Investments in real estate rose 6.9% year-over-year in 2016, while the fixed asset investment shot up 8.1%. In addition, automobile sales rose 13.7% in 2016 compared to 2015. In the U.S., Trump's plans revealed that the government intends to spend $137 billion on infrastructure over the next ten years, with nearly half of the funds allocated to railroad tracks, which use steel heavily. Looking ahead, the demand picture in China will be crucial to steel prices. The nation wants to slowly shift from an investment-led economy to one veered toward consumption. This would entail a slower growing demand for commodities such as steel, and the supply would have to adjust in time to avoid a hit on prices.
For a deeper analysis on individual ETF investments such as (SLX B+) or (EWW A), use ETFdb.com's ETF Analyzer tool. You can select ETFs by category or type as well as add individual ticker symbols to compare performance, expenses and dividend yield, among other metrics.
Peso Hit as U.S.-Mexico Relations Sour
The Mexican peso has seen its viewership rise 297% over the past week, as investors closely watched a widening rift in U.S. and Mexico relations. As a result, iShares MSCI Mexico Capped (EWW A) fell another 2.2% over the past five days, extending 3-month losses to nearly 8%.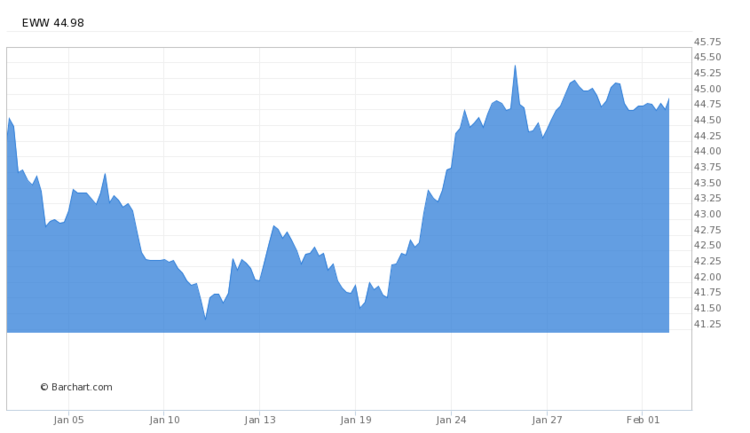 Mexican President Enrique Pena Nieto was supposed to meet with Trump at the White House this week but he canceled the trip after the U.S. president said the meeting would be fruitless if Mexico did not cave to his demands. He asked the nation to treat the U.S. with "respect," and to pay for a wall along the southern border – a request the Mexican government has repeatedly deemed as unacceptable. The development is the latest in a battle between the current U.S. administration and Mexico, which threatens to undo more than two decades of a commercial relationship that benefited both countries, Mexico in particular. Since NAFTA (the North American Trade Agreement) was created, U.S. exports to Mexico increased 486%, while Mexican exports to the U.S. jumped 638%.
To quickly find ETFs exposed to a particular country, check our ETF Country Exposure tool. Select a specific country and get a list of all ETFs with exposure to your pick.
German Bonds Gain Despite Higher Inflation
German bonds are the only asset present in the list this week for economic, and not political, reasons. Over the past week, these ETFs have seen their traffic jump as much as 226% as investors turned their attention to the surprising uptick in inflation. German Sovereign/Sub-Sovereign (GGOV B+) increased 0.23% over the past five days, extending year-to-date gains to nearly 1%.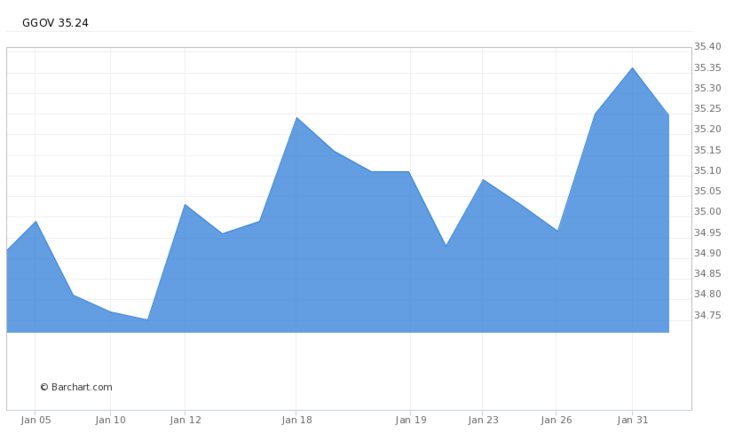 German bonds gained in the face of rising inflation in the Eurozone, as investors fled to safety. The government bonds of other European countries fell, with French government yields reaching a 16-month high and Greece's hitting a one-month high on Monday. Inflation in the euro area accelerated to 1.8% year-over-year in December, close to the level of 2% set by the European Central Bank. However, core inflation stood at just 0.9%, giving the ECB plenty of reasons to keep the stimulative monetary policy unchanged, even as some German policymakers push the bank to at least consider winding down the asset-purchase program.
ETFdb.com has ETF investing guides and other eBooks to help you navigate the investing landscape using ETFs. Sign up to ETF Database Pro to get access to all the PDFs located on our ETF Guides page.
Building and Construction ETFs Surge on Trump's Wall Promise
Building and construction ETFs have seen their traffic rise as much as 214% over the past week, as investors weighed the potential effects of President Trump's infrastructure plans on the industry. For example, iShares U.S. Home Construction (ITB A), an ETF containing U.S. construction heavyweights such as Lennar (LEN), D.R. Horton (DHI) and PulteGroup (PHM), has jumped more than 5% since the beginning of the year.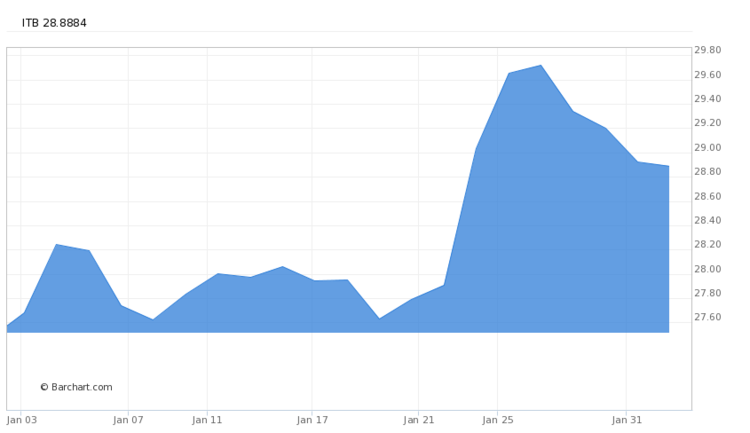 The ETFs have been boosted not so much because of President's infrastructure plans but rather due to his promise to build a wall alongside the Mexico border. It is estimated that such an endeavor would cost between $15 and $25 billion, although Trump's administration said the wall would not cost more than $12 billion. Whatever the case, the building and construction companies are expected to benefit from the construction of such an edifice.
Infrastructure ETFs Get an Early Taste of Trump's Plans
Infrastructure ETFs have seen their viewership jump 112% in the past week, largely as a consequence of Trump's infrastructure plans being leaked. Judged by the performance of infrastructure ETFs, the market was unimpressed by the slides. iShares Global Infrastructure (IGF A) has fallen 1.25% since last Thursday but remains up slightly above 1% since the beginning of the year.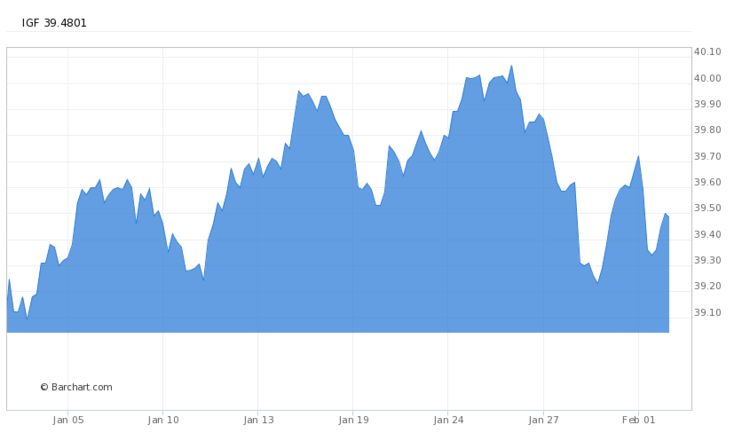 Trump's plans consist of 50 initial projects worth $137 billion, with 44% of the sum allocated to rail, and 15% each to energy projects and highways and bridges.
In addition, Democrats and Republicans in the Senate started to debate the best way to build the nation's bridges, railroads, sewers and other public goods. A $1 trillion detailed program by Democrats financed with new government spending was rejected by Republicans, who said the plan relied too heavily on new debt. Meanwhile, Democrats said they would oppose any plan that involved tax credits for developers.
The Bottom Line
This week has been all about Trump's infrastructure plans. Steel prices have been recovering over the past period in no small part because of Trump's pledge to rebuild the nation's highways, railroads and bridges. Improved demand from China has also helped. The Mexican peso took another hit after relations between the current U.S. administration and the Mexican government worsened. German bonds continued to be strong in spite of rising inflation in the Eurozone, while building and construction ETFs rallied on Trump's pledge to build a wall south of the border. Finally, infrastructure ETFs themselves dropped over the past few days, as Trump's leaked plans likely disappointed investors.
For more ETF news and analysis, subscribe to our free newsletter.
By analyzing how you, our valued readers, search our property each week, we hope to uncover important trends that will help you understand how the market is behaving so you can fine-tune your investment strategy. At the end of the week, we'll share these trends, giving you better insight into the relevant market events that will allow you to make more valuable decisions for your portfolio.