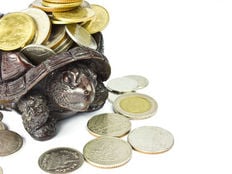 Exchange-traded funds (ETFs) continue to rack up assets as investors have come to realize their benefits for their portfolios.
While the bulk of that asset gathering has gone to passive, broad indexing strategies, it hasn't stopped fund sponsors from trying new ideas on the investing public. This week, we get three new ideas that tackle some pretty interesting asset classes and sub-markets.
---
Content continues below advertisement
Tortoise Jumps Into the Pool
Investment firm Tortoise Capital Advisors is best known as a manager of infrastructure assets – specifically honing in on master limited partnerships (MLPs) and pipeline stocks. It has a wide range of products and funds dealing with such holdings. A few years ago, it launched Tortoise Index Solutions to begin offering smart-beta ETFs and, since then, has grown its stable of ETFs. Building off of its success with MLPs and infrastructure, Tortoise has decided to launch an ETF that is a bit on the splashy side and perhaps even more boring than a crude oil pipeline. We're talking about the exciting world of water stocks.
The Tortoise Water Fund (TBLU ) fits into the firm's 'steady wins' mantra and will focus on those U.S. stocks that focus on water infrastructure or water management industries. While we have been down this road before – there are several water ETFs with multiple years of trading activity – TBLU is a tad bit special.
The fund will use a proprietary screening method to find those stocks that have real direct exposure to the water segment. Most firms in the water industry are industrial conglomerates that have some, but not 100%, focus on water. Filter companies also make products for hydraulic applications and water. Some pumping firms have more oil and gas revenues. TBLU hopes to eliminate that by focusing on investments that only have a high proportion of their revenues tied to the commodity. This should allow the new ETF to track the water sector, rather than these other businesses.
Targeting just water could give the ETF an edge in gathering assets from rivals. However, fervor for water investing has died down in recent years. Expenses for TBLU run at a cheap 0.40% or $40 per $10,000 invested.
Check out the other 'splashy' options for water ETFs here.
WisdomTree Builds the Wall
Love him or hate him, President Trump's comments on Mexico and its economy have certainly done some immediate damage; if he is successful in stopping trade with the nation, it could truly hinder Mexico's future. Smart-beta issuer WisdomTree allows investors to metaphorically 'build the wall' before Trump has time to act.
As the name implies, the WisdomTree Global ex-Mexico Equity Fund (XMX B) removes Mexico from the equation. XMX will track a basket of large and mid-cap global equities from the United States, and various developed and emerging markets. However, the fund will not include Mexico in that list. Roughly 60% of the fund's holdings are in the U.S.
Ultimately, the idea is that as the U.S. reorganizes NAFTA and lessens trade with Mexico, the nation's stocks should suffer and be a major drag on returns. This isn't the first time that a nation has been left out of an index. The iShares MSCI Kokusai ETF (TOK B+) is a global fund minus Japan and it has managed to gather roughly $175 million in assets.
In the end, XMX could end up being a big hit, if the conditions are right. Expenses for the fund run at 0.30%.
Using our Head-to-Head Comparator tool to compare two ETFs issued by WisdomTree.
First Trust Adds Another Active One
Big time ETF sponsor First Trust continues to benefit from its relationship with various specialist sub-managers. This time, it's tapped the bond geniuses at TCW for another addition to its growing lineup of active ETFs.
The First Trust TCW Opportunistic Fixed Income ETF (FIXD B) is designed to be a go-anywhere, total return bond fund. FIXD will try to maximize long-term total returns by investing in fixed-income securities of any credit quality issued by government, agencies or corporate entities. FIXD can also hold up to 35% of assets in speculative-grade debt securities (junk bonds) and up to 20% of assets in securities denominated in foreign currencies.
Basically, if it's a bond, FIXD can own it.
The idea is that managers can shift their holdings as market conditions, such as interest rates, change. This should help drive returns and reduce losses. And for just 0.55% in expenses, the ability to shift comes cheaply and could be worth it for investors.
For a list of all new ETF launches, take a look at our ETF Launch Center.
The Bottom Line
This week's launches highlight the diversity of new funds and sectors that ETFs have been able to tap. Ultimately, these funds could prove their worth as market conditions change or certain sectors surge.
Sign up for ETFdb Pro and gain access to more than 50 all-ETF model portfolios, each of which is backed by a unique investment thesis.