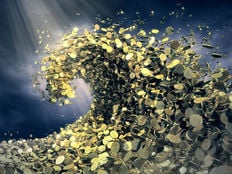 It's getting pretty nasty out there. The so-called 'fee war' is heating up to a boiling point as various fund managers and brokerage houses compete to lower expenses for investors and gain market share. Just after Schwab and Fidelity duked it out over brokerage commission costs, the latest campaign in the fee war comes from the pioneer of low-cost investing. And when John Bogle and Vanguard speak, the investment community listens.
This time, all of their competitors have to be listening. The race to zero is on, and Vanguard could be winning that dash.
Vanguard recently completed the third round of a massive cut to its entire fund lineup of mutual funds and exchange-traded funds (ETFs). In total, Vanguard managed to lower expense ratios on a whopping 68 different share classes of its funds in this round. In less than three months, the Valley Forge-based investment powerhouse has managed to take an ax to roughly 124 of its funds and saved investors a cumulative $143 million in cost savings.
No wonder why Vanguard had global net inflows equal to more than all the other fund companies combined last year.
For a full list of Vanguard ETFs, click here.
The Latest Round of Cuts at Vanguard
As Vanguard wrapped up its most recent wave of expense ratio reductions, a new report showed that the firm's average expense ratio of 0.18% in 2015 – or just $18 per $10,000 invested – was already 82% lower than the industry average. Moreover, 99% of all Vanguard mutual funds fall in the industry's lowest cost decile and 99% of the issuer's ETFs fall in the lowest cost quartile of all ETFs.
But apparently, Vanguard wasn't satisfied with already being one of the lowest cost options out there. It felt the need to do more. And after cuts in December and January, its latest round of expense ratio cuts have made it an absolute champion in low-cost investing. Very few, if any, can touch the 0.02% in expenses that Vanguard can charge for funds like its S&P 500 Institutional Plus Shares (VIIIX).
There have been significant fund flows from mutual funds into ETFs in recent years. Find ETF alternatives to traditional actively managed mutual funds using ETFdb.com's Mutual Fund to ETF Converter tool.
But again, we're in the middle of a war, right?
The vast bulk of the latest cuts at Vanguard came from its mutual funds and their various share classes. However, the firm did manage to slash expenses on 12 of its ETFs. These ran the gamut of international offerings including some of the most popular and largest funds in their respective sectors. These include the $47.5 billion Vanguard FTSE Emerging Markets (VWO A+), $11 billion Vanguard FTSE Europe (VGK A) and $6.2 billion Vanguard Total International Bond (BNDX A-).
The affected funds in this latest round are as follows.
---
Content continues below advertisement
International ETFs
| Ticker | Name | Old Expense Ratio | New Expense Ratio |
| --- | --- | --- | --- |
| (VWOB ) | Vanguard Emerging Markets Government Bond | 0.34% | 0.32% |
| (VEU ) | Vanguard FTSE All-World ex-US | 0.13% | 0.11% |
| (VSS ) | Vanguard FTSE All-World ex-US Small-Cap | 0.17% | 0.13% |
| (VWO ) | Vanguard FTSE Emerging Markets | 0.15% | 0.14% |
| (VGK ) | Vanguard FTSE Europe | 0.12% | 0.10% |
| (VPL ) | Vanguard FTSE Pacific | 0.12% | 0.10% |
| (VNQI ) | Vanguard Global ex-U.S. Real Estate | 0.18% | 0.15% |
| (VXUS ) | Vanguard Total International Stock | 0.13% | 0.11% |
| (VT ) | Vanguard Total World Stock | 0.14% | 0.11% |
U.S. Equities
| Ticker | Name | Old Expense Ratio | New Expense Ratio |
| --- | --- | --- | --- |
| (VYM ) | Vanguard High Dividend Yield | 0.09% | 0.08% |
Fixed Income
| Ticker | Name | Old Expense Ratio | New Expense Ratio |
| --- | --- | --- | --- |
| (VTEB ) | Vanguard Tax-Exempt Bond | 0.12% | 0.09% |
| (BNDX ) | Vanguard Total International Bond | 0.15% | 0.12% |
The real beauty is that expense ratios actually represent the operating expenses for the prior fiscal year – such as investment advisory fees, administrative costs and shareholder service expenses. This means that investors had already realized these cost savings well before Vanguard reported them.
With our ETF Comparison tool, you can see trading volumes, underlying indexes, holding differences and costs, as well as other information related to each product.
How Vanguard is Leading the Fee War
Following recent expense ratio cuts by leading rivals BlackRock and State Street, the three rounds of cost reductions at Vanguard seem to reek of desperation. But in reality, the indexing pioneer is doing the leading.
Vanguard has a very unique operating model in the world of investing. Most mutual fund or ETF sponsors are publicly owned such as State Street, or they are privately owned such as Fidelity. However, that ownership structure is driven by a profit motive. BlackRock really wants to make as much money as it can to make Wall Street analysts happy and pay its shareholders some nice dividends.
But for Vanguard, the onus is different. The company is set up, in that its funds own the company. And since the shareholders own the funds, its investors are the real owners of Vanguard. This structure allows Vanguard to avoid conflicts of interest that are present at other investment management firms and causes it to have a slightly different shareholders first mantra. Making its owners happy is making its fund investors happy. That includes passing on cost savings and profits generated by investing activities.
Vanguard CEO Bill McNabb said it best in the press release for the latest fee cut: "While some will portray Vanguard's expense ratio reductions as another volley fired in the price war, we view it as business as usual. We've been lowering the cost of investing for four decades and will continue to do so."
As for the three rounds of cuts, it has more to do with when the fiscal years for the various funds end and less to do with a reaction to its rivals.
But it really is the latest in a continued volley against BlackRock et. al.'s position. There is such a thing as the "Vanguard effect." Eric Balchunas, senior ETF analyst at Bloomberg Intelligence, noted that expense ratios for a sector's mutual funds and ETFs tend to drop when low-cost pioneer Vanguard jumps in with a product or fee decline.
Perhaps more importantly, Bloomberg also notes that of the $284 billion taken in by ETFs over the last year, the vast majority went to ETFs with an average expense ratio of 0.09% or less. Investors have embraced the concept of low fees and are voting with their feet. And it's not just for ETFs Vanguard's low-cost index mutual funds still raked in cash and saw gains in assets under management for the year.
For State Street and other large ETF sponsors, that means more fee cuts could be coming down the pike, or they risk losing market share. Perhaps even worse, if they aren't smart.
For a full list of the least expensive 100 ETFs, click here.
The Fee War's Next Round
The expense ratio is the single biggest cost facing investors for liquid fund families like Vanguard and iShares. High fees are one of the main reasons why investors underperform the market. An ETF's expense ratio – and all it entails – comes directly out of returns. But with broad, passive products basically costing nothing these days, the so-called fee war may be over on the beta side of things.
Incidentally, Vanguard cut the expense ratios on several of its active mutual funds as well. And that could be the start of the next war over costs.
Active management, advice with human/robo-advisor teams, brokerage trading costs, banking/cash management fees – all could be on the chopping block in upcoming years. Ultimately, you and I will be the winners in all of this cost reduction and fighting among the biggest fund managers. While it may not seem like a big deal, reducing overall costs by three or four basis points could be enough – compounded over the long haul – to lead to significant outperformance. This outperformance can make or break a retirement or other investing goal.
In addition to expense ratios, there are other hidden risks and costs of ETF investing.
The Bottom Line
Vanguard's latest attack on fees may be status quo for the investment manager, but it could be the winning blow in the price war. New cuts across its international ETF offerings and huge mutual fund portfolio – including its active funds – will continue to have a ripple effect on the industry. The vastness of the cuts will cause others to follow suit. In the end, we as investors ultimately win from everyone's willingness to reduce costs to gain/keep market share.
Vanguard is one of many issuers in the ETF universe. This industry is transforming before our eyes, so stay up to date with other ETF issuers here and stay up to date with all new ETF launches from all issuers.