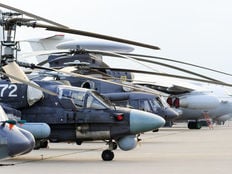 ETFdb.com analyzes the search patterns of our visitors each week. By sharing these trends with our readers, we hope to provide insights into what the financial world is concerned about and how to position your portfolio.
U.S. President Donald Trump is back in the spotlight this week. The aerospace and defense industry has been an exciting sector for investors because of Trump's pledge to increase military spending. Second on our list is infrastructure, which also benefited from Trump's promise to launch a $1 trillion plan to rebuild the nation's highways and bridges. The Mexican peso started to recover after it became clear the U.S. administration may take a softer stance on the country. Financials continued to rally on Trump's promise to cut red tape and regulations, while biotechnology stocks are the latest to suffer because of the President's deadly tweets. Read our previous edition at Trending: Natural Gas on Roller Coaster as Demand Slows Down.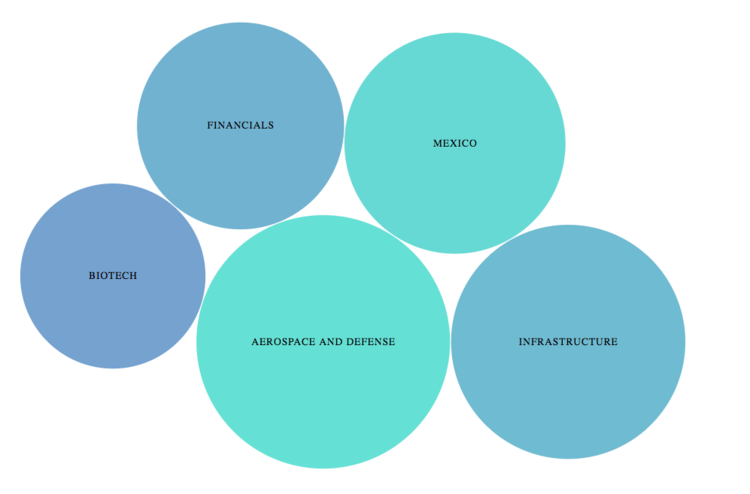 ---
Content continues below advertisement
Aerospace ETFs Cheer Trump's Pledge to Increase Military Spending
Aerospace and Defense is reminiscent of last week's article, in which the sector took fifth place. This week, the industry is the leader with a 278% increase in traffic. There is little doubt about why aerospace and defense is so popular nowadays with investors. U.S. President Donald Trump reiterated in a recent speech before Congress that the government will increase military spending by about 10%. Trump's "historic" military spending increase has propelled iShares U.S. Aerospace & Defense (ITA B+) to historic highs recently. (ITA B+) is up 7% since the beginning of the year, and as much as 16% since Trump was elected president in November.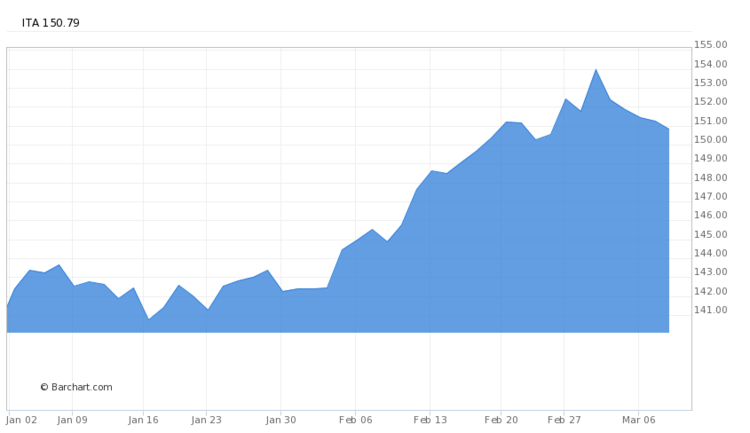 Defense companies did not benefit from Trump's rhetoric only. Terrorist threats in Europe, as well as worsening relations with Russia, have boosted bets that the European Union will also have to increase military spending. This is particularly true in view of the fact that many NATO countries are not spending the required 2% of GDP annually, something Trump pledged to correct.
Signs are already positive for the U.S. aerospace and defense sector. For the year 2016, U.S. defense companies delivered a record $146 billion in exports, according to Aerospace Industries Association (AIA). The largest sales increases came from the Middle East, 22.3%, and Europe, 13.6%.
Infrastructure Trades Sideways After Trump Promises $1 Trillion
Infrastructure has traded sideways over the past few days, as investors tried to digest Trump's speech before Congress. Infrastructure has seen its viewership rise 265% in the past five days, largely because Trump promised to unveil a $1 trillion spending program soon. iShares Global Infrastructure (IGF A) is down slightly since Trump's speech on February 28, but is up 3.6% year-to-date.
Trump was light on details about his plan but suggested it would involve tax credits, meaning private equity investors will pay no taxes on revenue obtained from infrastructure investments. The White House press secretary told reporters a detailed plan will be published by mid-March. Such a large plan may not be sufficient to fix U.S. infrastructure, which according to estimates by the American Society of Civil Engineers may need $3.6 trillion. Even so, a $1 trillion bill may have trouble passing in the Republican Congress given that it is unclear yet how it will be financed. ETF Database has ETF investing guides and other ebooks to help you navigate the investing landscape using ETFs.
Sign up to ETF Database Pro to get access to all the PDFs located on our ETF Guides page.
U.S. Conciliatory Tone Helps Mexico
The Mexican peso and the country's equities have finally received a respite after the U.S. secretary of commerce signaled a softer stance on trading relations with the country. The Mexican peso has seen its traffic surge as much as 181% in the past week for good reasons. iShares MSCI Mexico Capped (EWW A), one of the top ETFs with exposure to Mexican equities, has risen 2.6% since Wilbur Ross gave an interview to CNBC on March 3, trimming 12-month losses to 5.40%.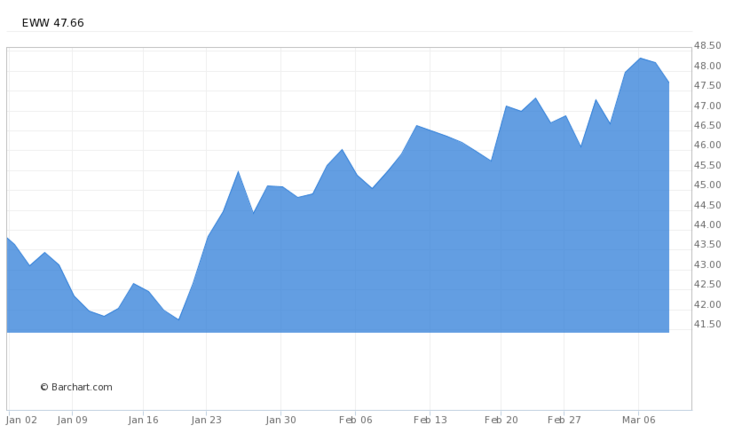 In the interview, Ross, Trump's commerce secretary, said the U.S. and Mexico could collaborate to stabilize the peso. He noted that a similar initiative was implemented in 1994, when the U.S. Treasury had made available lines of credit to prop the currency. Ross also played down the long-term impact of Trump's rhetoric on the peso, saying a renegotiation of NAFTA agreement is a win-win for both sides.
Ross' view is a far-cry from Trump's rhetoric centered on building a wall south of the border and making Mexico pay for it. Ross is viewed by many as the most pragmatic policymaker in the Trump administration. To easily find ETFs exposed to a particular country such as Mexico, check our ETF Country Exposure tool. Select a specific country and get a list with all the ETFs with exposure to your pick.
Financials in Spotlight as Federal Reserve Prepares Hike
Financials has seen its traffic increase by 58% since last Thursday, as U.S. Federal Reserve prepares to hike interest rates for the second time this year on March 15. Financial Select Sector SPDR Fund (XLF A) has dropped slightly in the past five days, but it is up as much as 39% over the past 12 months.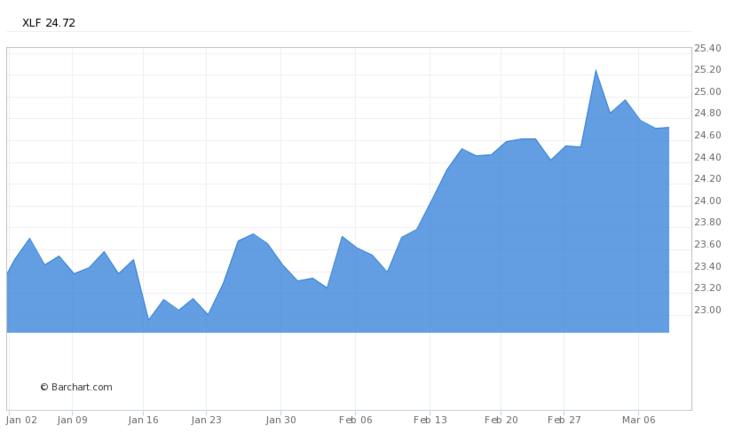 Undoubtedly, financials ETFs have been among the sectors that benefited the most from the election of Donald Trump as president. Trump promised to deregulate the financial services industry, potentially reducing banks' operating and compliance costs. Furthermore, an improving U.S. economy and rising interest rates have had a positive impact on the sector, which has been struggling to improve its performance since the financial crisis in 2008. Financials could get another boost in a week from now if the Federal Reserve increases interest rates. According to CME Group's tracking tool, there is an 84% chance the Fed ups rates to 1%.
For a deeper analysis on individual ETF investments such as (XLF A) or (EWW A), use our ETF Analyzer tool. You can select ETFs by category or type as well as add individual ticker symbols to compare performance, expenses and dividend yield among other metrics.
Trump's Tweet, Deadly for Biotechs
Biotechnology ETFs has experienced 42% more viewers this past week compared to the previous one. Just as the industry had appeared to recover from Trump's pledge to lower drug prices, a new 'presidential' tweet sent biotechnology equities down again. iShares Nasdaq Biotechnology (IBB A-) dropped about 2% following the tweet, but recovered some of the losses subsequently. (IBB A-) remains up more than 12% since the start of the year.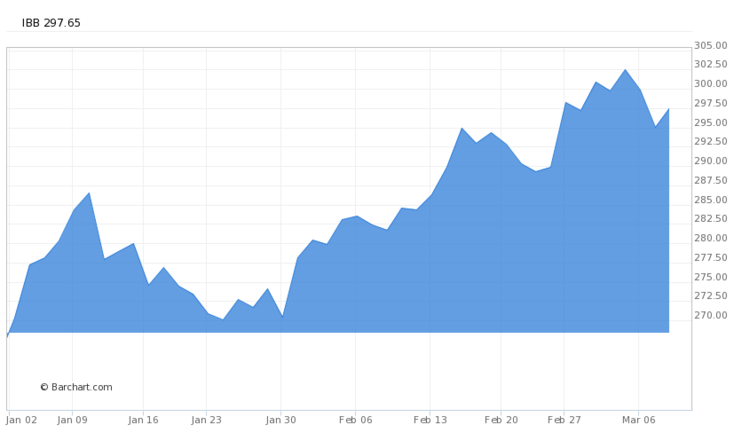 In a short tweet on March 7, Trump said he is working on a new system that will improve competition in the drug industry. Previously, Trump suggested pharmaceutical companies should enter bidding wars for government contracts, a move that would surely bring prices down and hurt the companies' bottom lines.
The Bottom Line
This week, aerospace ETFs were in demand after Trump signaled a 10% increase in military spending. Infrastructure ETFs traded sideways as the U.S. president promised to launch a $1 trillion program, although doubts still linger about the plan's viability. The Mexican peso started to recover after the U.S. commerce secretary signaled a softer stance on the country. Biotech stocks traded down this week as Trump tweeted that he is working on a plan to increase competition in the industry. Finally, financials may continue to rally given that the Federal Reserve is preparing for a new interest rate hike.
By analyzing how you, our valued readers, search our property each week, we hope to uncover important trends that will help you understand how the market is behaving so you can fine-tune your investment strategy. At the end of the week, we'll share these trends, giving you better insight into the relevant market events that will allow you to make more valuable decisions for your portfolio.