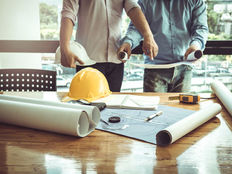 One of the biggest overarching themes of the recent presidential election cycle was the idea of improving and building-out the United States' crumbling infrastructure. Both President Trump and former Democratic presidential nominee Hillary Clinton promised a comprehensive package of spending designed to fix bridges, roads, waterways and other vital pieces of the economic "backbone." And there really is an onus to follow through on the pledge: The American Society of Civil Engineers (ASCE) recently gave the U.S. a failing grade on its infrastructure.
The campaign promises of higher spending as well as the overall need for more/better infrastructure solutions have sent plenty of investor dollars into various infrastructure mutual funds and exchange-traded funds (ETFs). This week's launches build on that theme, both directly and indirectly.
---
Content continues below advertisement
Global X "Paves" the Way
The fund sponsor Global X's penchant for thematic ETFs takes a direct approach to infrastructure spending with its latest fund: the Global X U.S. Infrastructure Development ETF (PAVE B). Cute ticker aside, PAVE has the potential to be a serious contender in the theme.
Using our Head-to-Head Comparator tool, compare two ETFs issued by Global X.
PAVE will track a basket of U.S. stocks designed to benefit from increased infrastructure activity. This includes stocks that engage in the production of raw materials, heavy equipment producers such as Caterpillar Inc. (CAT) as well as firms in the engineering/procurement & construction sectors. Industrials and materials companies make up the bulk of PAVE's holdings. The new ETF is very much about building-out infrastructure.
This is a sharp departure from many of the infrastructure ETFs and funds on the market today.
The kingpin of infrastructure ETFs – the $1.4 billion iShares Global Infrastructure ETF's (IGF A) holdings span utilities, toll roads and airport operators. The idea here is to have ownership of infrastructure assets to gain from their stable cash flows. The vast bulk of the theme's ETFs on the market today currently follow this approach in the sector.
The problem is, investors looking to profit from the build-out are left out in the cold when they buy a fund like IGF or rival SPDR FTSE/Macquarie Global Infrastructure ETF (GII A). There's nothing inherently wrong with IGF or similarly styled funds. In fact, they might be great for your overall portfolio. But those who have looked to profit from the construction of a bridge rather than the ownership of that bridge have been pretty disappointed through the years.
PAVE hopes to overcome that disappointment. And given its different sector take and its low 0.47% expense ratio, it should be able to do just that.
Find out why infrastructure ETFs should do well under President Trump here.
iPath Goes Back to the Well
For exchange-traded notes (ETNs) sponsor iPath, its route to infrastructure takes a less direct approach by focusing on the main materials used in construction, namely natural gas. Utilized in a variety of infrastructure needs – from steel production to power generation – natural gas could be one of the biggest winners from overall increased infrastructure spending.
The iPath Series B Bloomberg Natural Gas Subindex Total Return ETN (GAZB ) tracks a basket of rolling, near-dated futures on Henry Hub-benchmarked natural gas. If that sounds familiar, it should. It uses the same index and strategy as its sister fund, the iPath Bloomberg Natural Gas Subindex Total Return ETN (GAZ C).
However, Barclay's recently suspended new creation units of GAZ, which caused the ETN to trade at discounts or premiums to its underlying value. Often, sponsoring firms will cap the number of ETNs they have on their balance sheet as they, technically, are debt. Aside from that difference, GAZB shareholders will get a lower expense ratio and a longer maturity date.
For a list of all new ETF launches, take a look at our ETF Launch Center.
The Bottom Line
Infrastructure is currently the theme du jour. But given both the promises of increased spending and the need to fix things, its long-term potential is almost assured. This week's new ETF launches allow investors to tap into the building of new roads, bridges and other pieces of required infrastructure.
Sign up for ETFdb Pro and gain access to more than 50 all-ETF model portfolios, each of which is backed by a unique investment thesis.