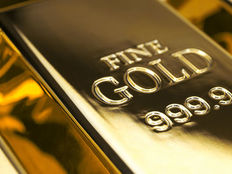 We all know that exchange-traded funds (ETFs) have grown immensely in popularity over the last few years as investors value their passive natures and lower costs.
This has manifested itself in the sheer number of new fund launches and assets ETFs have managed to gather. But sometimes, ETFs can become too popular.
That's the case this week in which one of the most popular ways for investors to get their gold fix managed to outgrow its underlying index. Changes to the fund dominated the world of ETFs this week, in addition to several new launches covering everything from municipal bonds to socially responsible investing.
---
Content continues below advertisement
Junior-Sized No More
When it comes to gold mining stocks, there are two basic flavors: the big boys and the juniors. The junior miners are often seen as leveraged plays on gold production and price, since they typically have only one or zero producing mines. They are all about "striking it rich" off of one claim. Think of them like early-stage biotech drug researchers. The VanEck Vectors Junior Gold Miners ETF (GDXJ B+), because of its lotto-ticket nature, has become a very popular way for both investors and traders to get exposure to junior gold mining companies.
However, GDXJ became a bit too popular.
The world of junior miners isn't very big, so as GDXJ ballooned to nearly $6 billion in assets, it basically ran out of stocks to buy. To that end, GDXJ started buying shares of the much larger VanEck Gold Miners ETF (GDX B+). At the same time, GDXJ's assets grew so large that it owned enormous controlling stakes in many of the junior gold miners. Ten of its holdings breached the 18% ownership cap, which is a problem because, under Canadian rules, the fund would have "to automatically extend a takeover offer to all remaining shareholders at the same terms" if the stakes grew larger than 20%.
With that in mind, GDXJ is changing its underlying index. It's essentially moving up and down the market-cap ladder to include more gold explorers and smaller firms in its mix. The new market-cap range for GDXJ will include gold stocks at as little as $75 million to larger mid-cap companies at $2.9 billion. This should tack on an additional 23 gold miners to the fund's holdings. What's crucial is that GDXJ will be able to spread its assets among more stocks to circumvent the 20% rule and not hold GDX/large-cap gold miners. Investors will still get their junior gold fixes, but without the worry – at least for now.
For a full list of all of VanEck's ETFs, check out its issuer page here.
iShares Launches Another Muni Bond ETF
Bond ladders have historically been a great way for investors to avoid interest rate risk, while still earning a better/higher return. The idea is that you "ladder" bonds of various maturity levels, and as they mature, you roll them over into longer-dated bonds. The problem is that it can be hard, expensive and time-consuming to build out a diversified portfolio of bonds. To that end, iShares created its lineup of iBonds – in both corporate and municipal flavors. These ETFs will own a series of bonds with a particular maturity date and, upon that date, the ETF will close. The formula has proved to be pretty successful with investors.
The latest of which is the iBonds Dec 2023 Term Muni Bond ETF (IBML A). As the name implies, IBML will own a basket of tax-free muni bonds that all have a maturity date of December 2023. At that time, the ETF will cease to function and investors will be paid the cash value of the fund. By using IBML and its sisters, investors can balance the cash flows of their portfolios as well as gain interest-rate protection. Given how successful the iBond lineup has been, IBML should be able to gather plenty of assets as well. Expenses run a cheap 0.18%.
Check out our Head-To-Head ETF Comparison tool to find how IBML compares with (IBCE B), a 2023 corporate bond ETF within the iBonds series.
Accelerating Dividends
While the name is new, VictoryShares has been turning out ETFs for a couple of years now, and its latest – the VictoryShares Dividend Accelerator ETF (VSDA A-) – provides a unique take on dividend growth. Most ETFs in the sector tend to focus on stocks that have long histories of growing their dividends over time, whereas VSDA seeks to find those that will do so in the future.
The ETF's underlying index will screen for past dividend growth, return-on-equity, and earnings stability to find stocks that have the highest probability of raising their payouts in the future. It basically takes a calculated guess on who will pay more tomorrow. That take could provide enough of an edge for returns and send more dividend investors toward the ETF over time. However, the hurdle is high, as the number of dividend-focused funds continues to explode upwards. Expenses for VSDA run at 0.35%.
Looking for Serenity From a New ESG ETF
Finally, this week, new issuer SerenityShares launched its SerenityShares IMPACT ETF (ICAN ). It too provides a unique take on its sector. The ESG/socially responsible ETF screens for firms that are directly making a positive impact on the planet, rather than companies that simply meet certain ESG requirements. ICAN will include stocks that provide loans to small- and micro-enterprises or provide access to recycling & waste remediation efforts.
Again, the hurdle is steep, as ESG funds and indexes continue to be dominated by larger players. Expenses for ICAN run at 0.50%. Use our ETF Comparison tool to compare and contrast ICAN with another socially responsible ETF such as the iShares MSCI KLD 400 Social ETF (DSI A-) across a variety of criteria such as expense ratio, assets under management, holdings and performance.
For a list of all new ETF launches, take a look at our ETF Launch Center.
The Bottom Line
Investors continue to embrace new ETFs at a rapid rate, and with their growing popularity, issuers need to rethink their popular funds. The changes to GDXJ highlight what can happen, while the variety of new launches shows that investors' appetite is there and with a unique take on familiar themes.
Sign up for ETFdb.com Pro and gain access to more than 50 all-ETF model portfolios, each of which is backed by a unique investment thesis.